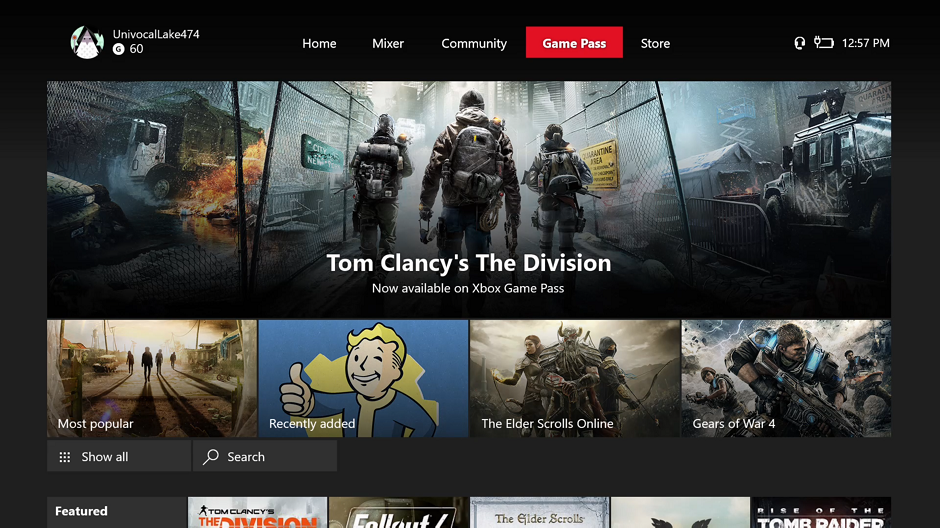 Xbox Insiders in the Preview Alpha and Alpha – Skip Ahead rings may notice something slightly different about their dashboards. With the latest update, the Entertainment tab at the top has been replaced with a Game Pass tab in the United States, what appears to be an effort by Microsoft to more heavily promote the service and make it easier for fans to peruse its content.
You can read the full changelog for update 1806.180612-1920 below (via Xbox Wire).
New Features:
Game Pass Tab
Preview Alpha and Alpha – Skip Ahead users will notice that the Entertainment tab has been replaced on the dashboard with Game Pass content. This new tab allows for easy access to the Game Pass catalog and is only available in the US region at this time, so Preview Alpha and Alpha Skip Ahead Insiders in regions outside of the US will continue to see the Entertainment tab. If you have access to the new Game Pass tab, please provide feedback as we evaluate and refine the experience!
Fixes:
My Games and Apps
Fixed an issue for Games that are being updated that use the Fast Start feature.  Users will no longer have the game uninstalled if they cancel a game update.
Fixed an issue with the installation and launching of the CW app.  The app now launches correctly.
Localization
Various localization fixes across the console.
Party Chat
Performance improvements to the stability and reliability of Party Chat.
System Performance
Misc. performance fixes in the platform.
 YouTube
The issue with some users are encountering an issue where their YouTube account is being signed out whenever they launch the app is resolved.