Microsoft

Mar-11

Apr-11

May-11

June-11

July-11

Aug-11

Sept-11

Oct-11

Nov-11

Dec-11

Jan-

 

12

Feb-12

March-12

US installed base

7.5

6.7

5.8

5.8

5.7

5.7

5.6

5.4

5.2

4.7

4.4

3.9

3.9

Percent loss

0.2

0.8

0.9

0

0.1

0

0.1

0.2

0.2

0.5

0.2

0.5

0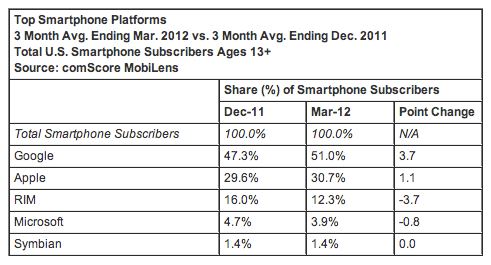 Like clockwork the monthly Comscore numbers are out for the 3 months ending March 2012. Â The numbers precede the release of the Nokia Lumia 900, which only started shipping on the 9th April.
Of course it is important to note that Comscore measures installed base, not sales market share, and that Microsoft numbers include the rapidly fading Windows Mobile and also Windows Phone.
Nevertheless, for the first time in 8 months we have seen the Comscore percentage holding steady, meaning the number of new Windows Phone users were able to compensate for the exiting Windows Mobile users and also matched the growth in the market, meaning that there are now 4,134 million smartphone users in US running a Microsoft OS, up from 4.06 million in February 2012. 
We will have to see in next months numbers if this is a blip or a trend, but of course eventually all the Windows Mobile users will have to wash out, leaving the Comscore numbers reflective of actual Windows Phone users, and hopefully the numbers will stabilize higher rather than lower. It is not beyond hope that, for the first time in a long time, for this number may actually increase in April to reflect the launch of the Nokia Lumia 900.
Do our readers think a turn around has come? Let us know below.
Source: Comscore