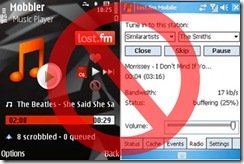 Last.FM, the last bastion of personalized radio, has finally given in to the pressure to commercialize their offering, and in this process killed of all unauthorized clients, including any that exists on mobile phones (except of course perennial favourites the iPhone also also Android).
The announcement is recorded below:
The Future of Last.fm Radio APIs

As you may have seen on our blog, we're making some changes to the way we structure our radio services.
Last.fm has never had a public radio API, although we've tolerated third-party clients using the undocumented calls that our client uses. This is finally about to change – we're going to make a public, documented streaming API available to everyone who has an API account. There are a few limitations:

Only subscribers will be allowed to stream using API applications unless you negotiate a separate deal with us – we need to get the money to cover royalties.
You won't be allowed to use our API to stream to mobile phones. This is unfortunately a limitation of some of our licensing agreements. Again, we may be able to make an exception to this if you talk to us directly.

These changes should be made by the end of next week. Alongside this, we'll be shutting down the remainder of the old, undocumented streaming APIs over the next couple of weeks.
Last.FM was the last personalized streaming radio service available world-wide, but it seems the market has jus contracted down to US, Germany and Italy, with the rest of the world having to pony up for streaming music, and with no option for taking their music with them.
It is a sad day indeed.
Via Gizmodo.com