Kantar World Panel today released their latest report on smartphone OS market share for the 3 month period ending September 2013. Windows Phone OS had its strongest gain in European region by almost doubling its market share. Windows Phone has posted its highest ever sales share of 9.2% across the five major European markets Great Britain, Germany, France, Italy and Spain.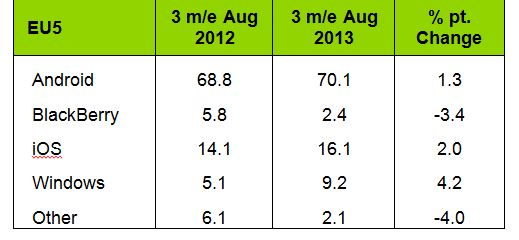 There are some interesting numbers from the report,
Windows Phone is just within one percentage point of iOS in Germany.
Windows Phone has hit double digit sales share figures in France and Great Britain with 10.8% and 12% respectively – the first time it has recorded double digits in two major markets.
Dominic from Kantar commented the following on Windows Phone's growth,
"Windows Phone's latest wave of growth is being driven by Nokia's expansion into the low and mid range market with the Lumia 520 and 620 handsets. These models are hitting the sweet spot with 16 to 24 year-olds and 35 to 49 year-olds, two key groups that look for a balance of price and functionality in their smartphone'.
Nokia is set to unveil another wave of new devices next month and I expect couple of volume driving devices like Lumia 720(Dual sim) at the event. If Nokia can continue to deliver high valued devices at lower price points with the help of Microsoft, they can soon achieve the second spot in key markets.
What do you think? Find the full detailed numbers after the break.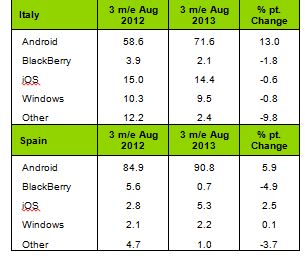 See last month's numbers here.
Source: Kantar