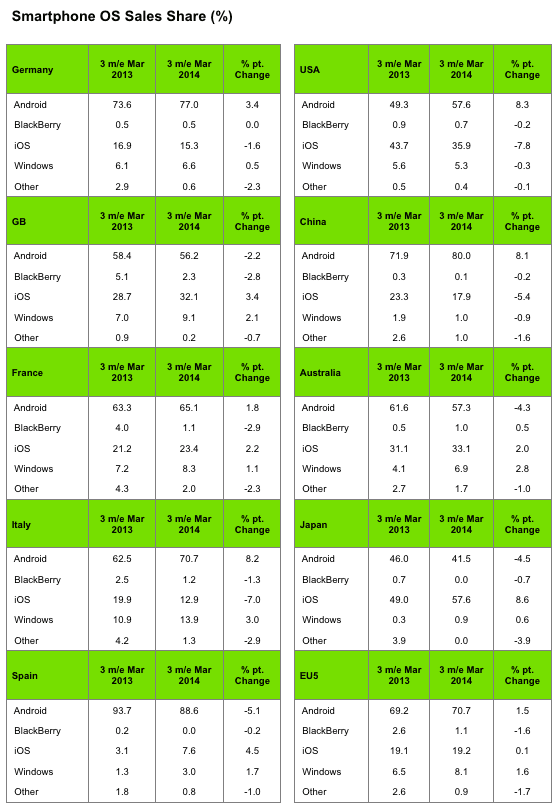 Kantar Worldpanel today released their latest report on smartphone sales share for key markets worldwide. The numbers turned out to be a discouraging sign for Windows Phone platform. Windows Phone saw a decrease in market share MoM in key European markets. The market share in key European markets saw a decline to 8.3% from its previous peak of 10.3% last month.
In UK for example, Windows Phone is now down to 9.1% from 11.3%. Also in Italy, the numbers are down from 17.0% and 9.6% in Italy and France to 13.9% and 8.3% respectively. The decrease in sales is mainly due to the lack of new devices in the mid-range from Nokia and also the sudden rise of highly competitive mid-range devices from Motorola(MotoG), Sony, Samsung and others.
"Windows had a tough start to the year as a result of its entry-level Nokia models facing fierce competition from low-end Motorola, LG, and Samsung Android smartphones," said Dominic Sunnebo, Kantar strategic insight director.
Nokia has already announced Lumia 630 and Lumia 930 devices which is going on sale in the coming months. But, I think these devices won't be enough for Windows Phone platform to compete against Android in the coming months. I'm really looking forward to the hardware refresh of Lumia 720, Lumia 820 to play a key role in gaining market share in the future.
Source: Kantar