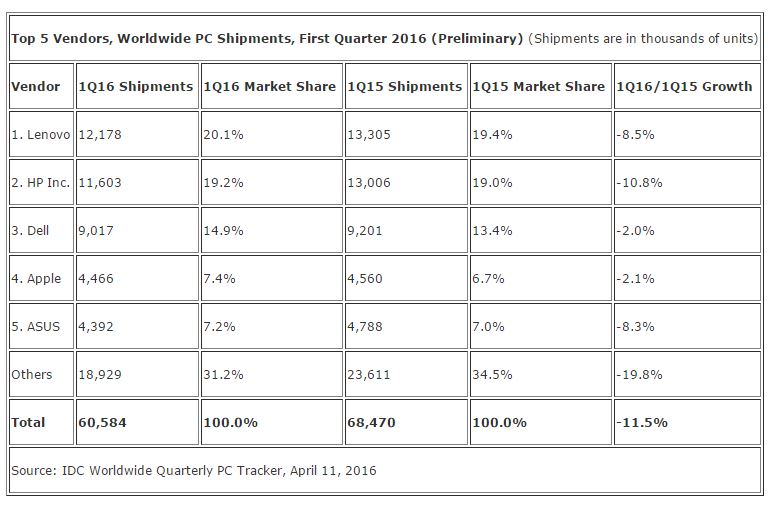 IDC today released their World wide Quarterly PC Tracker report. According to their report, worldwide PC shipments totaled 60.6 million units in Q1 2016, a year-on-year decline of 11.5%. This decline was actually expected given the Windows 10 enterprise upgrades largely remained in pilot phase while consumer demand remains weak.
Inventory reductions in the channel, which were a headwind through much of 2015, seem to be wrapping up. Similarly, some rebound in economic conditions should support both commercial and consumer activity going forward. Nevertheless, channels, vendors, and users remain cautious about new purchases. Overall, Asia/Pacific and EMEA performed slightly better than forecast, while the Americas pulled down worldwide results.
In the US, PC shipments fell to 13.6 million units in 1Q16. IDC thinks issues like softened demand due to global economic concerns, the Windows 10 free upgrade path stalling some consumer PC purchases, and increased attrition towards detachables are some of the reasons for the PC shipments decline.
"Demand for PCs in the U.S. remains sluggish," said IDC Research Director, Devices & Displays, Linn Huang. "However, we should be entering a period of reprieve. Peak corporate and education buying seasons have historically started in the second quarter. With some IT buyers thinking about early Windows 10 transitions and with the potential continued ascent of Chromebooks in U.S. K-12, the PC market should experience a modest rebound in the coming months."
Lenovo remained the top PC OEM worldwide while Dell became the No.1 PC OEM in the US. HP remained the number 2 vendor, but it struggled with some inventory issues in North America and a continued slow market in Latin America, with total worldwide shipments declining nearly 11% from the prior year.