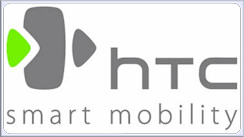 HTC is doing well, really, really well. In their monthly update they have just announced a new record for single month revenue of nearly 1/2 billion dollars, thanks in the main due to the success of the new Touch Diamond/Pro series of smartphones. The $488 million revenue is 10% higher than its previous record in November 2007 when it managed to make $441 million in revenue. Compared to October 2007 the result is 22.4% higher.
For the year so far HTC has grown revenue 30.8% compared to the same 10 months last year, to a dazzling $3.7 billion. HTC predicts the good times will continue, and expects full year revenue to exceed $4.5 billion for the first time, up nearly 30% on the previous year.
According to Canalys HTC has grown its own-brand device sales 171% YoY in Q3 2008, making it the 4th largest smartphone maker. This excludes the ODM work it does for Sony Ericsson with the Xperia and Palm with the Palm Treo Pro. HTC has gone on record in the past that it did not see any impact from the success of the iPhone 3G.
Interestingly, if one had invested in HTC 5 years ago, one would be nearly twice as well off as if one invested in Google, despite the economic turmoil at the moment (This is not investment advice).
HTC's shares are up 3% on the news.
Source: CENS