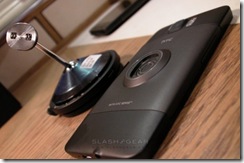 No I know this has been a question which has been on the mind of many of our readers, but in a Slashgear interview Peter Chou himself confirmed that the smartphone will be coming to US in Q1 2010.
Additional details is runtime estimates from the standard 1,230mAh battery are up to 320 minutes WCDMA talktime or 390 hours standby; or up to 8hrs of video or listen to up to 12hrs of music.  An extended battery with kick stand will also be available.
HTC's car kit and navigation software will work with the GPS and Digital Compass, making a great in car GPS solution.
Slashgear's hands-on impressions:
A bigger display means that the on-screen QWERTY can be larger, and in fact the keys are significantly bigger than any portrait-orientation hardware keyboard smartphone we've played with.  The same clever auto-correction has been implemented, and – though our typing experience was brief – we found it to be very straightforward to use.  Full-screen browsing, using Opera Mobile (since Internet Explorer Mobile doesn't support multitouch), is a slick revelation, with the speedy Snapdragon processor making for rapid zooming – whether by double-tap or multitouch pinch-zoom – and instantaneous text resizing and reflowing.  There's no pause or delay to wait for jagged images to be rescaled, or half-chopped paragraphs to shuffle onto the screen.  The capacitive touchscreen itself is swift and smooth, and has instantly left resistive Windows Phones in the shade.
Read their full impressions here.