How to use Staging Tool to discover Windows 11's secret features? Well, the answer to that question is not complicated. The Staging Tool is apparently a software device used by Microsoft's engineers to unlock features in Windows 11. It uses command lines to test the features, and it was spotted by this Windows enthusiast, in an apparent leak.
Of course, the post it was featured on is now deleted, but you can actually download the Staging Tool from here and try it for yourself.
So how does Staging Tool work?
To properly use it, you need to have a bit of knowledge of using command-line tools, otherwise, you could end up breaking your system. However, the Windows enthusiast who discovered the tool also pushed it to reveal the commands that you can unlock.
Here are the command lines you can use in Staging Tool:
/enable – Enable the specified feature/disable – Disable the specified feature
/query – Query the specified feature for enablement and viariant information.
/v – optional parameter to also print ImageDefault and ImageOverride features
/reset – Reset the specified feature to its default state
/testmode – Used in conjunctions with /enable /disable /reset
/telemetry – Used in conjuctions with /enable /disable /reset
/setvariant – Select a feature variant to use; used in conjunction with <featureId> <variantId>
/serialize – Use this option to print out a new config with all of the requested changes. This can be used for offline updates to VHDs prior to first boot.
/setlkg – Set Boot time feature override states as LKG Configurations
/restorelkg – Restore Boot time LKG configurations states Feature Configurations
/trace – Realtime ETW trace for the specified feature usage in code.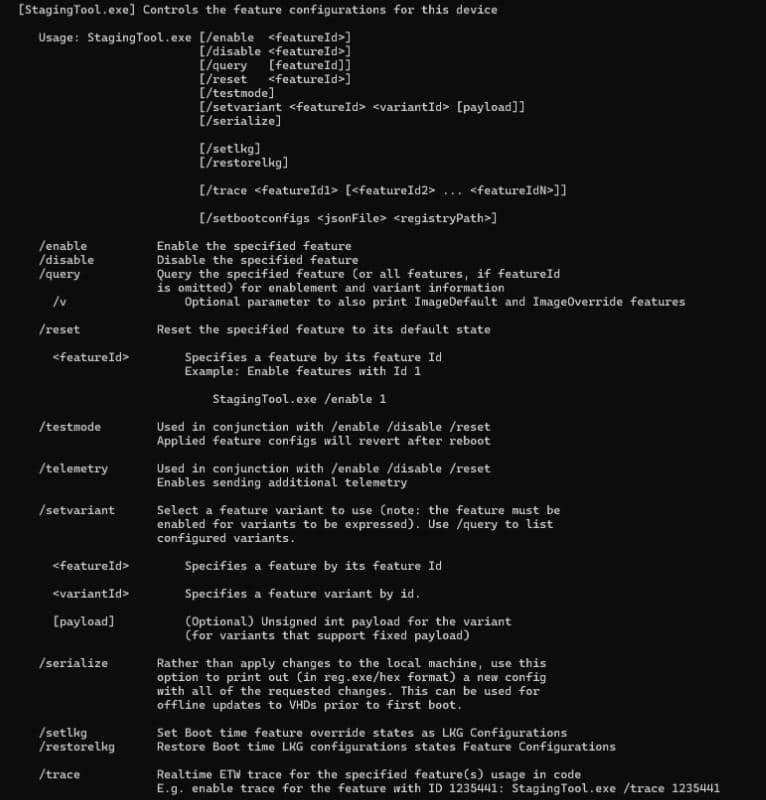 To use them, you just have to add the keywords after StagingTool.exe in the terminal line as it follows:
StagingTool. exe [/enable <featureId>] or StagingTool. exe [/disable <featureId>] or StagingTool. exe [/query <featureId>], and so on.
How to use Staging Tool to see the available features?
You can use the Staging Tool to discover which features are enabled or not on your device. But before continuing, you should know that the tool can seriously break your machine if you don't have any prior experience on how to proceed with these sorts of commands. However, if you do wish to continue, then you can which features are enabled by typing the following command:
This command will give a list of features that are numbered and their Microsoft link. You'll be able to see what each of these features does.
To enable and disable a feature, you'll need to type in the following commands:
StagingTool.exe /enable <feature ID>
StagingTool.exe /disable <feature ID>
For example, if a feature has the following ID: ID 33001877, then the commands for enabling or disabling it would be:
StagingTool.exe /enable 33001877
StagingTool.exe /disable 33001877
Where to find hidden features?
Well, this one might be tough to follow, as hidden things stay hidden, but you can start by following Windows enthusiasts who are fascinated about hidden features.
There are quite a few:
Whenever there is a new build, check them out, because they usually post the ID of the hidden features that they find. For example, PhantomOcean recently posted the ID of a hidden feature that will allow you to show the widgets board open in Windows 11. This new feature was released by Microsoft in the Windows Insider Program, but not everybody there has access to it, so you have to enable it with a vivetool command.
If this seems complex to you, and you're not a developer, then it's better not to try it, as you can damage your Windows 11. On the other hand, for those of your who are familiar with it, you may now discover Windows 11's hidden treasures. Of features.
And if you're a hidden features seeker, show yourself up in the comments and help others find Windows 11's hidden features as well.