Is Copilot the best AI companion out there? Help us find out by answering a couple of quick questions!
If you have been having the urge to print as casually from your Windows Phone as your iPhone-using friends there is actually a solution available, with a little bit of help from Google.
Google's Cloud Print service is fortunately relatively open, meaning there are numerous apps in the Windows Phone Store which will let you print wirelessly by interfacing with the service.
One such app is KumoPrint, which not only lets you print from OneDrive and the photo hub, but now due to the opening up of the file system due to WP 8.1, also from documents in various folders on your phone, and also due to the new Sharing system in WP 8.1, easily from your Office Hub and even Internet Explorer.
Some printers support Google Cloud Print directly, while most older ones  need to use a Windows PC connected wired or wirelessly to a local printer.  Setup of a "classic" printer for Google Cloud Print is pretty simple, merely involving registering the printer via the Settings Page in Google Chrome at chrome://devices/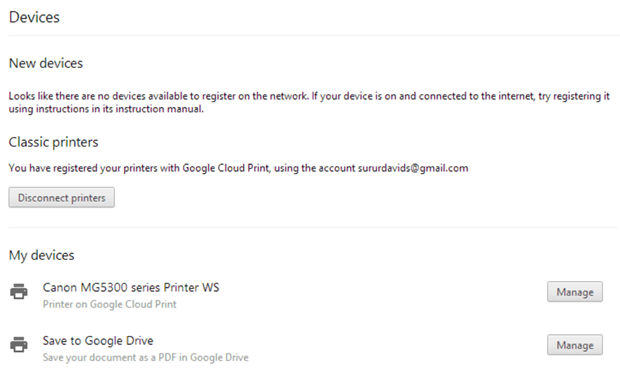 In my testing the process worked pretty smoothly, and I was able to print just about anything I tried, and with good fidelity.
While it is a great pity Microsoft does not offer a service directly, it is good to know that a 3rd party solution is rather trivial to implement.
KumoPrint has a trial version available that allows you to print up to three documents. The paid version ($0.99 USD) allows you print an unlimited number of documents. You can find KumoPrint 2.0 in the Windows Phone Store.
Other apps which support the service can be found in the Windows Phone Store here.