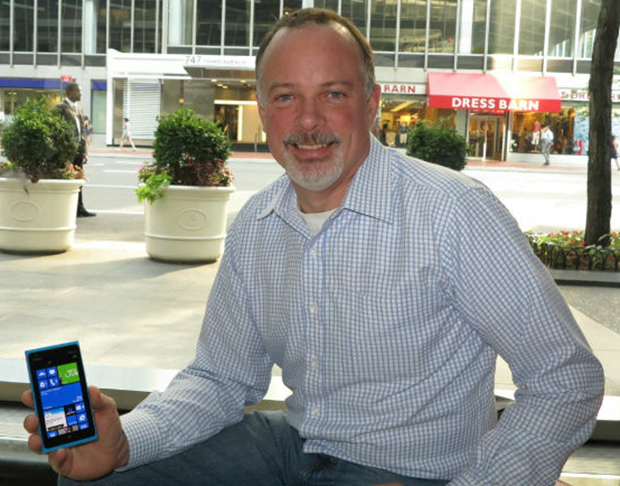 In an interview with Mashables Greg Sullivan, Windows Phone Marketing head, explained how they plan to win market share in US. Surprisingly for the US market, it is by relying on low-end handsets like the Nokia Lumia 521.
Greg noted 3 trends:
About 50% of the US market are still to upgrade to smartphones.
A new and growing trend to purchase handsets pre-paid and off-contract, with 1/3  of phones sold in the U.S. this past quarter sold that way.
High quality handsets like the NL 521 is unusual in the sub $150 segment.
He noted that while high-end handsets are great for capturing the imagination, it was the low-end handsets that made up the bulk of the millions of Android sales per day.
"Yes, you need the device for you [and] me who lust after a device like this," said Sullivan as he held up the Lumia 925, "but not just that, because the volume comes from here," he added, holding up an older Android 2.3 device.
He noted that Windows Phone combined the advantages of iOS and Android, but that sometimes it was difficult to convey this to consumers.
"It's difficult in a 30- or 60-second spot to convey that," he said. He however said Microsoft intended to get more aggressive with marketing, and that the recent "Wedding" ad was an example of this.
Sullivan said  the time is right for Microsoft to "put the pedal down" and that Microsoft would be launched a number of different consumer messages at the same time, hoping the "fundamental truths," will eventually hit home.
He said Windows Phone progress was like a flywheel.
"It takes a lot of energy to start it and get it going and you see the progress and it feels like it's very slow progress. It's the tipping point; you get to critical mass or momentum that's self-sustaining."
However when asked how long it would take Sullivan replied "We can't put a timeframe on it."
Microsoft knows, he said, that it's still shy of that "critical mass," and that things are "panning out, maybe a little bit slower than we hoped." But the company's convinced it's making the necessary progress. "Today's IDC report is evidence," he added.   The report anointed Microsoft as the 3rd largest selling mobile OS in Q1 2013, ahead of Blackberry.
"It's very refreshing," Sullivan said. "It's becoming very clear who the number three guy is, as there's more and more evidence, the mounting evidence, for our solidified position as the third ecosystem. Of course, we're not going to stop there: Go for Number 2, Go for Number 1, that's what's going to help that flywheel spin."
What do our readers think of Microsoft's strategy – is it the hero handsets with the quad-core processors or the sub-$150 handsets which will win the day for Windows Phone? Let us know below.