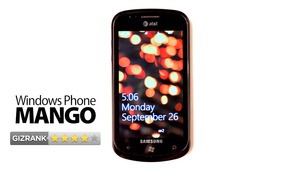 With Google recently making sweeping privacy changes which will mean they can get even better at selling you to their advertisers, some people have been re-evaluating the bevy of Google services which they are using.
Included with the wide variety of substitutes they also recommend worried users replace their Google listening and location device, also called an Android phone, with a Windows Phone 7 handset.
They note:
It's tough to get out of your contract if you're locked in on an Android phone. But if you're up for an upgrade some time soon, and you want to sidestep Google's info-grab, you should take a long hard look at Windows Phone. Yes, there's the iPhone. That's really great. But Windows Phone is a totally fresh take on phones, and if you're going to be an Android expat, you should take a dip in the totally-new-and-different pool before trudging back to familiar waters like iOS.
Of course we can recommend a Windows Phone to just about anyone, even with the limitations, simply based on the satisfaction rate. We suggest however if you are going to jump into a Windows Phone you might as well chuck your Gmail for Windows Live Mail and nestle into the comfortable Microsoft ecosystem, which is actually pretty completely also.