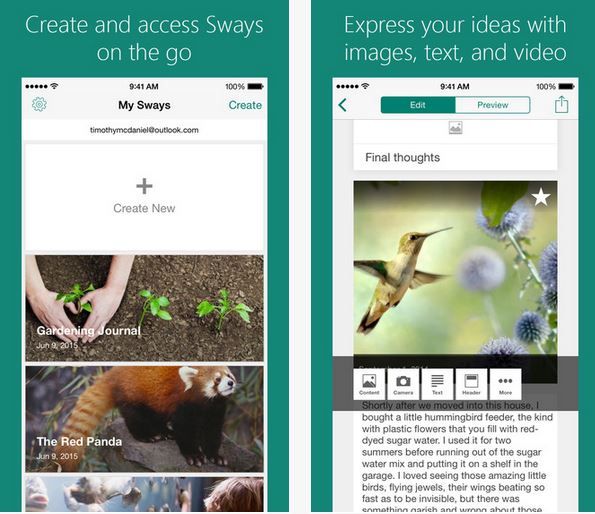 Sway is Microsoft's future replacement for Powerpoint, making it easy to collate media and present data attractively.
Microsoft says Sway makes it quick and easy to create and share polished, interactive reports, presentations, personal stories and more. Users simply need to add their content, and Microsoft will do the rest. That is of course unless those users use Windows Phone, in which case Microsoft no longer consider them worth supporting.
When Sway was introduced Microsoft was quick to support the iPhone, but promised clients for Windows Phone was on the way.
It seems over the course of the last 18 months plans have changed, and the app is no longer on the cards, according to a Microsoft Sway Engineer (via Reddit)
The phrasing of the statement "given the recent public announcements from the Windows group regarding the future of the Windows Platform" would be notable, given that the only real statements we have seen regarding the future of Windows Phone has been in somewhat random replies on Twitter, with no clear blog post one can point to, to explain what exactly is going on with Microsoft's mobile operating system. However, Microsoft's abandonment of Windows phone is clear, and there is no need to quibble over the firm's intentions.
It is however also notable that there is still no Sway app for Android, despite Microsoft's support for the latter, suggesting the team is not the most motivated in the world. The iPhone Pro, it seems, is the only true Microsoft Phone.