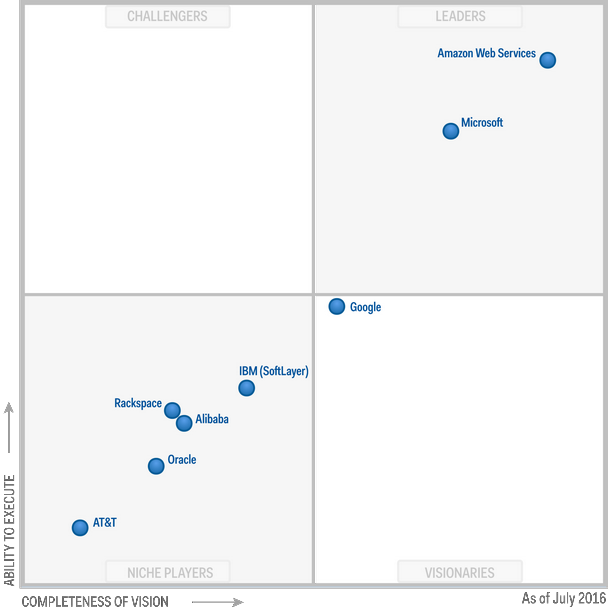 Gartner recently released its Magic Quadrant report for Public Cloud Storage Services. Microsoft was placed in the Leaders category along with Amazon. In fact, Microsoft was the only cloud storage vendor in the Leaders category other than Amazon.
Public cloud storage is infrastructure as a service (IaaS) that provides block, file and/or object storage services delivered through various protocols. The services are stand-alone, but often used in conjunction with compute and other IaaS products. The services are priced based on capacity, data transfer and/or number of requests.
Gartner mentioned the following about Microsoft in their report,
Microsoft is currently the most prominent competitor to AWS from the perspective of enterprise adoption. Most enterprise customers that are considering Microsoft Azure also evaluate AWS — even for workloads based on Windows. When customers choose Microsoft Azure, their existing relationships with Microsoft and/or their channel partner play an important role. The Microsoft Azure storage offerings feature block, file and object storage services that address a wide range of workloads, but they are mostly behind AWS's service capabilities, adoption and mind share. Microsoft's Azure File Storage service, currently the only public cloud-based managed service that supports server message block (SMB), is a widely used storage protocol that allows applications to be "lifted and shifted" to Azure. Customer references who use both Azure and AWS indicated that Microsoft possesses a higher degree of involvement in the customers' application architecture, business objectives and support issues among local Microsoft personnel compared to AWS. This results in a consultative approach by Microsoft to building and deploying applications using Azure's services.

STRENGTHS

Microsoft has a strong enterprise focus, a solid understanding of enterprises' needs, and the resources in place globally to serve them well.

Microsoft has been making a concerted, public effort to support non-Microsoft technologies, including Linux and iOS, using Azure's services, giving customers a wider array of choices than those just limited to Windows operating systems.

Application developers who use tools such as Microsoft Visual Studio and .NET will find a well-integrated experience from the perspective of developing and building to deploying and running applications on Azure.

CAUTIONS

Microsoft is an innovation laggard, trailing behind AWS in both breadth and depth of public cloud storage service offerings. This is most evident in limited classes of block and object storage services, but extends to management aspects such as life cycle policies for objects and IAM policy integration.

Porting an application to use Microsoft Azure's Blob storage service will require significant investment in an API whose adoption is a fraction of that of Amazon S3.

Microsoft claims a large number of regions where Azure is available, but not all storage services are available in each region.