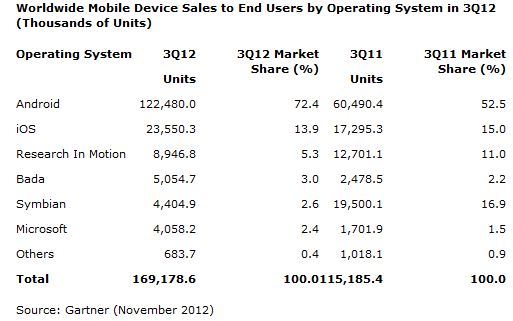 Gartner today released its smartphone research report for Q3 2012. It was not so great results for Nokia and Microsoft as Windows Phone device sales declined due to the launch of Windows Phone 8 devices. The arrival of the new Lumia devices on WindowsPhone  8 should help to halt the decline in share in the fourth quarter of 2012, although it won't be until 2013 to see a significant improvement in Nokia's position, says Gartner.
Nokia's mobile phone sales declined 21.9 percent in the third quarter of 2012, but overall sales at 82.3 million were better than Gartner's early estimate, largely driven by increased sales of the Asha full touch range. Nokia had a particularly bad quarter with smartphone sales, and it tumbled to the No. 7 worldwide position with 7.2 million smartphones sold in the third quarter.
Read more about it here.