Any game that follows the endless runner formula is immediately dismissed as a Temple Run clone. That would be like saying Call of Duty is a clone of Doom. CoD is not a clone, rather a game in the genre of FPS. Lara Croft Relic Run is not a clone. Rather, it is a game in the genre of endless runner games, and a very well made game at that. Here is our review.
Gameplay
Relic Run has all the trappings of a standard endless runner game. The game has you piloting Lara as you run through a jungle beating obstacles. To this standard endless runner system, the game adds its own spin, drawing from over 15 years' worth of Tomb Raider legacy. If you are a tomb raider fan, you will relive all the fun moments that you have experienced from other tomb raider games.
The jungle is pretty similar to the opening level of Tomb Raider 3, and Lara herself moves just like she did in almost every Tomb Raider game, except for the recent reboot. The pickups and the level design are inspired from the Tomb Raider games as well. Lara runs, jumps, slides, walks on walls, does somersaults like her PC and console counterpart. Overall, it's a rather unique experience.
The game also somehow manages to squeeze in some shooting mechanics as well. She carries over the weapons from the standard Tomb Raider games and the unlimited ammo dual wielding pistols are the best guns to use. In a surprise addition, the game also had me battling a huge dinosaur (bringing back fond memories of Tomb Raider 1 and 2) which is just awesome.
There are also a series of cool action 'moments' were Lara does some super cool stuff. During these moments, control is taken away. That might go against the concept of an endless runner but it gives a much needed break from the non-stop action. Things really go to the next level when you run beyond 5000 kilometres and you are driving an all-terrain bike at super-fast speeds.
Visuals and Sound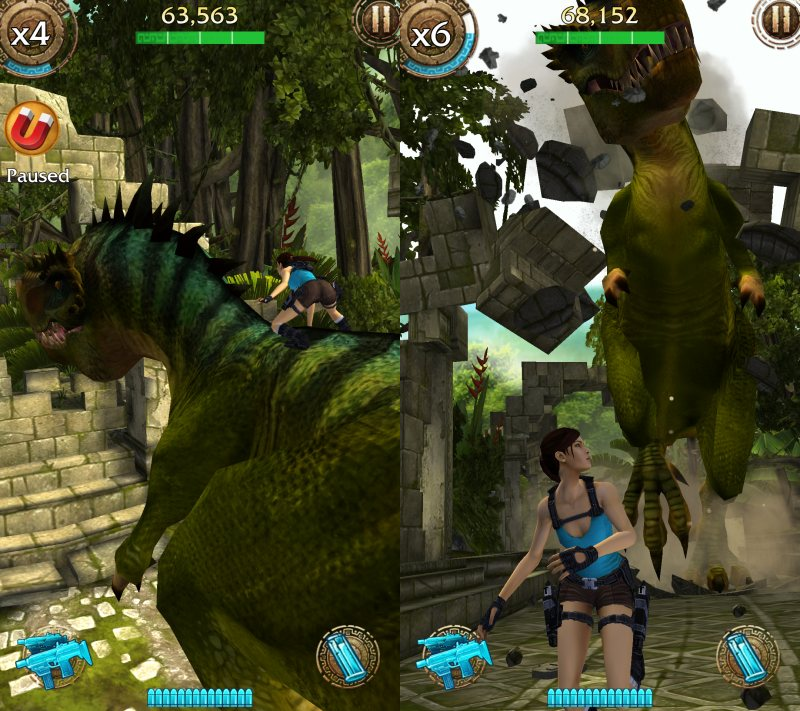 As with any tomb raider game, the visuals are top notch. The game is a complete looker and is just flat out gorgeous on 1080p screens like the 1520. This is not too say the game does not look good on lower devices. I tested the game on a Lumia 638 and it looks pretty nice and plays just as well. The levels are filled with a lot of detail too – Lara kicks off skeleton heads and tiny spiders swarm on the walls. The game has a lot of destructible environments and things aren't always what they see. Just like in actual Tomb Raider game, you are presented with last minute jolts and the grappling hook sections are truly fun.
The sound design is grand, again, in line with any Tomb Raider game. The background music never gets old and keeps you egging on to run more. Accompanying music snippets that play during keen moments or when you start riding a T-Rex (for real!) are equally amazing.
Perhaps, as a love letter to long time tomb raider fans, the Relic Run includes the same ragdoll death animations that are sort of guilty pleasure. The camera even stays on a for a few seconds so you can see her rolling around as she plummets down a cliff or a pit.
Replayability
The game, as with any endless runner that is well made, has an insane amount of Replayability. Its almost like having a mini version of Tomb Raider in your pocket, and you will be itching to do some raiding whenever there is some free time. There are lots of collectibles to go around, and coins give out minor upgrades that make gameplay better. The music is also something of an ear worm.
The game also has a nice level generation system. Multiple play through reveal a different set of pits, wall walking and different enemy setup. It's always shaking things up, so each running experience is slightly different from the last one. Enemies keep getting tougher every few minutes, and yes, it will take a long time to defeat the T-Rex. There is a lot of stuff to do here, and the game has at least 100 hours' worth of gaming before it might show a hint of boredom.
Bugs and Purchases
None of the upgrades are tied to pay mode, and all of them can be collected with earned coins. Most of it is cosmetic and a good player can keep playing and enjoying the game without any upgrades at all. This is in line with a lot of free games lately, where they aren't going overboard with pushing in app purchases through the nose.
For all the great things about this game, it has two bugs. One of the bugs makes an appearance at least once during every gameplay. As the game starts, the game freezes for a second or two before resuming. If the game goes on for long, the freezing could happen once more. This is but a momentary distraction but it still is annoying.
The second bug is app resume. If you were to switch apps during gameplay, there is a fifty-fifty chance that the app has crashed and you have lost game progress. This can get very annoying, like say, you receive a phone call and take it. After the phone call is over, the game has crashed and you have to start over. When it does not crash, the game will give you a white screen for a few seconds (this could last ten seconds sometimes) before it loads the game. The game needs some serious optimization and hopefully, an update will fix this.
Game version at the time of review: 1.0.0.0 / Device used for review: Lumia 1520
Download Lara Croft: Relic Run by clicking or scanning the QR code.