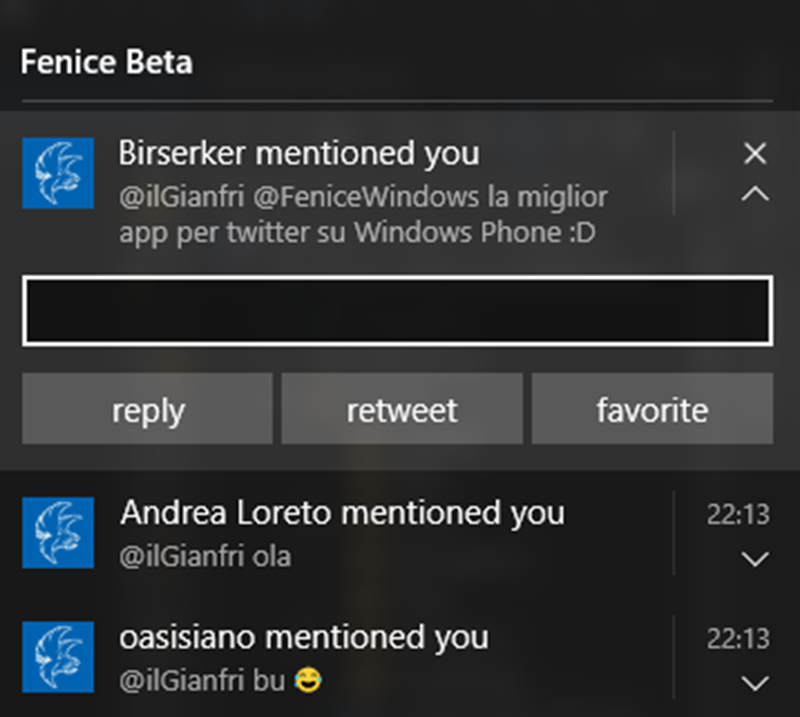 While we have seen some inertia from the likes of Facebook and Twitter when it comes to Windows 10 Actionable Notifications smaller developers have been coming on board rapidly.
The latest to show off their new integration is popular twitter client Fenice, who posted this picture on twitter showing their tweet in the notification centre with the ability to respond directly, retweet or favourite, all without having to open the app.
Windows 10 notifications are so powerful! #teaser #FeniceForWindows #Windows10 pic.twitter.com/PBrmi5ViCf

— Fenice for Windows (@FeniceWindows) August 31, 2015
Interestingly the feature will show up on the desktop version of the app first (likely due to the mass of users already on Windows 10 there) before coming to the phone app as part of a universal client.
Microsoft itself has not implemented Actionable Notifications widely in their own built-in apps, but we understand that the Outlook team have it on their list for their Modern app, so hopefully we will soon be swiping away and responding directly and more efficiently from the Action Centre soon, and help it live up to its name.
The current version of the app can be found at the store here:
Developer: Winuser
Price: $2.29+
Via