How To Factory Reset MacBook Without Apple ID Password
6 min. read
Updated October 3rd, 2023
Published October 3rd, 2023
---
Readers help support MSPoweruser. When you make a purchase using links on our site, we may earn an affiliate commission.
Read the affiliate disclosure page to find out how can you help MSPoweruser effortlessly and without spending any money. Read more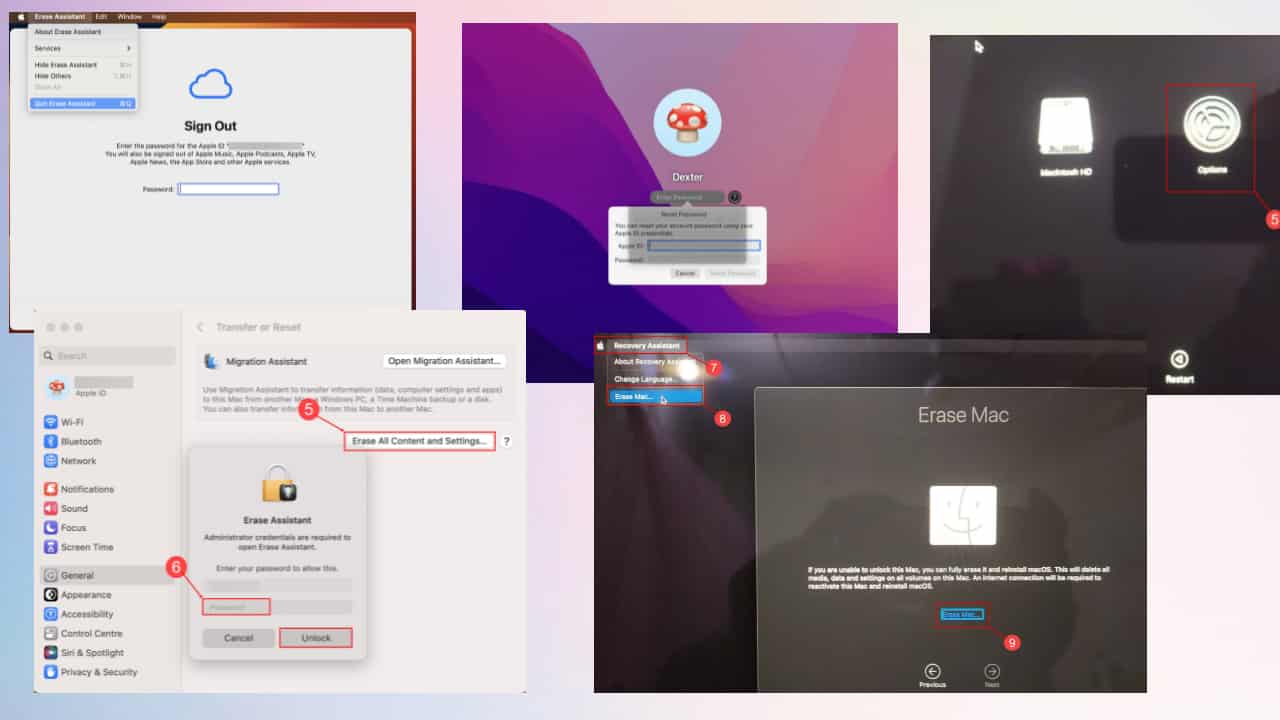 Imagine this: You couldn't resist a good deal on a used MacBook Air or Pro and bought it. But then you found out there's an Activation Lock on the device that you can't bypass.
Alternatively, you're selling your MacBook Pro to someone else but forgot your Apple ID password since you haven't been using it for many months now. In such situations, you'll need to learn how to factory reset your MacBook without an Apple ID password and get full control over it.
I've looked into several recommended solutions and online guides on Apple Community, Quora, and Reddit. After trying them out, only 2 actually worked! I've documented my entire troubleshooting process with screenshots below. But before that, let's see why you'd want to factory reset your Mac in the first place.
Reasons To Factory Reset MacBook Without Apple ID Password
Find below the potential scenarios when factory resetting a Mac without Apple ID credentials pays off:
If you suspect unauthorized access to your MacBook or have lost control of your Apple ID, a factory reset can help protect your data.
When you've genuinely forgotten your Apple ID password and can't recover it, resetting the device may be the only option to regain access.
When selling or giving away your MacBook, it's advisable to erase all personal data and settings, even if you don't remember the password.
Some companies require employees to factory reset their work laptops before returning them to ensure data confidentiality.
If the MacBook is linked to multiple Apple IDs and you wish to unlink them, a factory reset can help achieve this.
Why Do You Need the Apple ID Password?
Digital device manufacturers like Apple use advanced software programming and encryption systems to protect devices from theft and unauthorized usage. One of those technologies is Activation Lock.
During the setup process of a brand new MacBook Air or Pro, the system will ask you to enter your iCloud account details. According to my research, this action ties the device to the firstly registered Apple ID. Unless you sign out of it by following certain procedures, other Apple IDs can't get ownership of the device.
So, when you buy a pre-used MacBook or sell it to someone else, I recommend you delete the Apple ID to disable the Activation Lock technology.
If you don't do the above, you won't be able to factory reset the device from its standard user interface on the home screen.
Just so that you know, here's how you can reset a Mac from the home screen:
Click the Apple icon on the Mac toolbar.
On the context menu that shows up, click System Settings.
Click General on the left-side navigation panel.
On the right side screen of the same window, click on the Transfer or Reset menu.
Click Erase All Content and Settings.
Approve the activity with your Mac password. (If you don't know the password, you can't go past this step).
If you remember the login password and you've entered it right, you'll see the Erase All Content & Settings screen.
Here, click Continue and macOS presents the Apple ID password challenge.
So, if you don't know the MacBook password or Apple ID password, you can't disable the activation lock or factory reset the device. Continue reading to find out how to bypass this obstacle.
How To Factory Reset MacBook Without Apple ID Password?
Solution 1: Try To Recover the Mac Login and Apple ID Password
Recovering a Mac login passcode using your Apple ID password can be a convenient option if you've linked your ID to your user account. Follow these steps:
At the Mac login screen, enter an incorrect password three times.
After the third attempt, a message should appear on the screen, stating "If you forgot your password, you can reset it using your Apple ID."
Click on the Reset Password button to initiate the process.
You'll be prompted to enter your Apple ID and password associated with the Mac account.
Follow the on-screen instructions to reset your Mac login password. Typically, this involves selecting a new password and confirming it.
Once you're done, you can use the new password to log into your Mac.
So, when you've reset your Mac login passcode, you can now get past the Erase Assistant password challenge.
Alternatively, if you remember the Mac login passcode but you can't recall the registered Apple ID password, follow these instructions:
In the top-left corner of your Mac's screen, click on the Apple logo to open the Apple Menu.
On the Apple Menu, select System Settings to open the System Settings window.
In the System Settings window, you should see an Apple ID icon. Click on it.
Now, on the Apple ID settings, click on the Password & Security menu on the right side.
Click the Change Password button.
Enter the Mac login passcode to authenticate the action.
On the Change Password dialog box, you can now enter a new Apple ID password.
If you're unable to follow any of the above methods, check out my next troubleshooting tip.
Solution 2: Reboot MacBook Into Recovery Mode and Reset
In my experience, this is the most effective and effortless method to factory reset your MacBook without an Apple ID password. You'll be erasing the existing operating system along with the content of the disk. Then, you'll need to install the macOS online using the same recovery interface.
However, before going ahead with this process, you'll need to backup your device if you're planning to use it after the factory reset. But if you plan on selling the MacBook or you no longer need the data, you can ignore this step.
Now, follow the instructions below:
Shut down or restart the MacBook.
When the keyboard light goes off, long press the power button or the touch ID.
Keep pressing through the following screens:

Continue holding for startup options
Loading startup options

You should now see the Macintosh HD and Options on a dark screen.
Click the Options icon and choose Continue.
You should now see the MacOS Recovery window.
Click the Recovery Assistant menu on the top left corner of the window.
Click Erase Mac on the context menu that shows up.
Again, click on the Erase Mac hyperlink to continue.
Follow onscreen instructions to erase the disk.
Once it's over, you can re-install a fresh copy of the latest macOS from the Disk Utility tool.
If you're using an Intel MacBook, you'll need to press the Command + R keys after restarting the device to get to the recovery screen.
Conclusion
So, this is how you factory reset your MacBook without an Apple ID password. As you can see, it's a slightly convoluted process, but you shouldn't have any problems if you follow my steps.
Finally, I'd love to hear about your experiences and any additional tips you might have. Please share your thoughts and comments below!