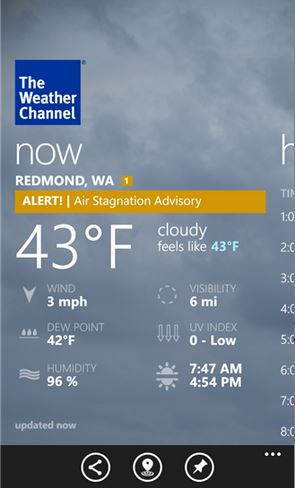 Nokia originally released an exclusive version of Weather Channel app for Lumia devices long back. The app was updated quite a few times with new features. Yesterday, the app got completely revamped with minor bug fixes, and performance improvements. But what is odd is that they have removed couple of main features, augmented reality and iwitness photos. I hope they will be adding these features back again in the future updates.
This update is a complete re-creation of our offering to be even more accurate and relevant to your life.
Highlights include:
-Fixed banner ads functionality
-Removed: augmented reality, my friends weather, and iwitness photos
-Updated tile content and main panorama
-Fixed 10 days forecast line break, assorted minor bug fixes, and performance improvements
Download it here from Windows Phone Store from your Lumia device here.