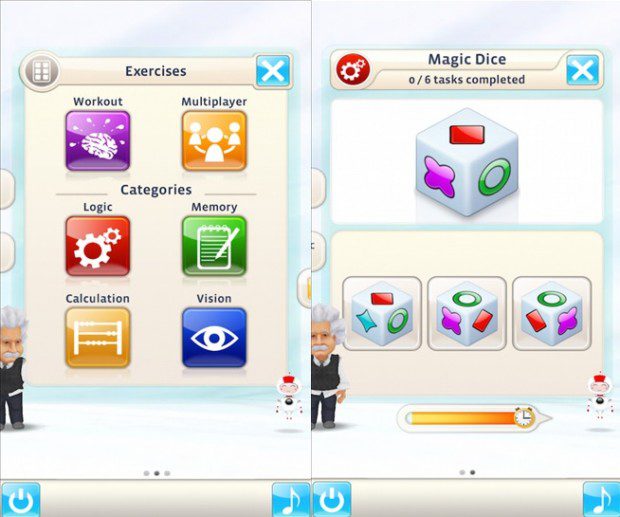 Einstein Brain Trainer is a new app in Windows Phone Store which offers 30 exercises for brain activation. All 30 exercises for brain activation have been tested with real research.
App Description:
If you want to stay young at heart, and sharp mentally, take a few minutes a day and train your brain with Einstein™ Brain Trainer!

Sly fox, studious student or brainy genius? How do you judge your "Brain Fitness"? Entertaining, yet with a scientific background "Einstein™ Brain Trainer" will help you to keep your brain active or – if needed will get it moving again! Perform the "Daily Test" and measure your "Brain Fitness", climb to ever higher scales and eventually become a "Royal Brain". Practice regularly and you will surely notice an increase in your "Brain Fitness". Remember, daily commitment and continuity are key to keeping your brain active!

Get your grey matter moving: Brain training for the whole family to enjoy at home or to play with your friends. Albert Einstein will guide you through this game with 30 excellent brain exercises. The famous Albert Einstein will accompany you with advice and assistance and explain which parts of your brain will be activated throughout the course of the training.

All 30 exercises for brain activation have been tested during the development of our successful "Train your Brain with Dr. Kawashima" program cooperating with the Industry University Research Project with Professor Dr. Kawashima. Dr. Kawashima is a respected and well-known Japanese neuroscientist who has appeared in popular and reputable brain training products before.
Features:
• Premier quality product for brain training for Windows Phone with a scientific approach
• 30 specially designed exercises to stimulate the brain
• Daily Tests to check your current "Brain Fitness"
• Dynamic adaption of the difficulty level for each exercise
• Detailed scientific background information for each exercise
• Continuous interaction between Albert Einstein and the player
• Detailed help system accessible from anywhere in the game
• Comprehensive and detailed statistics
• Profile management to allow for multiple players on one Windows Phone
• Hot-Seat mode (mutiplayer mode on a single Windows Phone)
• Easy and intuitive user interface to grant fun for young and old alike
• Personal coaching by the great mind and likeness of Albert Einstein
Download the app here from Windows Phone Store. 50% off for a limited time in celebration of Albert Einstein's birthday and Pi Day on March 14. You can buy it for $1.49 instead of the regular price of $2.99.