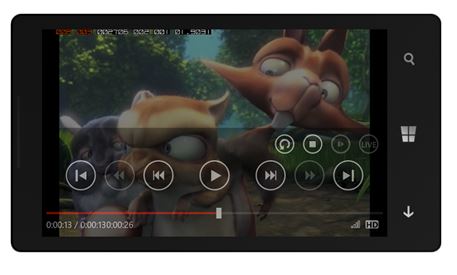 Microsoft Media Platform team has released their 1.1 version of the Player Framework for Windows Phone 8. This update includes several new features and unfortunately it is based on Windows 8 Xaml version code base, so it won't work on Windows Phone 7.x devices.
New Features:
Support for WP8
Performance improvements
Fully localizable
Easier to skin, brand, & style
New default style matches Windows Phone default video player's
Advertising support
Faster media/channel switching
Installs as VS extension SDK
Smaller runtime
MEF is no longer used to load plugins, plugins need to be manually added.
TTML rendering improvements (e.g. text outline support)
Smooth streaming support via new AdaptivePlugin.
100% backward compatibility with MediaElement API
Touch interaction improvements
Built in caption track selection UI
Built in audio track selection UI
Click to play support to help save bandwidth until user decides to play
New optional buttons in the UI
Landscape and portrait layout support
Poster support
Tracking plugin for monitoring playback
Download the latest version here at Codeplex.
via: Windows Team Blog