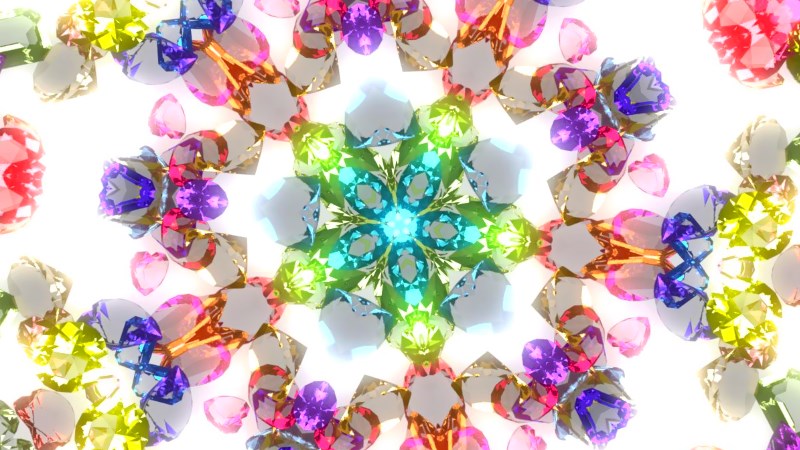 Do you remember how much joy your first kaleidoscope brought to you as a child?
Would you want to check if modern technologies can surprise you these days?
Airyware team has just published a new little app for all kaleidoscope lovers.
Microphone Kaleidoscope is a universal app available for PCs, smartphones, and Xbox consoles running Windows 10 with Anniversary Update (version 1607 build 14393 or above).
As the name suggests, the app can use a device microphone to influence the way kaleidoscope works.
You can talk, sing, or clap your hands and the app will generate patterns and animation accordingly and synchronously.
If you do not have any microphone available or do not want to use it, you can always switch to the manual mode and start using your mouse or touch or gamepad to shake the kaleidoscope content.
With a current version of Microphone Kaleidoscope you can:
switch between classic, star, or sickle reflection modes
change the number of mirrors or the distance between them
apply twirl, pinch and wave distortion effects
control all aspects of light and color
configure HDR halo processing
adjust gamma and vignette
remove or add more crystals to the scene
In total, there are 20 configurable parameters to play with, and 3 x 3 configuration presets to start from.
A fistful of diamonds is not the only thing you can place between mirrors.
To have another degree of fun, you can choose an arbitrary picture from your gallery and then generate and animate beautiful patterns from it.
Images with deep gradients and bright lines will work the best and astonish all those involved in the ornamental art.
To bring you even more fun, the app can work as a Teleidoscope.
Instead of a static source image you can feed your internal or external camera live stream directly into multi-reflection process and enjoy beautiful flowers made from real things and faces around you.
If you like what you see on the screen you can save a snapshot of it to the file in one tap or mouse click.
The app prompts for the destination folder once per session.
And if you are curious about the history of the kaleidoscope, the app can jump you directly to the digitized book "The Kaleidoscope" written in 1858 by Sir David Brewsteris, the inventor of the first kaleidoscope.
The app is free but displays ads that pay for it.
With a tiny $0.99 fee you can disable all ads instantly and forever, and thank, support, and motivate developers for keeping up the hard work.
The team greatly welcome your critique, reviews and suggestions.
Please try Microphone Kaleidoscope and then leave your comments here or send them directly to Airyware.