Deutsche Telekom, the company behind T-Mobile, has just published their latest "Sicherheitsreport". A part of it are the results of a survey about trust in companies in Germany, which clearly shows us that the people asked lack trust in the companies that surround them every day.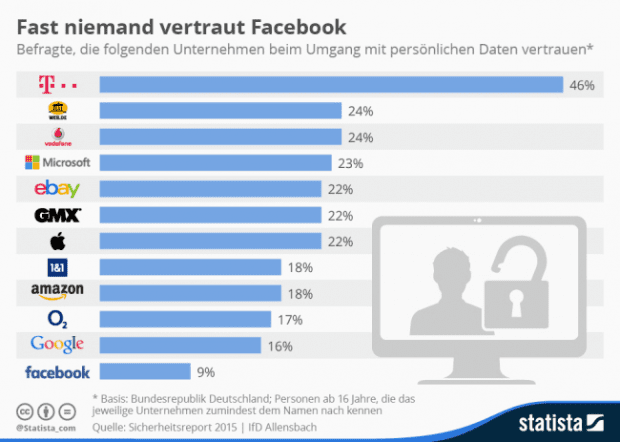 However, and this might be as pleasant as alarming, of all the tech giants listed, Microsoft was rated most trustworthy with only (!) 23% of surveyed people claiming trust in its protection of private user data. This makes the world's biggest software maker fourth in the list. Apple with 22% is not far behind Microsoft but Google was rated trustworthy by only 16% of all surveyed people. Last of the list is Facebook, with very low 9%.
The most trustworthy company, according to the survey, is the Deutsche Telekom with as many as 46%. This should make you take the results with a little bit of skepticism. While the survey is said to be representative and the "Institut für Demoskopie Allensbach" and the "Centrum für Strategie und Höhere Führung", which planned and executed the study, are undeniably reliable sources, the Telekom being on the first place is a bit suspicious. The results are based on an unknown number of people in Germany who were at least 16 years old and knew the companies at least by their name at the time the survey was made.
The whole report (in German language) can be downloaded here (.pdf).