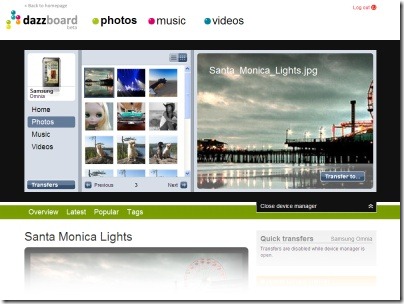 Many of us use drag and drop to manage our media on our smartphones.  Dazzboard aims to go one better, by providing a browser-based user interface for your drag and drop media.
Dazzboard runs on your browser and works with any device which supports USB Mass Storage mode. Once you're set up, you'll be able to view and manage all of your phone's content on the Dazzboard homepage. You can also transfer files from your PC to your phone, including your entire iTunes library.
Dazzboard also lets you download content to your phone from your other social networking sites like Facebook, Flickr and YouTube with the "Dazz me!" bookmarklet.
Dazzboard also has an interesting user discovery aspect: Videos, music and photos from other sources appear on the site. You can then grab this content, place it in a transfer queue (which appears on your Dazzboard page) and then transfer it to your phone. This include media such as Youtube videos.
Without an easy to use media source such as iTunes an application such as Dazzboard makes a lot of sense, and makes a break from many other synchronization products that try to do too much.
Read more at Dazzboard here.
Via PCWorld.com