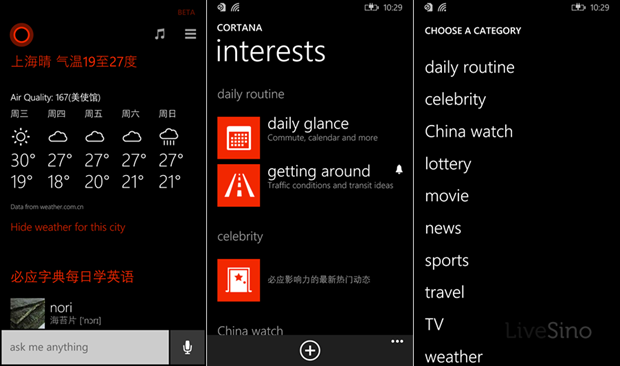 Cortana may be coming to China before UK, if recent moves by the Cortana team is any indication.
According to Liveside.net, Microsoft is already preparing for Cortana's launch in China, with numerous local features already showing up for Chinese Windows Phone 8.1 users.
Some of these include:
– Daily Routine: Beijing driving curbs schedule.
– Celebrity: celebrities news and social activities which is provided by Bing Score, a rank service developed by Bing China.
– China Watch: public holidays schedule, Bing Dictionary "Word of the Day" and the Beijing Movie Festival schedule.
– Lottery: lottery drawing date and results.
– Movies and TV: top movies and TV in some categories from Youku.
– Weather: temperature in Celsius and air pollution index.
Using Cortana in UK, I have not noticed any particular local features yet, but having said that, the digital assistant already works pretty well, except for the annoying weather in Fahrenheit issue.
Via Softpedia.com