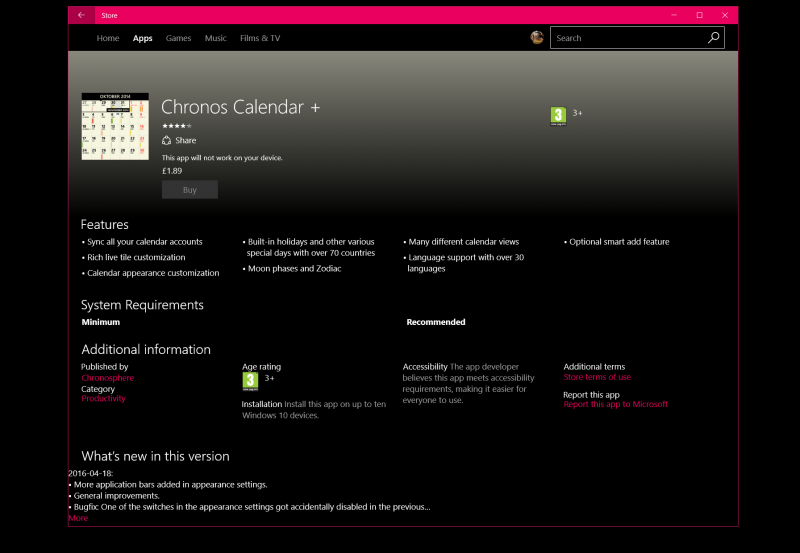 Microsoft's Windows 10 Mobile calendar is good enough for many users on Windows 10 Mobile, but its not perfect for everyone. Due to the lack of broad appeal of Windows 10 Mobile to developers who make calendar apps, there os a death f decent alternate calendar apps on the platform.
Chronos Calendar + is one of the exceptions, a calendar app with a brilliant live tile and a bevy of customisation options, it has something for everyone.
While its slipped under the radar in recent times, the app got an update which incorporated Windows 10 principles into its designs, improving it for one-handed usage and bettering its design. It has  a light theme, sepia theme, dark theme, neon theme and everything in between.
For live tile enthusiasts, its live tile shows more than one event (thanks Outlook Calendar theme) and has  a customisable design. Due to design choices, the app is synced against the built in Windows Calendar, so you'd have to set up your calendars via the normal way before using the app.
Here's what the app offers:
Practical and stylish calendar.
 Sync all your calendar accounts.
 Rich live tile customization.
 Calendar appearance customization.
 Built-in holidays and other various special days with over 70 countries.
 Moon phases and Zodiac.
 Many different calendar views.
 Language support with over 30 languages.
Optional smart add feature.
If it's something you want, you can pick it up from the Windows store below. Its a paid app for just £1.89 and doesn't have a PC version unfortunately, but its a purchase  I don't regret so far.