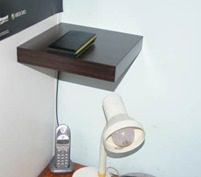 The dream of wireless charging is just to be able to plop your phone on a shelf after work and have it fully charged when you pick it up again on your way out.
Reader brent3000 made this a reality by building a Nokia Wireless Charging Plate for his Nokia Lumia 920 into a floating shelf which only cost him $13.
He was also kind enough to document the work step by step for those  who want to replicate it, and notes that, including the charging plate, the whole project cost less than $100 for what is a pretty nice accessory.
See his website here for the step by step instructions for creating your own wireless charging shelf also.
Thanks brent3000 for the tip.