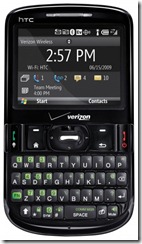 The BGR has Verizon's Black Friday deals, and there is one that may be of interest to Windows Mobile fans.
The HTC Ozone, for those who think touch screens are passé, will be available for the low price of only $9.99 after a $100 Mail in Rebate and of course on a two year contract, and will be available with Verizon's Buy One, Get One Free deal.
The Windows Mobile standard smartphone features GPS and a 528 Mhz processor, so is no slouch, and may be just what the business-focussed user needs.
Read more at BGR here.