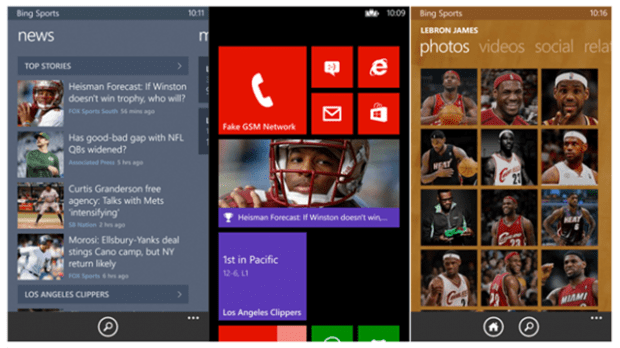 Bing Sports app on Windows Phone Store just got updated to v3.0.1.121 with many new features. You can now keep track of your favorite sports and its live games with updated experience. Also you can now have personalized news based on your favorite sports/teams. There is a new feature called player profiles which pulls information from Wikipedia and others and present in a great UI. I also noticed Cricket is now added to this app. You can now share your stories to others via e-mail.
Sports fans typically thrive on the latest scores, player stats, top headlines and schedules – and you'll get that with this app. But that's a lot of information to take in, so now you can personalize the experience to track the sports and teams that you care most about. You can get detailed information about live games in the NFL, NBA, MLS (and many more soccer leagues) and personalize Live tiles to display upcoming, live and completed games. You can also follow tweets, top stories and much more for popular athletes.
Download Bing Sports app from Windows Phone Store for free.
via: Microsoft