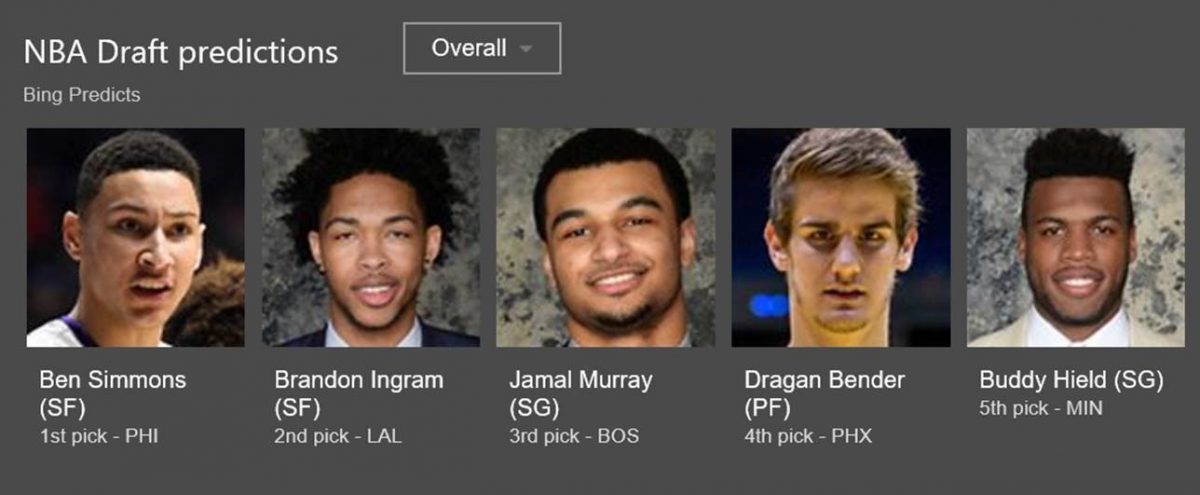 Bing is back to predicting sports, but this time rather than picking a winner in a game, Bing is predicting NBA draft picks. Bing Predicts has had good success with the pro-basketball draft, correctly picking nine of the first 11 picks within one spot in 2014, including getting the top three exactly right. In 2015 the players predicted for the lottery by the model (top 14 picks) were all correctly selected by the time the 14th pick was made.
"Our methodology for draft predictions involves building a base model that assesses the projected future success of all eligible amateur athletes by estimating a wins-above-replacement player value, and then applying a re-ranking based on web and social co-mentions of teams with players. The latter leverages the wisdom-of-the-crowd approach where—despite all attempts by team management to hide their interests—fans, journalists, and other public sources do a surprisingly good job of matching the best players with teams."
Check out the lottery below.
The top two players are close, similar to what we found for the pro football draft. In the end, Bing predicts that Philadelphia will use their first pick for Ben Simmons while Los Angeles will follow by taking Brandon Ingram. Ingram's stock rose with his performance in the college basketball tournament, as success and leadership there have proven to be meaningful for professional success. Dwyane Wade and Stephen Curry are two players whose stock rose due to tournament success, and they have followed that up with solid professional careers.

Boston is expected to take yet another Kentucky freshman in Jamal Murray at the No. 3 spot. The rest of the lottery is predicted to be:

4. Dragan Bender – Phoenix takes a risk on the Croatian big man

5. Buddy Hield – leading Oklahoma to a deep tournament run improved his value

6. Kris Dunn – the 2014-2015 Big East player of the year returned and further improved his game, becoming a two-time player of the year this year, pushing him into our projected No. 6 spot

7. Jaylen Brown – his season at Cal actually dropped him slightly but still a top 10 pick

8. Marquese Chriss – he has dramatically vaulted up the ranks since declaring for early departure

9. Jakob Poeltl – some experts say he's the player most likely to have immediate impact in the pros

10. Deyonta Davis – web signals are mixed on him but there seems to be enough talent for a top-10 pick

11. Henry Ellenson – hard-working Marquette player headed to Florida—sounds familiar, Dwyane Wade?

12. Timothe Luwawu – an international player from France with long wingspan fits Utah's needs

13. Skal Labissiere – no draft is complete without multiple Kentucky players taken during the lottery picks

14. Domantas Sabonis – like father, like son—talented big man takes the final lottery spotnba