Microsoft Bing is predicting weekly winners for NFL games this 2016-2017 season, much like it did last year, though this time it's doing things a little different with weekly fantasy football picks as well. Well first week results are in after this weekend's games, and Bing didn't perform as well as we all had hoped, with only a 46% success rate.
Bing incorrectly predicted the Buffalo Bills over the Baltimore Ravens, the Dallas Cowboys over the the NY Giants, the Indianapolis Colts over the Detroit Lions, and 4 other games including New England, Tampa Bay, Cincinnati, and New Orleans. The prediction engine went only 6 for 13 for the week, correctly predicting less than half of the games.
Bing predict works by analyzing data to suggest event outcomes, like team strengths, historical stats, team rankings, web activity, and of course real-time information like injuries, suspensions, controversies, and line-up changes (for sporting events). Bing predicts also predicts draft events, judge-based contests, and user voting contests or events.
Bing has not had the best success with NFL, dating back to 2014 when it scored a 67% success rate, and a 63% success rate in 2015. However, when it comes to reality shows, award shows, and politics, the prediction engine has over an 85% success rate.
There are still two more games on Monday night, the Washington Redskins vs. Pittsburg Steelers, and the LA Rams vs. San Francisco 49ers (currently Bing has Pittsburg and San Francisco taking wins).  Lets hope that Bing gets these two games correct, as it started the season 0-1 with an incorrect Carolina pick on Thursday night. At least 8-8 is better than 6-10.
Bing Predictions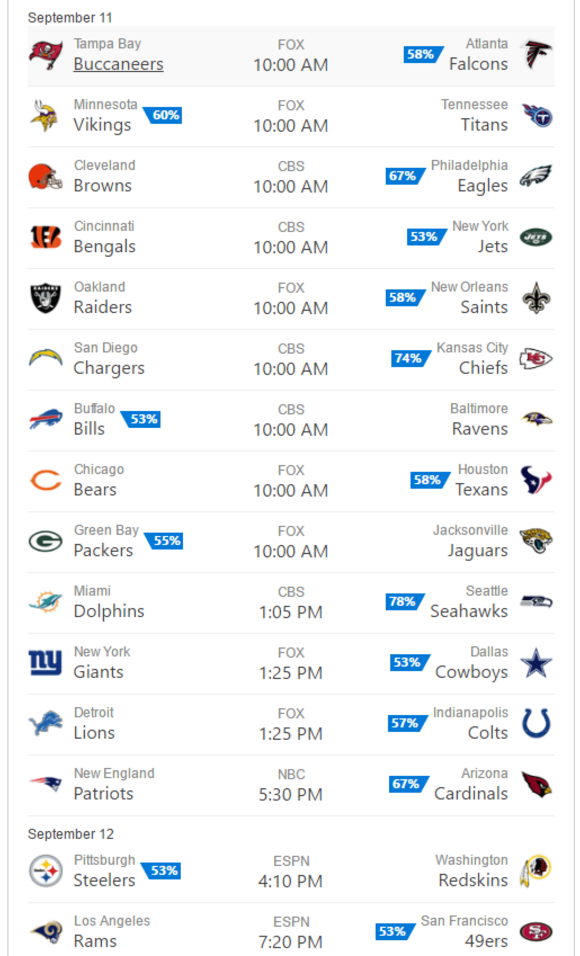 Week 1 Scores