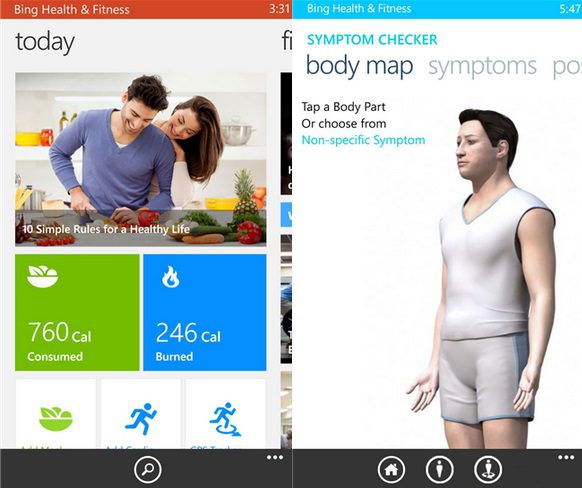 Microsoft has released no.of Bing apps for Windows Phone 8 devices. Bing suite of apps includes Bing Weather, Bing Sports, Bing News, Bing Finance, Bing Travel beta. The recent Windows Phone 8.1 SDK leak revealed that Microsoft is working on Bing Health and Fitness beta app as well. This pre-release beta version of the application is meant for Microsoft testing purposes only, but you can download it from Windows Phone Store if you want to try.
The Bing Health & Fitness app helps you stay on top of health and fitness trends and provides the tools you need to support a healthy lifestyle.

Designed for Windows Phone, the Health & Fitness app brings together great fitness, nutrition and health content, along with trackers, tools and other features.
Set your daily calorie goal, record what you eat and get nutritional information for over 300,000 foods. Choose from hundreds of workouts and exercises with step-by-step instructions, photos and video.

Use the GPS tracker to record your time, distance, pace and calories burned while you walk, run, bike and do other activities. Enter symptoms to get information on possible health conditions with the Interactive Symptom Checker. Keep your tracker data synced across your Windows 8 devices.
Download it here from Windows Phone Store for free. Find more screenshots after the break.
via: Liveside