Is Copilot the best AI companion out there? Help us find out by answering a couple of quick questions!
Looking for the best SSH client for Windows? If so, I'm here to help you make the perfect choice.
SSH (Secure Shell) is a protocol that connects your computer to the internet. With it, you can securely transfer files, execute commands, and log in over an unprotected network.
Since there are many SSH clients out there, picking the right one may be confusing.
Thankfully, I tested over 15 of them, so you don't have to. You can find out more about my research below. Keep reading to find out which one works for you.
How We Test
To compile this list, I carefully evaluated popular SSH clients for Windows based on the following criteria:
Features: I prioritized clients that offer support for SSH2, SFTP, and port forwarding. I also favored features such as tabbed sessions, macros, and key authentication.
Performance: I assessed the network speeds of each app.
Usability: I evaluated their user-friendliness and the simplicity of the sessions.
Security: I examined the client support encryption methods and other security features. 
By considering these factors, I singled out 8 apps that performed the best.

Best SSH Client for Windows
Here are some clients you need to check out:

PuTTY is beginner-friendly and easy to install. With just a few clicks, I had it running on my device. However, if you're into fancy graphical user interfaces, this client isn't for you as it's text-based.
When it comes to basic SSH tasks and security management, PuTTY works smoothly. Although poor network connection may cause it to lag sometimes, it typically responds quickly.
It also supports Telnet, Serial, Rlogin, and SUPDUP network protocols.
PuTTY is free and open-source, which is great for software developers, as they can contribute to its features or suggest changes.
On the other hand, I noticed that this client lacks native tools and, hence, relies on third-party apps to execute advanced processes. Downloading stuff all the time can be annoying.
Overall, it's a good choice and has been on the market longer than others.
Pros:
Simple graphic user interface

Supports multiple protocols

Portable and secure
Cons: 
Not ideal for jobs that connect to many devices all the time

Doesn't have in-built editors
Solar-PuTTY is a real powerhouse regarding SSH terminal emulation and network file transfers. 
I found it to be a game-changer. You can use it to take control of your connections and manage remote sessions like a pro.
The tabbed interface allows for effortless multiple-session handling. 
The best part is that you can save your credentials and private keys for each session, making logging in a breeze. Solar-PuTTY can even handle script automation upon connection.
Pros:
Multiple tabs for seamless multitasking

Supports SSH and Telnet

Easy access to saved connection details

Simple command line terminal
Cons:
Difficult to navigate interface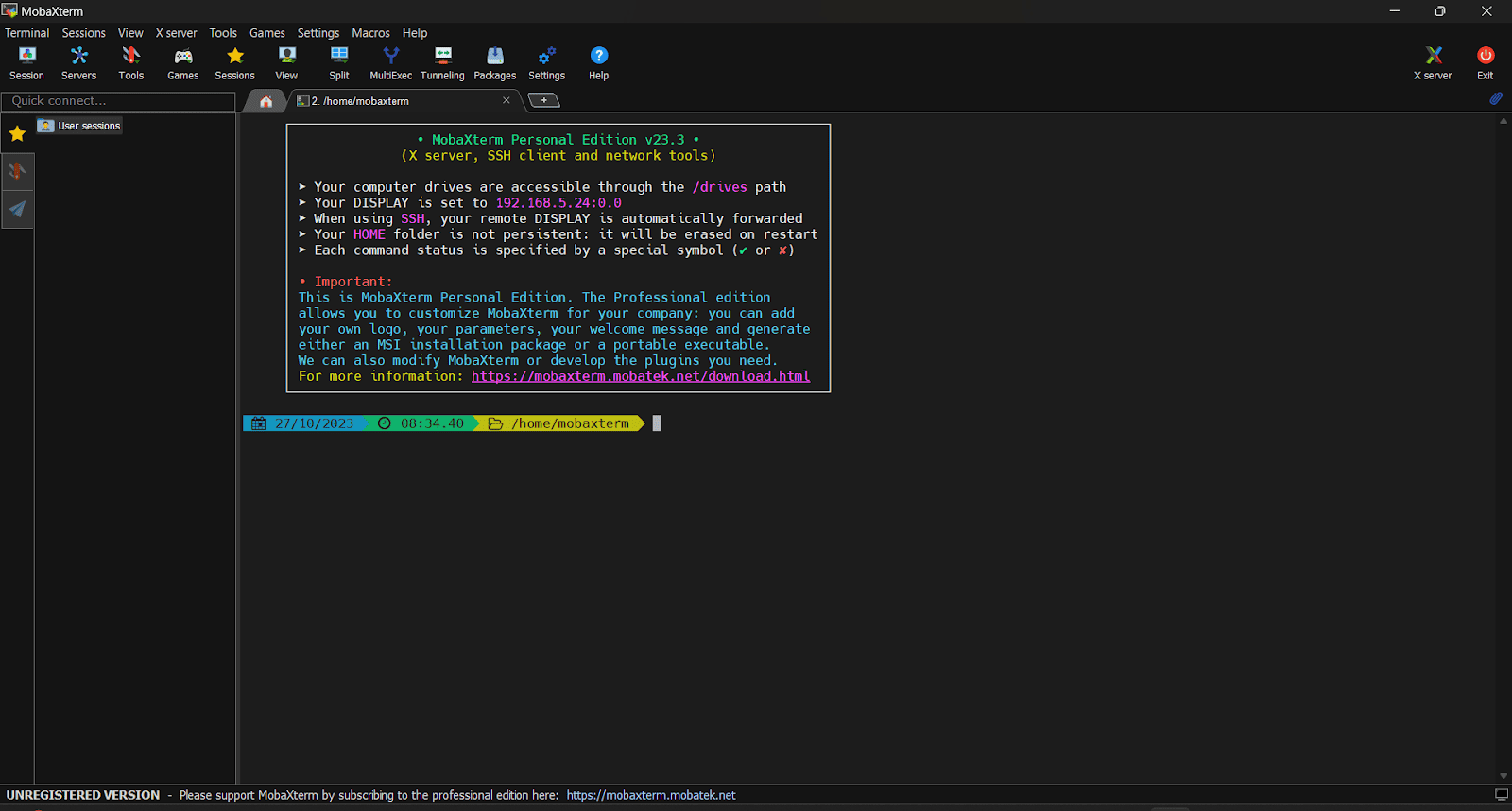 If you need to manage systems remotely, MobaXterm should be your go-to client. MobaXterm is lightweight and portable, and also incredibly versatile, thanks to its plugins.
The built-in SCP/file transfer is great for swiftly moving files between the server and your personal directory.
It's great for programmers, webmasters, and IT administrators. Plus, it supports a whole array of protocols like SSH, X11, RDP, VNC, and more.
I found MobaXterm to be an incredibly useful tool. The tabbed user interface keeps everything neatly organized.
Pros:
Easy to use

Wide range of features

Excellent for remote computing
Cons:
Buggy macros

May crash when the host isn't responding
WinSCP is a powerful file manager that can effectively handle your file transfers and manage scripts.
It supports multiple protocols like Amazon S3, FTPS, SCP, and WebDAV. And here's the kicker: power users can take it a step further by automating WinSCP using .NET assembly. 
One minor downside is that it requires internet access to access IP and ports, which may not be convenient in certain situations.
Pros:
Drag-and-drop functionality

Open-source

Supports multiple file transfer protocols

Portable
Cons:
Transfers large files slowly
Check out KiTTY if you crave a powerful, feature-rich SSH experience that surpasses even the well-known PuTTY. It works seamlessly, especially if you're dealing with a multitude of SSH sessions.
It's a direct fork of PuTTY, a Windows client that needs no introduction. 
However, KiTTY takes things up a notch, offering a more user-friendly, feature-rich experience while keeping its lightweight and portable quality intact.
I found its built-in SFTP and tabbed interface a huge plus.
Pros: 
Integrates pscp.exe and WinSCP

Has a text editor and chat system

Open-source and free

Can establish automatic connections

Cons: 
mRemoteNG is a powerhouse in remote connection management that truly redefines your remote work experience.
I found it to be an impressive upgrade from its predecessor, mRemote. It's also free and open-source.
From my research, mRemoteNG keeps getting better with every bug fix and feature update.
You'll enjoy a seamless experience managing all your remote connections through its sleek and powerful tabbed interface. During my testing, I found it to be user-friendly and straightforward.
Pros: 
Secure for multiple client credentials

Multiple protocol sessions

Able to encrypt files
Cons: 
Numerous connections may crowd the interface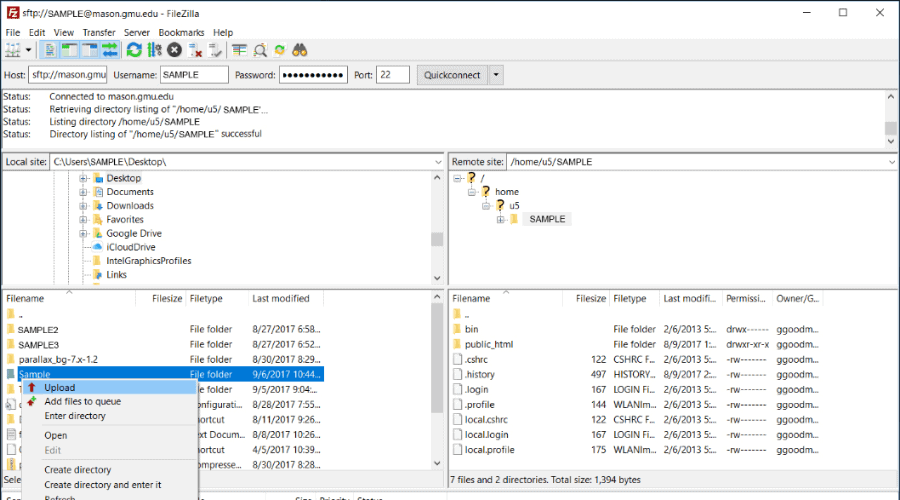 Let me introduce you to FileZilla, a file transfer client that's not only free but also open-source. It supports FTP, FTPS, and SFTP protocols.
FileZilla Pro is the premium version with additional support for WebDAV, Amazon S3, Backblaze B2, Dropbox, and Google Cloud Storage.
I used both versions and enjoyed their user-friendly graphical interface. It makes it a breeze to resume transfers and manage those hefty files seamlessly. 
Be ready for a slight delay during the initial connection to the server, but it's a minor hiccup considering the benefits it brings.
Pros:
Helpful for transferring large files

Restores connection credentials safely

Simple UI
Cons: 
No dedicated customer support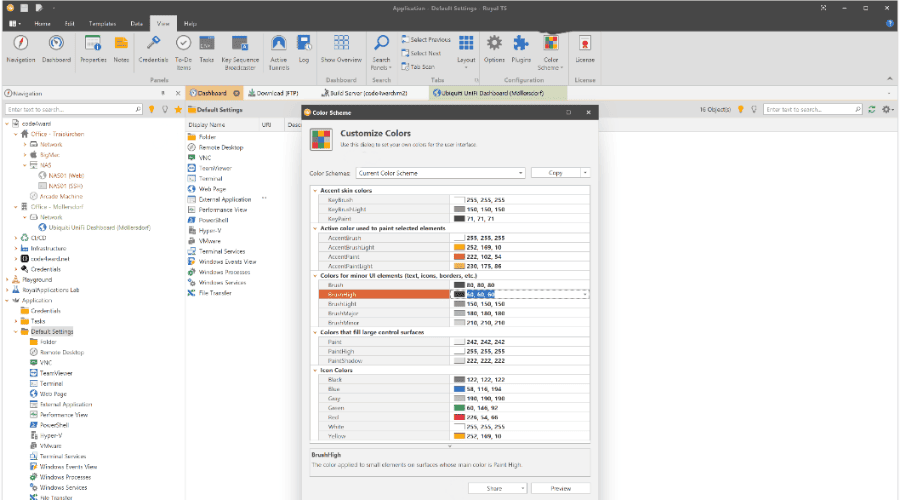 Royal TS effectively handled my diverse array of connections. It supports various types, from RDP, VNC, SSH, and SFTP to other web-based interfaces.
I found its built-in credential management and secure team-sharing functionality extremely helpful.
You can effortlessly share your connections with the team while safekeeping your credentials. It's like having a secure vault for collaborations.
Royal TS doesn't stop at just managing connections; it's all about fortifying them, too. With secure gateways and SSH-based tunneling, it elevates your security.

Pros:
Open-source and lightweight

Secure multi-user document sharing

Compatible with a variety of connection types

Drag-and-drop support
Cons:
Conclusion
While looking for the best SSH client for Windows, you should consider several key factors: features, performance, and security to ensure the optimization of your SSH connections.
I hope this information has helped you make the right choice. Feel free to share your favorite client in the comments below!