Finding the best file manager for Windows can significantly impact your overall experience while ensuring your data is safely stored and easily accessible when needed.
File managers have become an integral part of life since PCs have taken the forefront of our society. Still, the issue is that the market is so saturated with hundreds and hundreds of software options, which can make the average user feel overwhelmed.
Below is a graph from the useful Finances Online research paper on Cloud File & Document Management Software Statistics from 2020. As you can see, in 2020, 97% of organizations used very little or almost no digital document processing.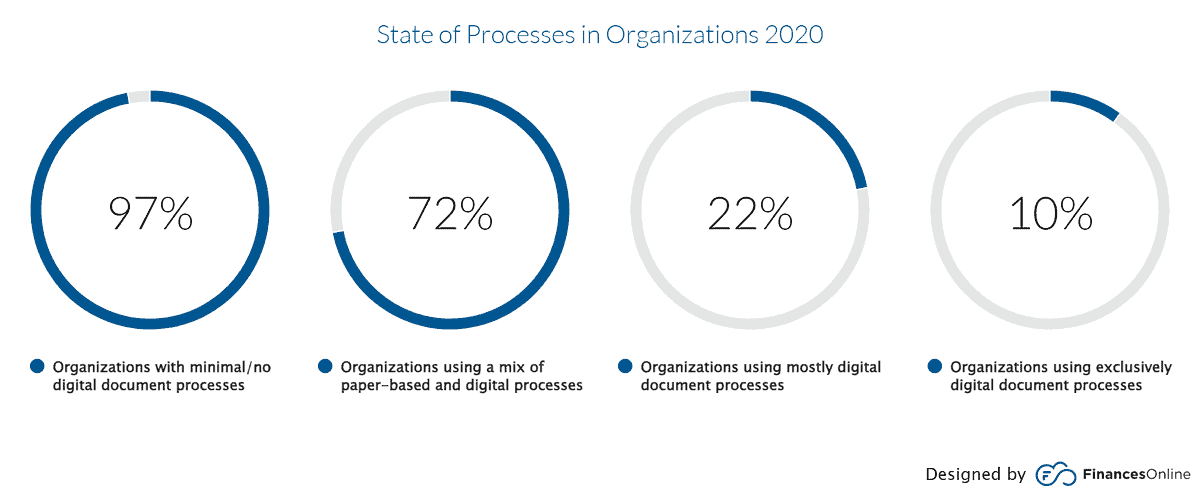 As a result, the productivity losses identified by the studies are worrying. Still, they point to a fundamental idea: correctly managing your personal or company's data is more critical than ever.

This is where our guide comes into the picture. After reading through this guide, you will better understand what makes a good file manager software for Windows, and you will have a set of thoroughly-researched software options to help you manage files on your electronic devices.
1. FileZilla – Best file manager software with FTP
FileZilla is a well-known and reliable file manager software that is especially well-known for its outstanding FTP (File Transfer Protocol) features. It is a helpful application for Windows users that makes moving data between a local machine and a distant server easier.
Users may easily manage their websites with FileZilla, download/upload files, and keep track of website folders.
Even beginners can easily use the software because of its simple layout. Secure data transfer is possible via FileZilla's support for FTP, FTPS (FTP Secure), and SFTP (SSH File Transfer Protocol).
Pros
Supports FTP, FTPS, and SFTP protocols
Ensures cross-platform compatibility
Can resume interrupted transfers
Site Manager feature for managing multiple connections
Cons
The interface could be overwhelming for some beginner users
2. Free Commander – Best free file manager for Windows 10
Free Commander is a dual-pane file manager for Windows with various features aimed at streamlining file operations and boosting productivity. Users can copy, move, and compare files between two distinct folders with maximum simplicity thanks to its dual-panel interface.
With the software's extensive customization features, users can personalize the user interface to suit their preferences. It also includes a built-in file reader that makes viewing the contents of different file kinds quicker without using other programs.
Pros
Easy to use with a dual-panel layout
Wide range of customization options
Built-in file viewer and quick search
Tabbed interface for easy and intuitive navigation
Cons
Some occasional minor stability issues have been reported
3. XYplorer – Best file manager for Windows 10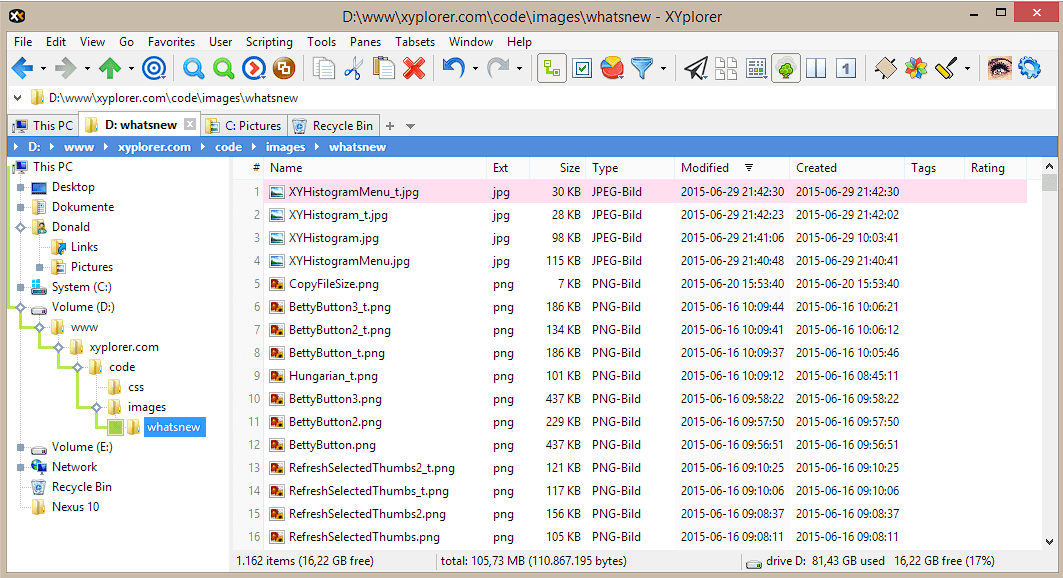 XYplorer is another top-tier file manager software that serves professionals and power users looking for significant customization and cutting-edge functionality. Its strength rests in its capacity to manage heavy file loads quickly and effectively.
One of XYplorer's unique characteristics is its incredibly customizable interface, which allows users to create the workspace of their dreams. Because of the software's portability feature, it can be used as a tool for those constantly on the go.
Pros
The interface is almost entirely customizable
A portable version is included for USB drives
Great file management options
Advanced search and filtering features
Cons
Paid software with no free version available (30-day trial)
4. Directory Opus – Extensive file handling
Directory Opus is an efficient file manager and is a solid rival to the built-in Windows Explorer. It provides many tools focused on users looking to increase their productivity and organization.
The dual-pane interface of Directory Opus, which gives users two side-by-side windows to enable seamless file transfers and comparisons, is one of its primary features.
Photographers and designers frequently use the software because of how well it handles photos and metadata.
Pros
Dual-pane interface for seamless file management
Excellent at handling image and metadata files
Integrated file viewer and archive support
Batch renaming and scripting options
Cons
The cost is relatively high compared to other options
5. Total Commander – Plugin-supported multitasking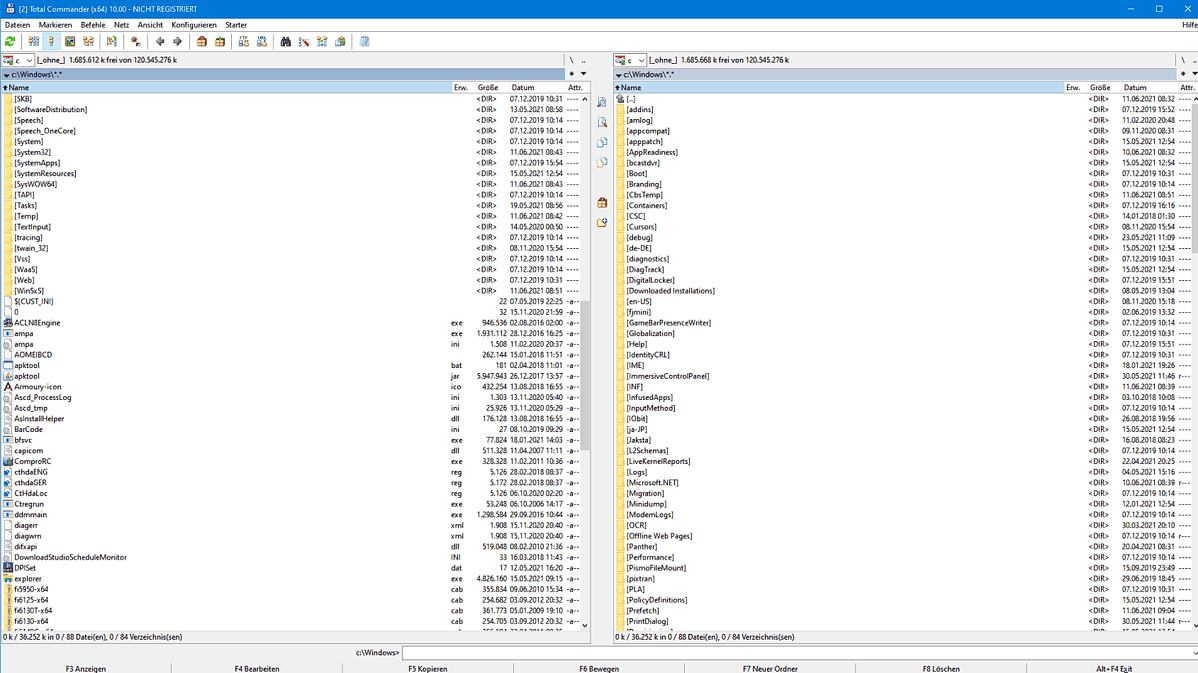 Total Commander is a seasoned file manager that has endured the test of time and gained a loyal user following thanks to its dual-pane layout and variety of helpful features.
Total Commander offers a wide range of plugin support, which enables users to expand the software's capabilities by including other plugins. This is one of the application's most notable features.
Furthermore, it supports effective file synchronization, making it simple to maintain perfect harmony between two folders or directories.
Pros
Supports a wide range of archive formats (ZIP, RAR, and 7Z)
Efficient file synchronization
Directory history and favorites for quick access
An extensive collection of valuable plugins is available
Cons
The user interface design is outdated
6. TagSpaces Pro – Efficient tag-based file organization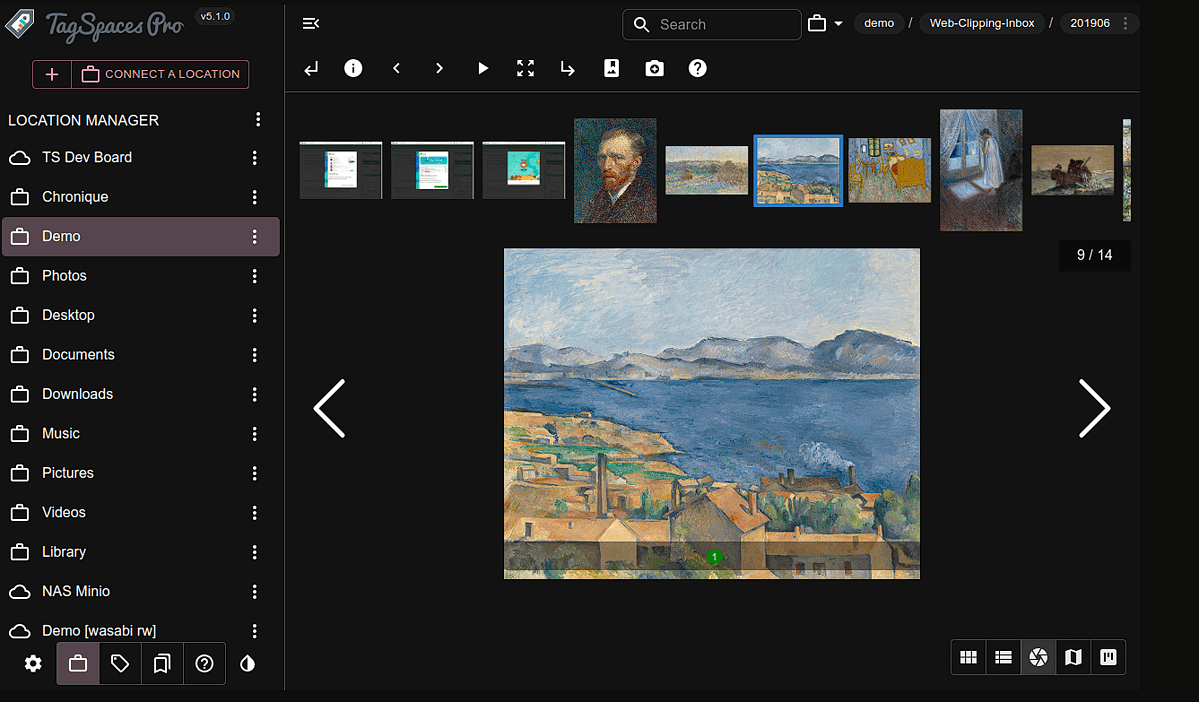 TagSpaces Pro is a feature-rich file manager software that uses tags to organize files and folders, making it stand out from the crowd.
It is simple to find and categorize documents, photos, and multimedia files with TagSpaces Pro's keyword-tagging feature, which differs from conventional folder-based systems.
TagSpaces Pro offers a seamless user experience and simplifies organizing files thanks to its straightforward and understandable UI. Both individuals and enterprises need a flexible and user-friendly file management solution, and the software is made to satisfy their needs. If you want to check out the free version, explore TagSpaces Lite.
Pros
Tag-based file organization improves efficiency
Available for Windows, macOS, Linux, Android, and iOS
Built-in text editor and PDF viewer
Offline synchronization features
Cons
Paid software with a free trial
7. One Commander – Cloud-integrated simplicity
One Commander is a sleek file manager that emphasizes usability and simplicity. Users looking for a simple solution will find file management entertaining due to its straightforward and aesthetically pleasing design.
The software stands out because of its seamless interaction with cloud storage providers, which gives users inside the application direct access to their cloud-based files and folders.
Users can also inspect file contents without opening them in external software using the preview window.
Pros
Clean and modern design
Seamless integration with cloud storage services like Google Drive or Dropbox
Enables quick access to most used folders
A preview pane is included for previewing files
Cons
Limited features compared to other file managers
8. MultiCommander – Scriptable advanced features
Power users and tech enthusiasts who require significant customization and various file management tools are covered by Multi Commander.
Users can customize the software to meet their unique needs thanks to its flexible architecture and modular structure. Multi Commander's scripting support, which enables users to automate repetitive activities and create custom commands, is one of its major features.
The software's plugin system expands its functions by giving users access to new tools and features.
Pros
Tabbed interface with easy multitasking
Scripting support for automation processes
Great file management features
Themes and extensions are highly customizable
Cons
A steep learning curve for new users
---
In conclusion, deciding which Windows file manager is best depends on personal preferences and needs.
While power users and experts might prefer XYplorer for its sophisticated capabilities and customization choices, customers looking for a dependable and well-liked FTP service may find FileZilla the ideal alternative.