Best DVD Maker for Windows - Top 8 Tools Reviewed
11 min. read
Updated October 30th, 2023
Published October 30th, 2023
---
Readers help support MSPoweruser. When you make a purchase using links on our site, we may earn an affiliate commission.
Read the affiliate disclosure page to find out how can you help MSPoweruser effortlessly and without spending any money. Read more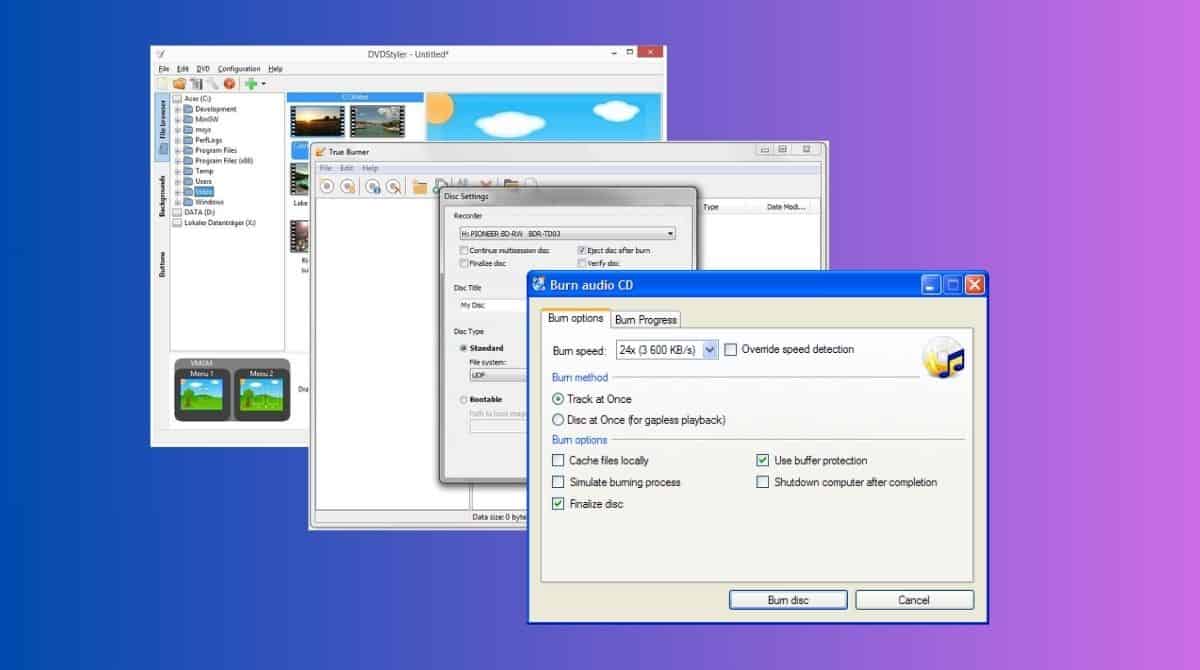 What if I told you that you could find the best DVD maker for Windows that fits your needs in just 10 minutes? 
I know that juggling between lots of options for Windows DVD creators is tiring and frustrating. That's where I come in.  
In this guide, I'll walk you through the finest DVD makers for Windows on the market. I'll also give an overview of each to help you make an informed decision. Plus, I'll lay down steps on how to burn a DVD on your Windows PC in no time. 
With that out of the way, let's roll in. 
Best DVD Maker Software for Windows
Here we'll explore the finest DVD creators for Windows that you can install on your PC right away: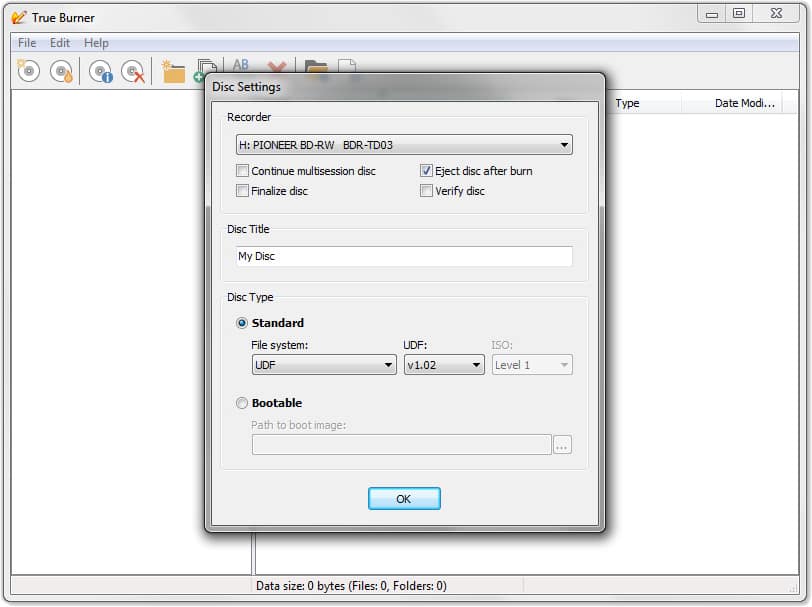 I've found True Burner to be one of the most efficient DVD makers for Windows. It's free and super easy to use, making it perfect for anyone who needs to burn CDs, DVDs, or Blu-ray Discs. Whether it's for backup, data, audio, or creating DVD-Video discs, this software has you covered.
I love that it's free for personal use, and lets me create data, bootable, and multisession discs with ease. Making Audio CDs and MP3 CD/DVD/Blu-ray Discs is a breeze too. The clean interface speeds up the process, so I can finish my burning tasks quickly.
True Burner also supports on-the-fly writing for all image types, saving me the hassle of staging files on my hard drive first. Plus, it's compatible with various Windows versions without requiring any drivers. It's a fantastic, hassle-free solution for all your disc-burning needs.
| | |
| --- | --- |
| Pros | Cons |
| User-friendly interface | Limited advanced features |
| Supports various disc formats | No Mac or Linux support |
| On-the-fly writing | Minimal customization options |
| Auto-verification of written files | |
Nero Burning ROM stands out as one of the finest DVD makers for Windows. With its user-friendly interface, it's a top choice for both beginners and experts. The software's well-defined menus and detailed wizard make burning discs a breeze.

The wide range of supported CDR/RW formats is a big plus. It ensures you can work with nearly any disc type. It excels in maintaining high-quality data recording across various formats, including the latest DVD standards. 
Whether you're creating audio or video CDs or more advanced BDMV and AVCHD media, Nero Burning ROM handles it all efficiently. It's also compatible with various drive types to consistently deliver top-quality results.
While it offers a 15-day trial, its full version at $39.95 (at the time of writing) is well worth it for a robust and reliable disc burning. 
| | |
| --- | --- |
| Pros | Cons |
| Wide format support | Paid software |
| High-quality recording | A bit pricey |
| Strong customer support | |
| Detailed step-by-step wizard | |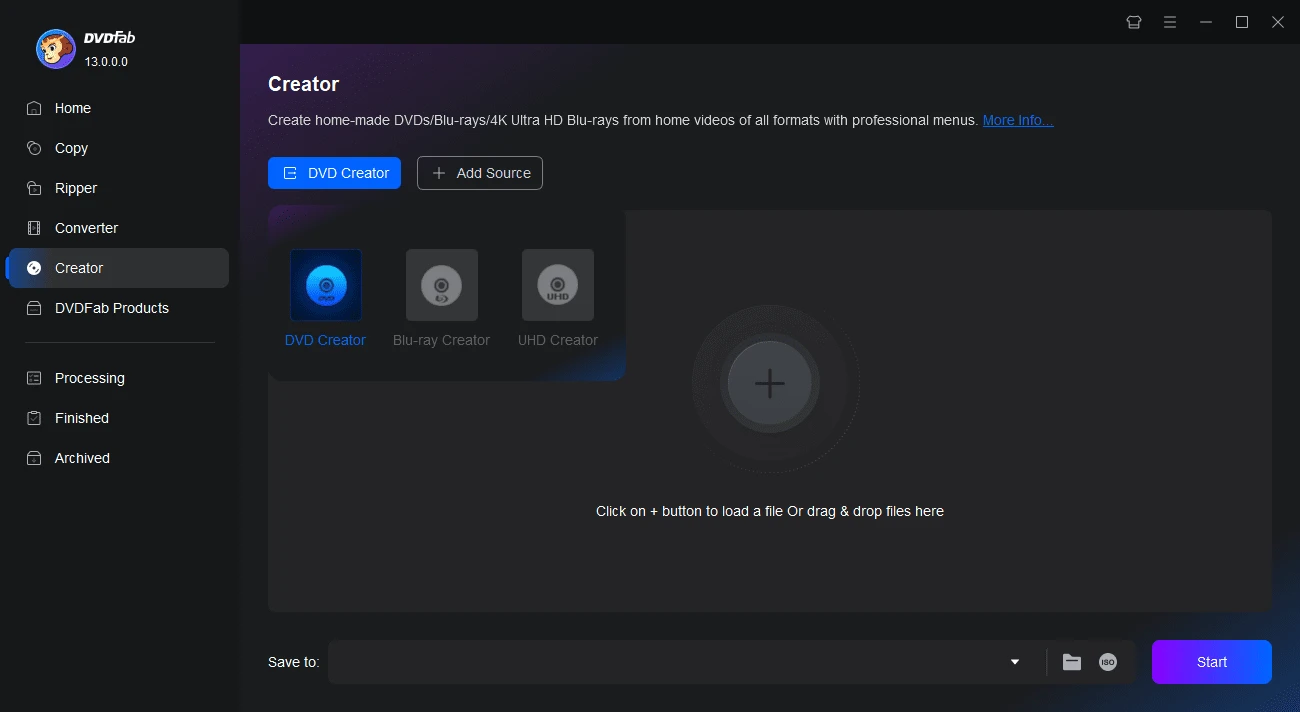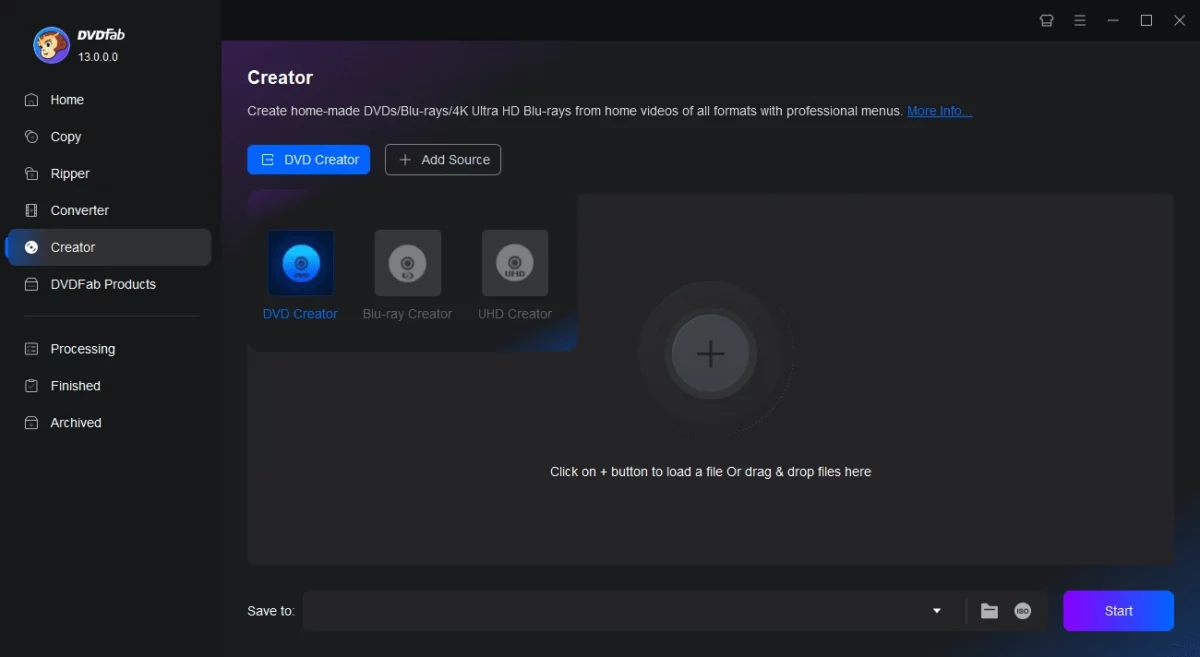 DVDFab DVD Creator is a powerful DVD-making tool for Windows. It packs a variety of features that cater to different copying needs. While its interface might initially appear a bit overwhelming, once you get the hang of it, it becomes easy and enjoyable to use.
One standout feature is its ability to copy compressed files, allowing you to fit DVDs onto smaller discs. This is perfect for creating backups, even though some quality loss might occur during the compression process. However, for the best quality, the disc-to-disc option provides an identical copy. If you have two DVD drives, it's even more straightforward.
Customization is another strong point. You can manually select what to copy, avoiding compression and preserving the original quality. Moreover, DVDFab lets you merge multiple discs into a single Blu-Ray, simplifying your collection and organization.
Despite some minor quality loss during compression, DVDFab stands as one of the top DVD copying software options. It gives you versatility and customization in your DVD creation process.
| | |
| --- | --- |
| Pros | Cons |
| Versatile copying options | Initial complexity for beginners |
| High customization | Quality loss during compression |
| Ability to merge multiple discs | Paid software with no free version |
| Intuitive interface once learned | |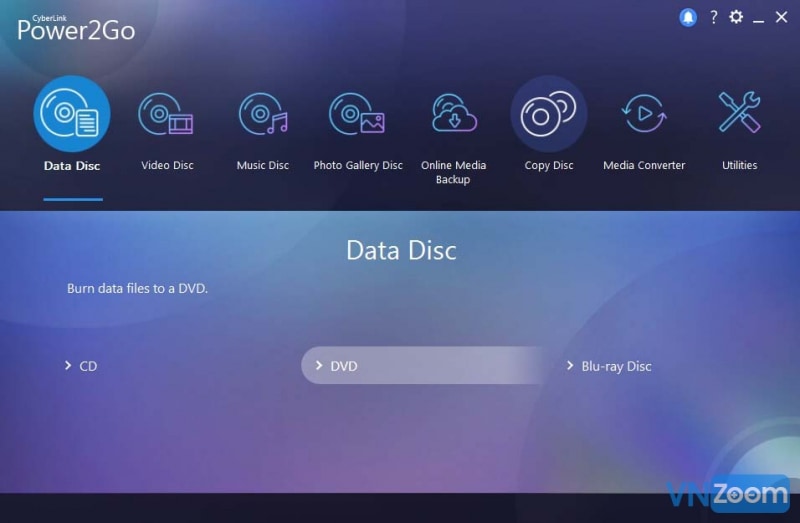 If you want to safeguard precious data on your computer, Power2Go is among the best DVD creators for Windows you can find. 
Power2Go simplifies the backup process with its user-friendly interface. Whether you want to save music, images, videos, or important documents, it's got you covered. The best part is that its latest version, Power2Go 13, offers support for modern file formats. These include H.265 video and HEIC/HEIFC images.
Moreover, what sets Power2Go apart is its handy movie-authoring features. You can easily create DVDs and Blu-rays by dragging and dropping video files into customizable templates. 
Also, Power2Go provides tools for background audio, chapter selection, and disc menus. This way, it lets you tailor your discs to your liking. You can also use it to download and store YouTube and Vimeo videos for offline viewing.
If you're seeking an all-in-one solution for data backup and movie creation, Power2Go is a reliable and versatile choice.
| | |
| --- | --- |
| Pros | Cons |
| Diverse file format support | Limited free version |
| Movie-authoring features | Requires quite some learning |
| Backup bootable data to USB | No Mac or Linux support |
| Download and store online videos | |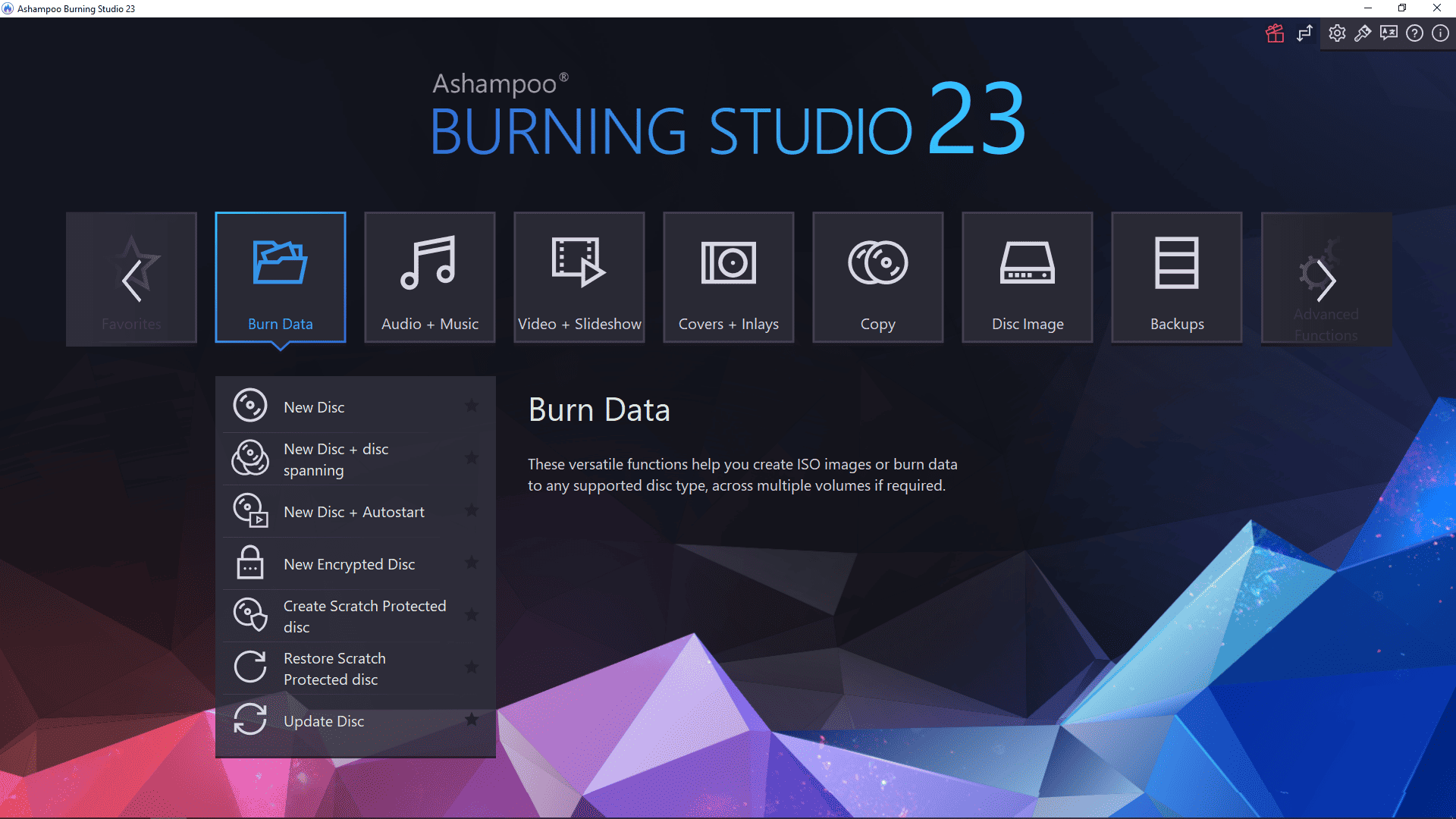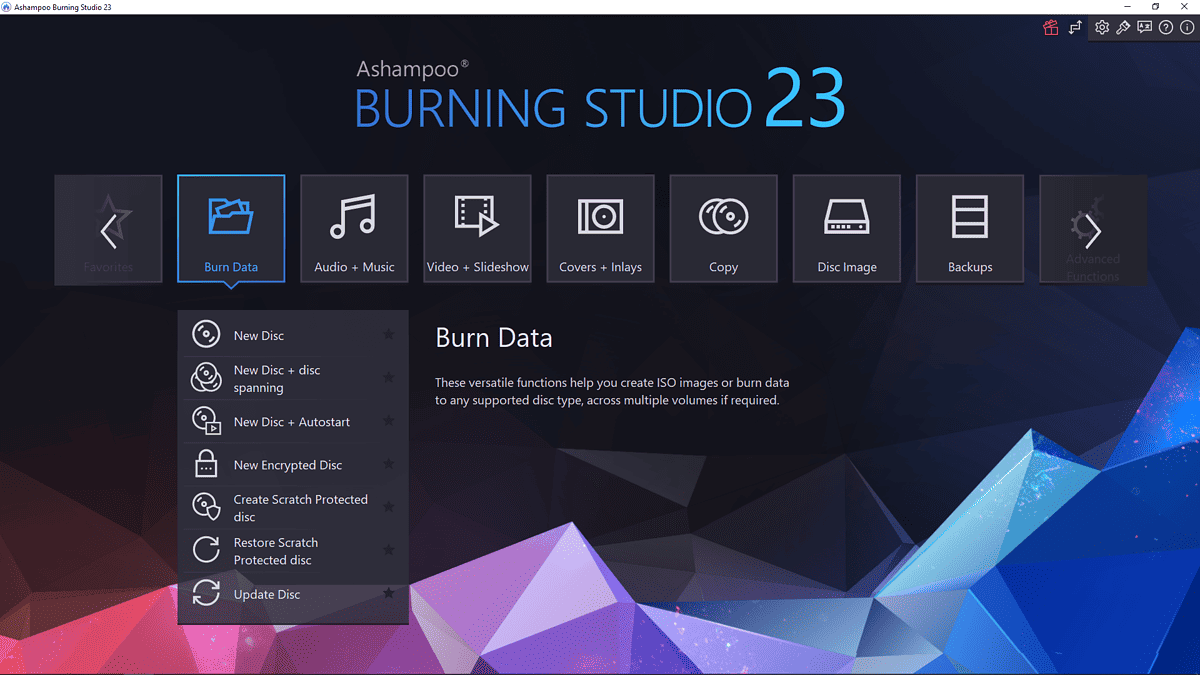 Ashampoo Burning Studio Free is an impressive solution for  DVD creation on Windows. Its sleek interface stands out and offers clear options for burning various disc types, like data, audio, and videos. 
You can also copy discs, create disc images, and back up essential files. Though its backup tool lacks some advanced features like scheduling, it's handy for occasional backups.
That said, this software doesn't stop at burning – it can automatically rip audio CDs too. Moreover, its premium version introduces more features, including password protection, animated menus, and label and cover creation. It also supports disc-spanning and data copying to memory cards.
Although the installation requires an email for a free license key, the software itself is free from adware and distractions. For occasional use or regular burning needs, Ashampoo Burning Studio Free covers it all.
| | |
| --- | --- |
| Pros | Cons |
| Lots of disc options | Limited backup tool |
| Disc image creation | Email required for license key |
| Automatic audio CD ripping | |
| Password protection ( with premium version) | |
CDBurnerXP proves to be a versatile DVD maker for Windows. It supports a range of formats including including DVD-RW, DVD+R, CD-R, and more. Also, it's not just for data – it handles audio files like FLAC, WAV, and MP3, and offers Red Book audio. Moreover, its disc-spanning support is a great option for manual data backups.
However, CDBurnerXP doesn't allow the creation of video DVDs from video files. That said, its interface might feel a bit overwhelming at first, but with the help feature, you can quickly become familiar with its features.
Despite the dated look, CDBurnerXP provides a smooth experience of data burning, audio CDs, ISO creation, and more. It's a powerful tool for anyone who needs great burning features without needing advanced functionalities. 
| | |
| --- | --- |
| Pros | Cons |
| Disc-spanning for manual backups | No video DVD creation from video files |
| Cover creation and printing | Initially overwhelming interface |
| User-friendly Explorer-style interface | Dated appearance |
| Supports ISO creation and copying | |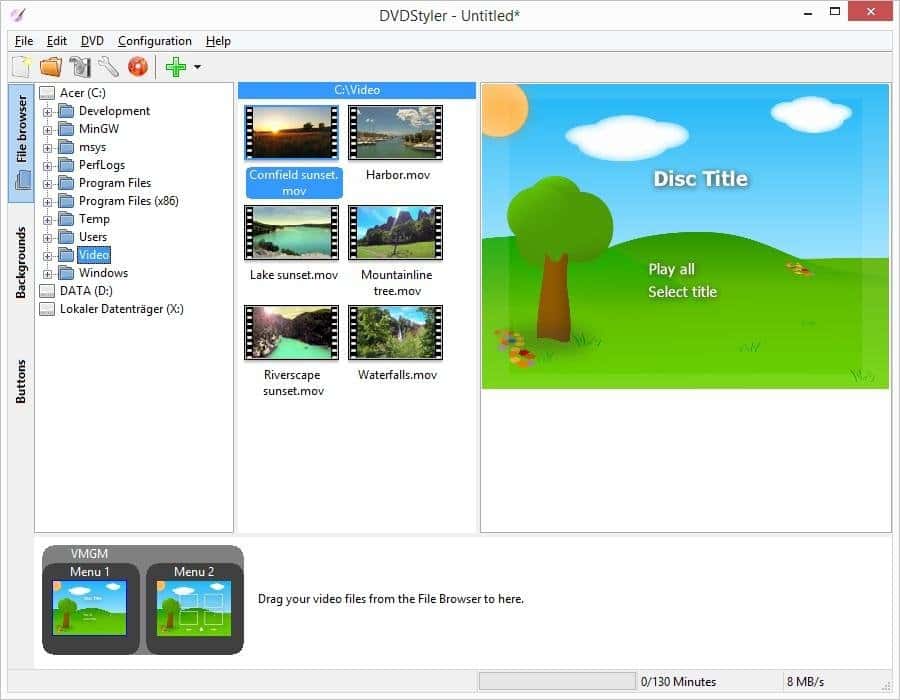 DVDStyler is a remarkable DVD maker for Windows, especially for those who want a simple and free burning software. In an era where DVD players are less prevalent, it's a great tool for digitizing old home movies onto discs.
DVDStyler's easy installation process and user-friendly interface make it accessible to all. It doesn't bombard you with unnecessary options during installation and offers a hassle-free experience. However, its interface might not look fancy, but it excels in functionality.
What's impressive is DVDStyler's flexibility when it comes to menu creation. Whether you want a basic or complex menu, it suits your preferences. You can add backgrounds, icons, and buttons with ease for customized DVD menus.
Moreover, DVDStyler shines in its burning capabilities. It accepts a range of file formats, including MP4. It's a great feature for those working with modern phone videos. Also, the encoding process delivers satisfactory results, though it takes quite a while to complete.
| | |
| --- | --- |
| Pros | Cons |
| Free and user-friendly | Time-consuming menu customization |
| Customizable DVD menus | Limited advanced features |
| Accepts MP4 formats | |
| Reliable burning functionality | |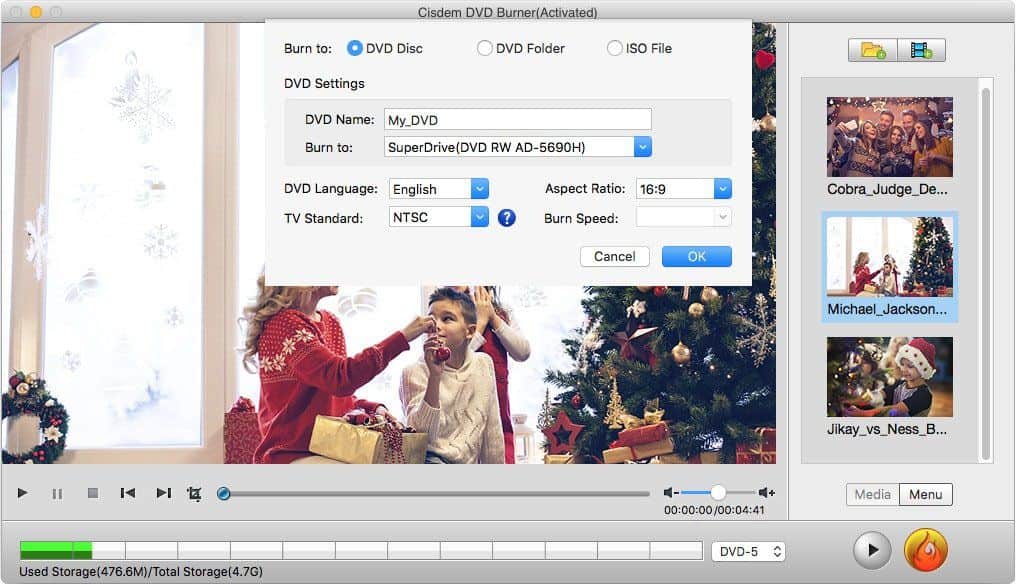 Cisdem DVD Creator provides a user-friendly and feature-rich experience for burning DVDs. Its support for a wide range of video formats, including 4K/5K UHD video, makes it a versatile choice. 
Moreover, its built-in video editor allows for customization, such as trimming, cropping, adding watermarks, subtitles, and chapters. 
This app also offers a variety of free DVD menu templates to improve your DVDs. On top of that, you can add background music to menus. Cisdem DVD Creator maintains high video quality and offers fast burning speeds. Also, it's safe and easy to use.
| | |
| --- | --- |
| Pros | Cons |
| Supports various video formats, including 4K/5K UHD | Limited-time free trial |
| Built-in video editor for customization | Subscription pricing |
| Provides free DVD menu templates | |
| Maintains high video quality | |
How To Burn a DVD on Windows
Burning a DVD on Windows is usually pretty easy, though it depends on the software you pick. For this tutorial, I'm going to use True Burner. 
Follow my instructions:
Step 1: Download True Burner on your computer.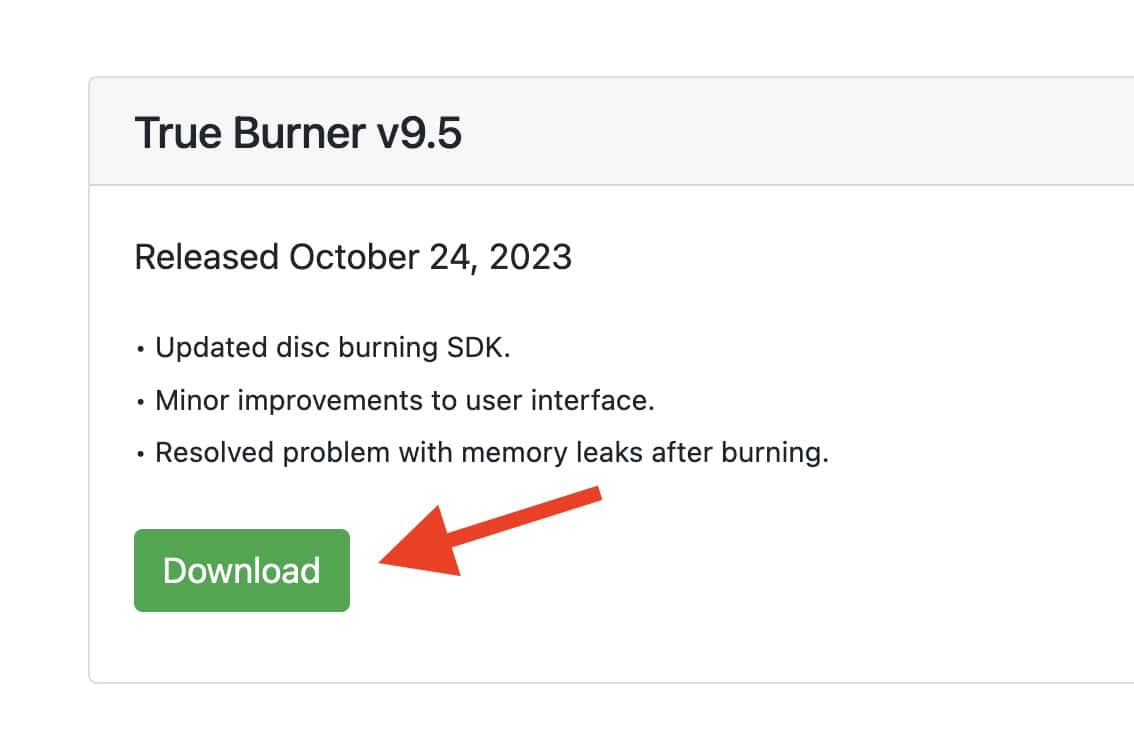 Step 2: Open the downloaded file, select "I accept the agreement", and click Next.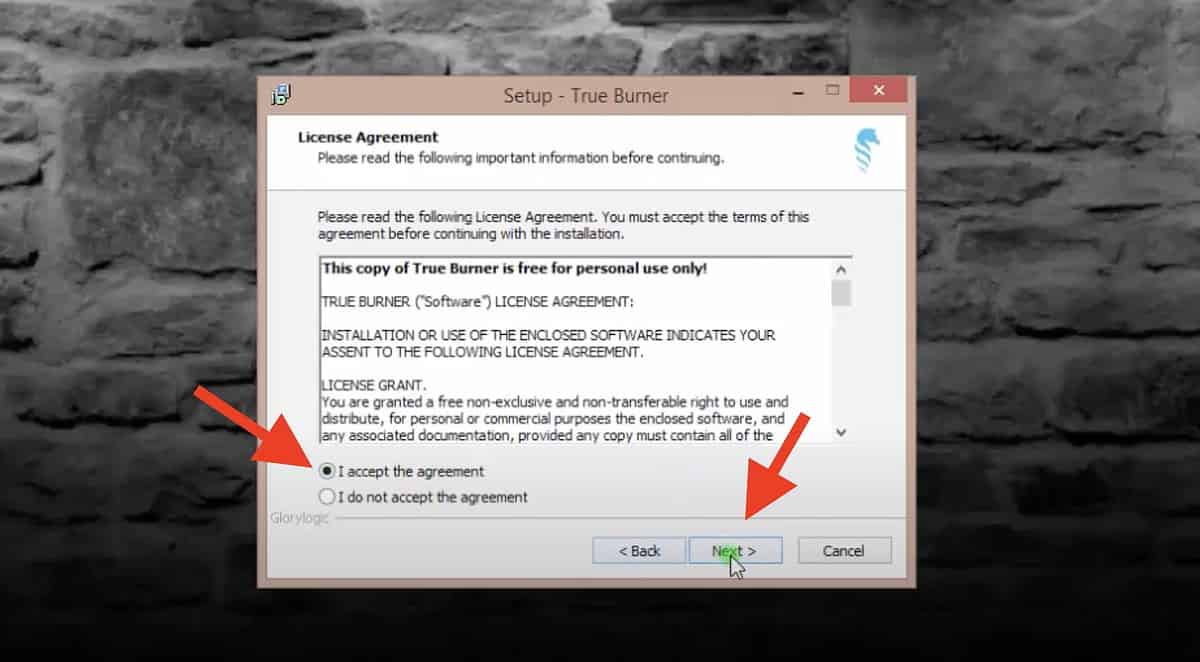 Step 4: Select Installation location and click Next.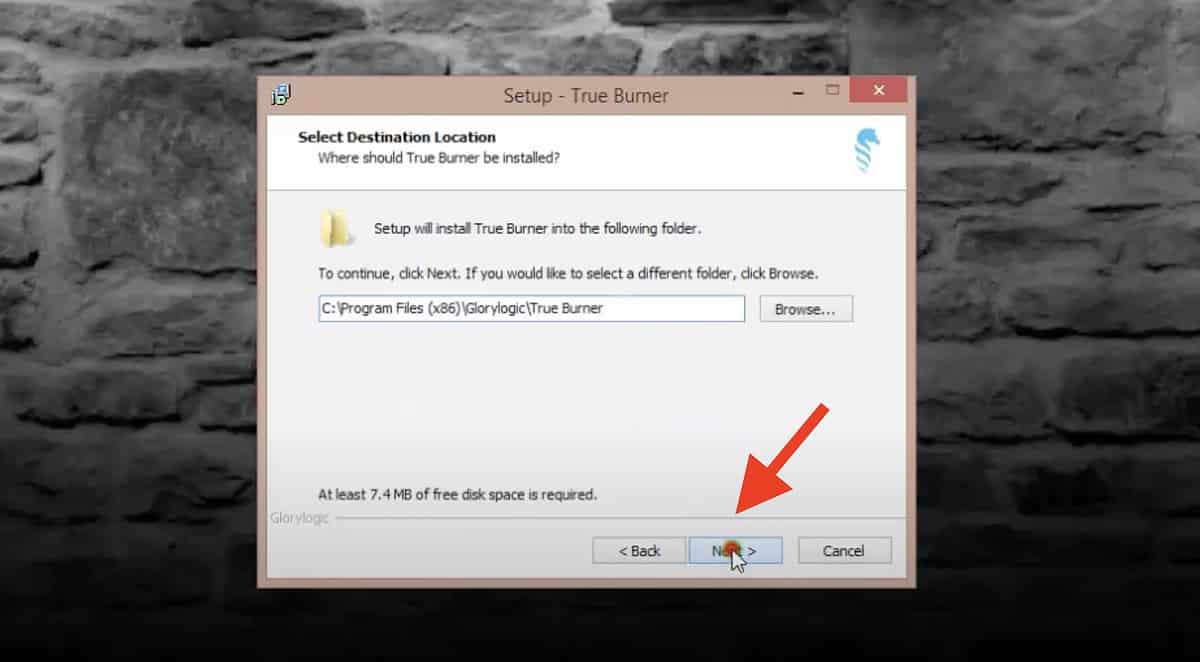 Step 5: Click Install to begin installation.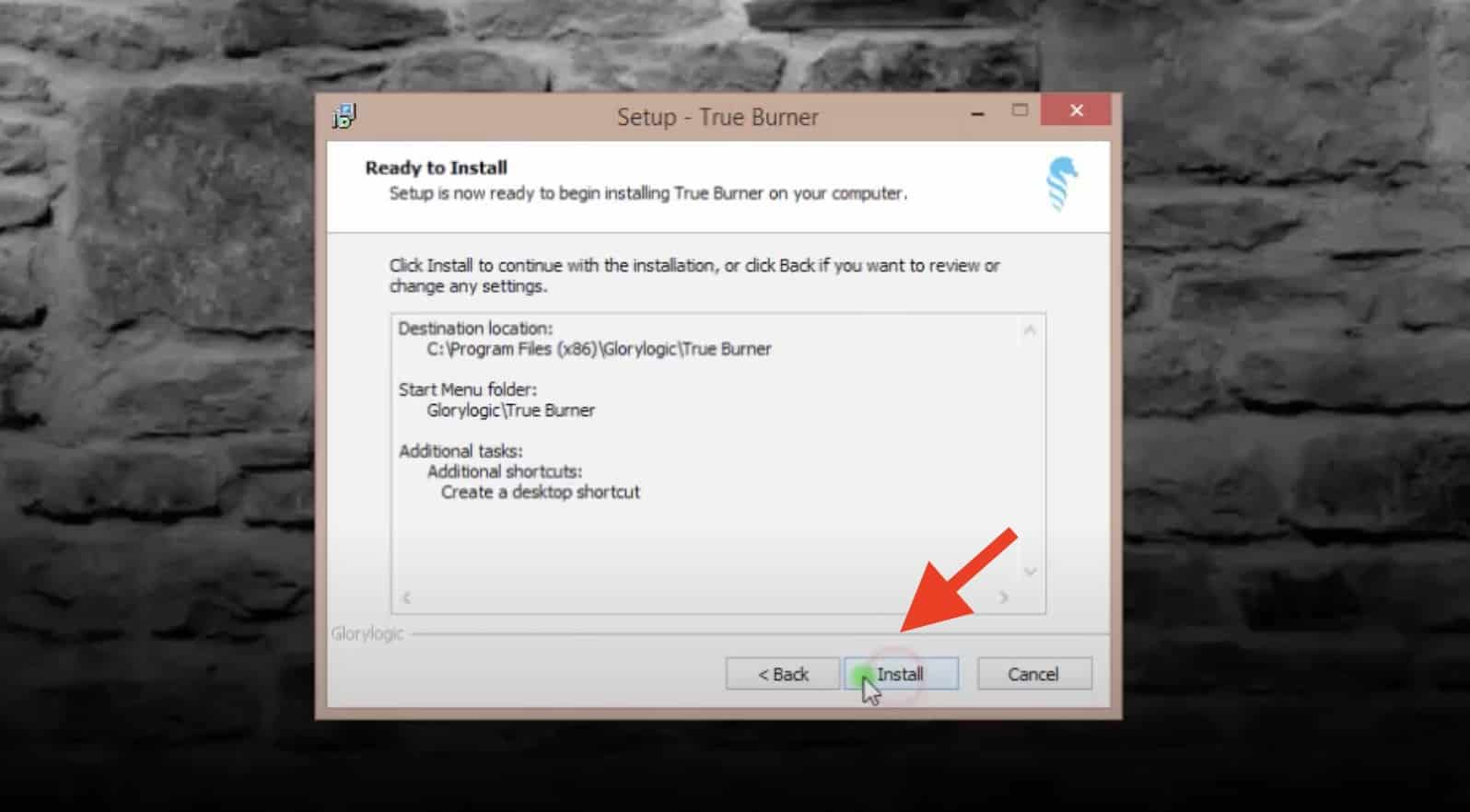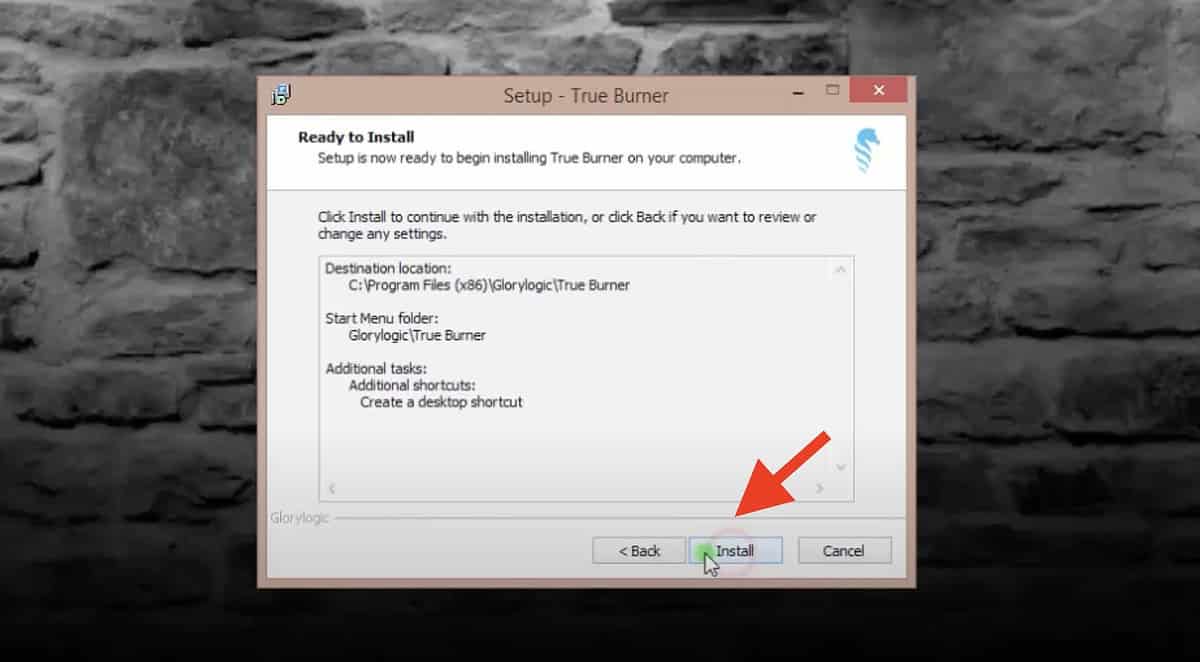 Step 6: Once the installation is complete, open True Burner and on the main interface, select the type of disc you want to create. You can choose from options like Data Disc, Video DVD, and Audio CD.
Read Also: Ways to convert DVD to MP4 for free
Step 7: Click New to select the files or folders you want to burn to the DVD. You can also drag and drop files directly into the True Burner window.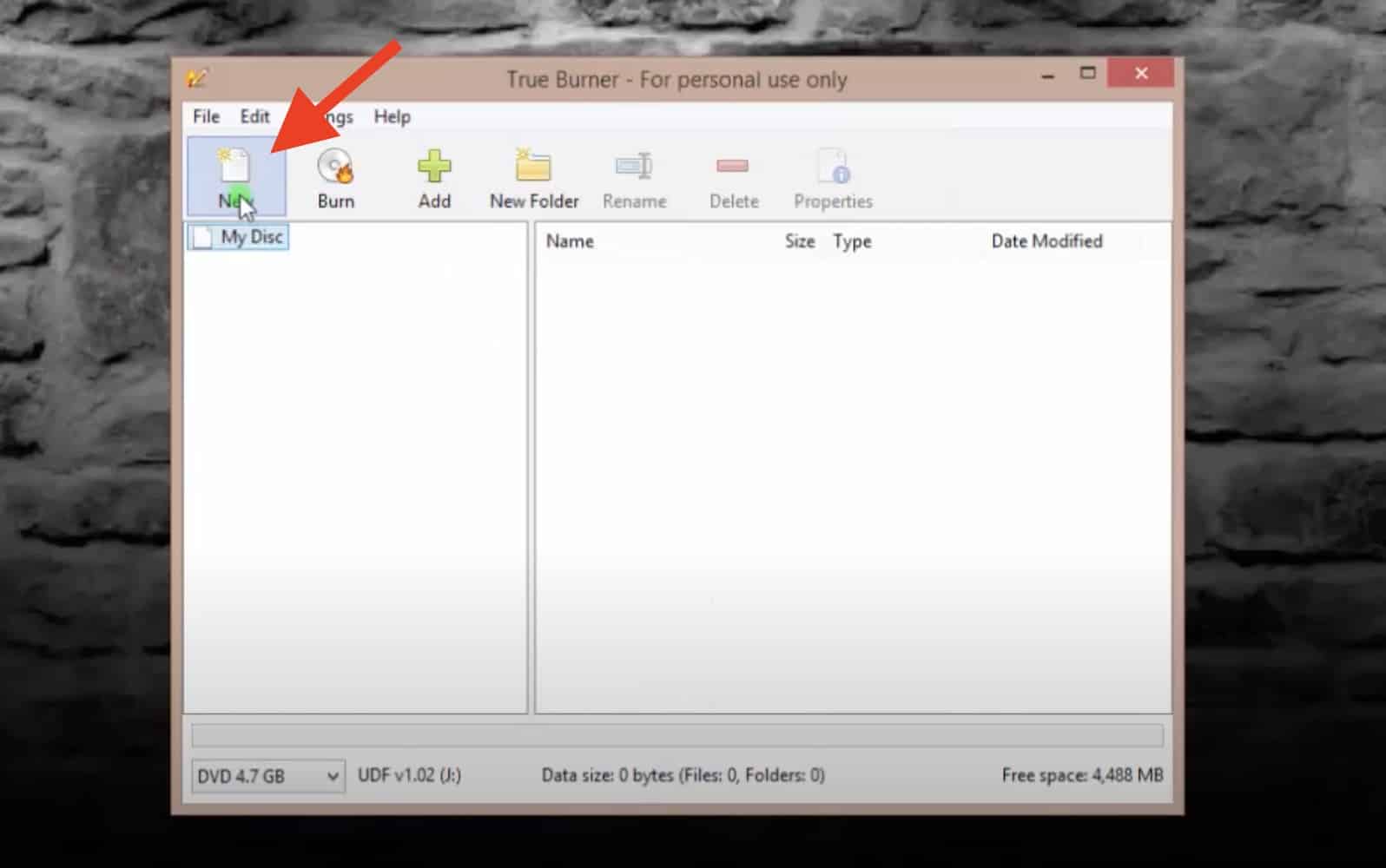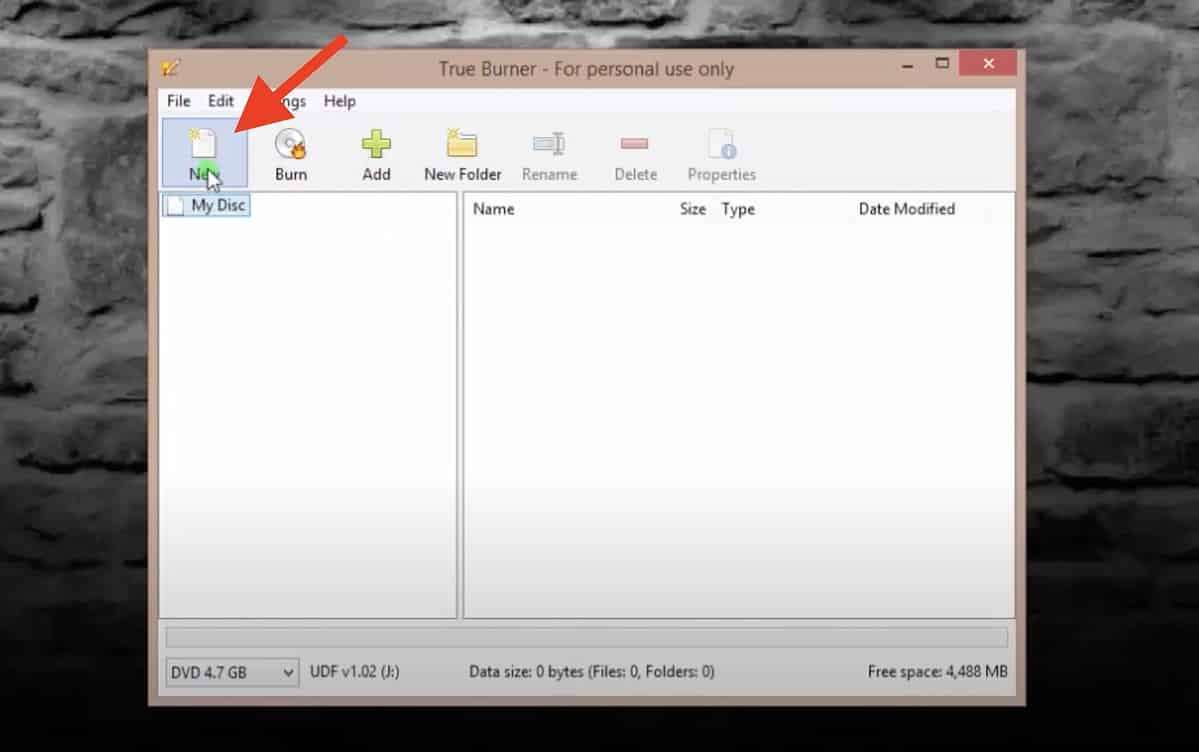 Step 8: Next, adjust the settings for your DVD, like the disc label, burning speed, and whether to verify the data after burning.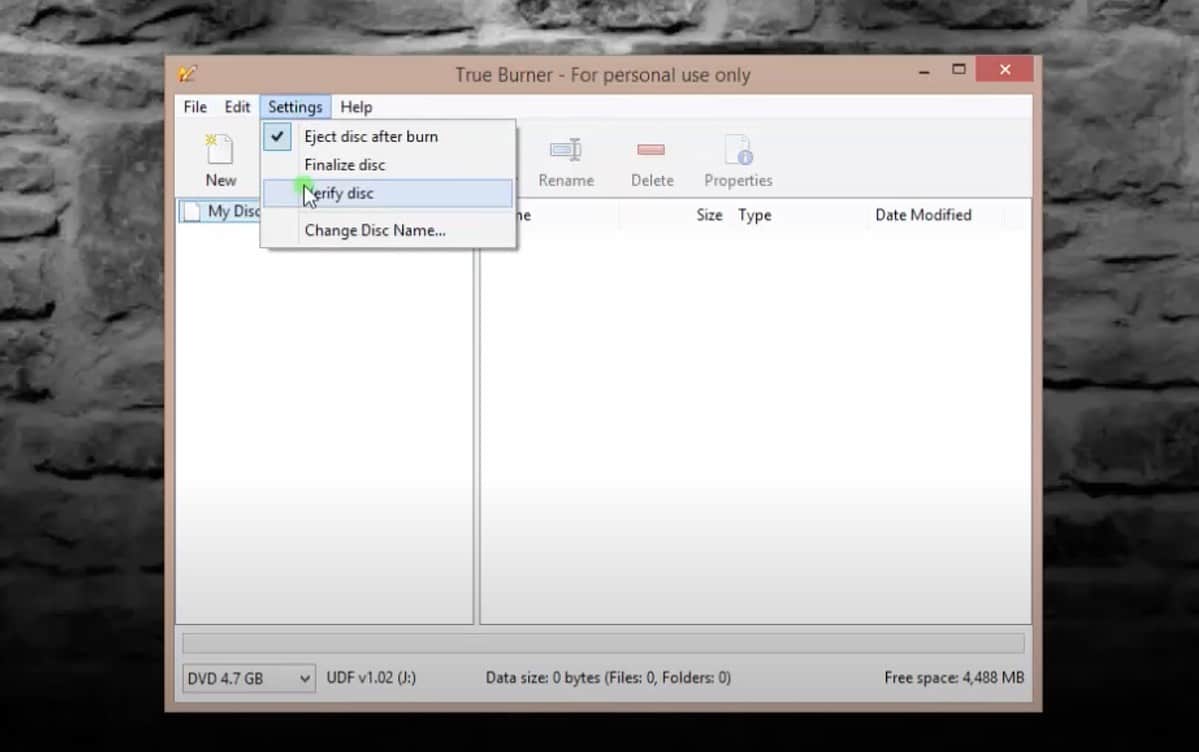 Step 9: Once you're ready, click Burn to begin. True Burner will start writing the selected files to the DVD. Wait for the burning process to complete. The time it takes will depend on the size of the data and the chosen burning speed. 
Step 10: Once it's done, the DVD will be ejected from your drive. You now have a burned DVD with your selected data.
Does Windows 10 have a DVD Creator?
No, Windows 10 doesn't have its own DVD creator like Windows DVD Maker. Windows DVD Maker was introduced in Windows Vista back in 2007. Unfortunately, it's not supported in recent versions, including Windows 10. 
However, you can use third-party apps like True Burner or Nero Burning ROM.
Is Windows DVD Maker still available?
No, Windows DVD Maker is no longer available. It was included in earlier OS versions like Windows Vista and Windows 7. It's been discontinued since then.

What is the best software to burn a DVD?
The best software for burning DVDs depends on your specific needs. 
True Burner is a free, user-friendly option suitable for common burning tasks. Nero Burning ROM is a versatile option with a range of features, strong customer support, and customization options. Moreover, DVDFab DVD Creator offers extensive format support, intuitive movie authoring, and data backup features. 
Each of these options excels in different areas.
How can I make a DVD for free?
You can create a DVD for free using True Burner, a user-friendly DVD maker software. True Burner lets you burn data, audio, and video DVDs without any cost. Simply download and install the program, add your files, configure settings, and start the burning process to create DVDs at no expense.
Summary
So, now you're much closer to finding the best DVD maker for Windows! If you're looking for a free, user-friendly option, True Burner is the way to go. It offers a minimal interface and lets you quickly burn DVDs on your PC. 
If you want a more versatile DVD burner, you can't go wrong with Nero Burning ROM. It offers remarkable features like support for CDR/RW formats and compatibility with various device types.
Which Windows DVD creator will you go with? Let me know in the comments below!