Is Copilot the best AI companion out there? Help us find out by answering a couple of quick questions!
Are you looking for the best AI video generator for TikTok to take your content creation to the next level? You're in the right place, then!

AI video generators are online text-to-video tools that can help you create engaging and professional-looking videos. However, with the rise of AI, the internet is flooded with such tools. That makes choosing the right one a challenge.

Luckily, I've tried 20 popular options and selected 6 tools that were overall the best. Check out my list and testing process below!
Best AI Video Generator for TikTok
These generators will help make your videos the next viral internet sensation:
1. Vidnoz AI – Professional AI video maker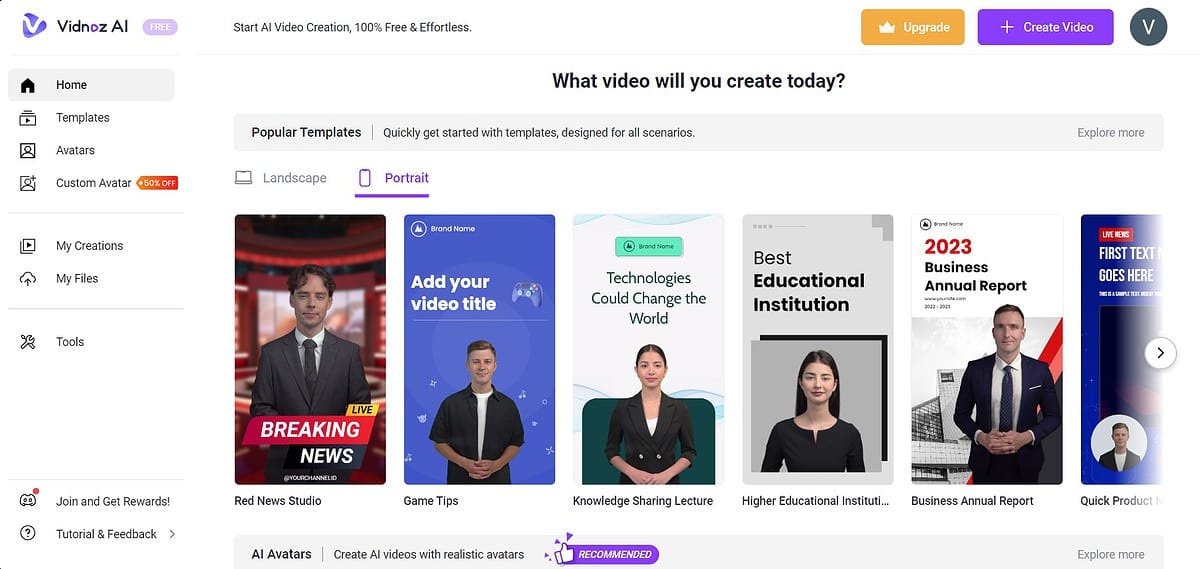 Vidnoz is a professional video-making AI that comes with many options for avatars, voices, and even ready-to-use templates. Besides all that you can upload your own recordings and modify them accordingly to suit your own TikTok style.
To create your unique TikTok avatar, all you have to do is record a few minutes of yourself and upload it to the platform. This feature is very easy to use and you are provided a step-by-step guide all the way.
Vidnoz allows you to upload a script that will be read in the chosen hyperrealistic AI voice of your choosing. You can also choose to upload a voice recording and the AI will use it for your video.
Overall Vidnoz is a powerful and very easy to use AI video maker which you should totally check out if you are interested in making TikTok videos.
Pros
Easy to use, no technical expertise required
Multilingual capability
Extensive template library
Personalization options
Cons
It might take a longer time to load big files
A vast library of templates could be overwhelming for users
2. Fliki – High Quality AI-Voices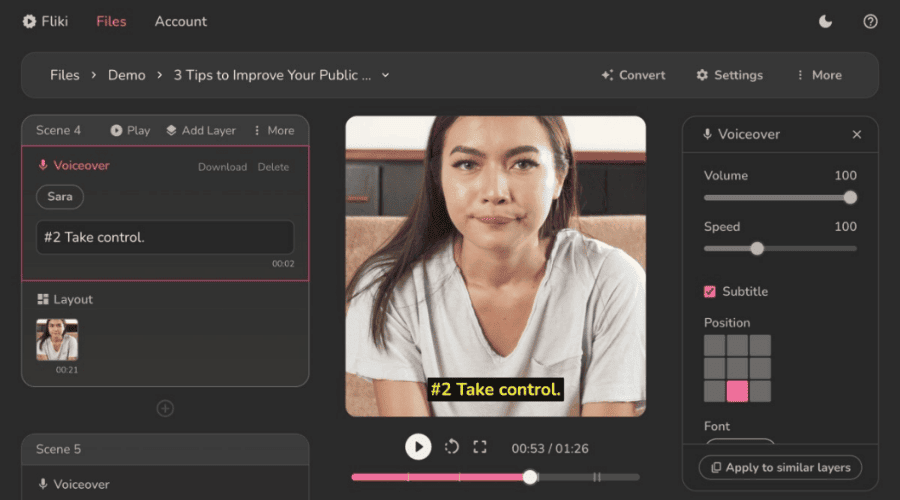 Fliki is a solid TTS solution that combines nicely with your video.
The user interface is simple and easy to understand, and I found the quality of some of the AI voices amazing. You have the flexibility to create scripts with multiple voices, which is not as common with other tools.

In my research, I learned that Fliki offers 700+ voices in 65+ languages and 100+ different regional dialects.
You have the freedom to choose from the many free images and clips for your videos. The coolest thing is the ability to pause by just adding commas and full stops.

Overall, I consider Fliki a good fit if you're into podcast content creation and sharing snippets on TikTok.
Pros:
High-quality AI voices

Easy to use

Excellent user interface
Cons:
No metered usage or subscription

Not very flexible
3. inVideo – Breakdown prompts into scenes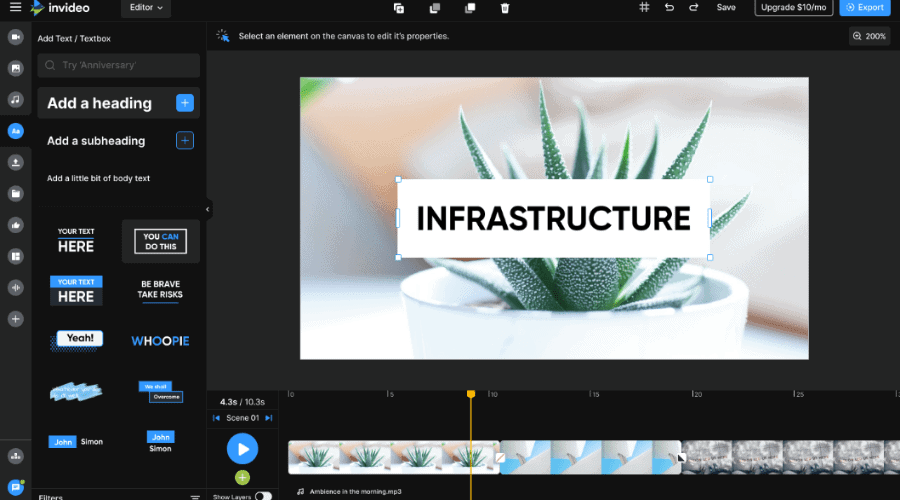 Testing inVideo was like having a design team at my disposal. I particularly fancied the templates. 
This is another cool tool for creating your TikTok videos. It offers a diverse range of styles: AI voiceovers and templates, making it easy to find the perfect match for your brand and add your own personal touch. 
Whether you want a sleek, professional look or something fun and quirky, InVideo is a great fit. 
Consequently, I was able to break down input text into different scenes and edit scenes that don't match the text.
There's also a collaboration option that allows you to work with other team members. Finally, you can choose video quality between 720p (HD) and 1080p (full HD).
Pros:
Template Variety

TikTok friendly

Stock video integration
Cons:
4. Wave.video – Very good selection of music 
Wave has a basic free video editor, which I used for my tests. This tool has the ability to generate videos from text and blog posts. 
You can browse templates and stock assets and import videos from YouTube and Instagram too. Furthermore, you also have the freedom to use the audio of your choice as opposed to the one AI generates. 
I found it extremely helpful that I could choose different styles, aspect ratios, and compositions for my video.
Wave comes with a track that allows you to shorten scenes, add transitions, and change the layouts. It gets more exciting: you can add different texts to scenes, audio tracks, and captions.
Pros:
Easy to learn

Superb customer service

Nice selection of music
Cons:
Video clip options may take a while to load
5. Lucas AI Video Generator (Free) – Minimal prompts
For the only fully free tool I have explored, Lucas is actually advanced. You can generate up to 15 videos and also get 15 credits. It's a research project, and as a consequence, you can't buy credits. 
I loved the fact that Lucas is chat-prompt powered, a key difference that sets it apart from the rest. You chat to AI and your video is generated.
To use the video, simply click on 'Try for free', continue with your Google account, and start prompting. When I tested Lucas, it came up with stock videos and a suitable soundtrack that seamlessly matched my prompts.
You also have the flexibility to change color palettes, the narrator's voice, and your preferred emotion ranging from friendly to hopeful and fearful. 
Pros:
Good for on-topic videos

Requires minimal prompting
Cons: 
May sometimes generate an unwanted result

Chat continuity is flawed
6. Lumen5 – Professionally designed templates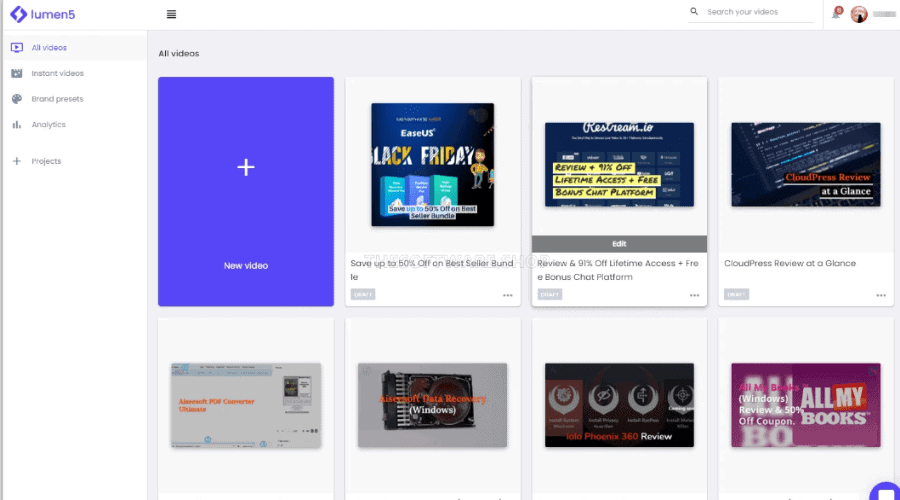 I consider Lumen ideal for professionals. It's a paid tool but there is a "Community Plan" that serves as a free trial. Still, the video results will come with a watermark and 720p resolution. 
This tool has many professionally designed templates to pick from. You can choose from many formats: landscape, square, or portrait.
During testing, I was able to customize my videos by selecting an element in the design section, and then editing individually. 
You can also select a range of backgrounds in the media section, color palettes, styling, music, and icons. And you can add voiceovers and even record your own voice.
Whatever your TikTok video needs are, Lumen gets the job done.
Pros:
Easy to use

Great for explainer videos

Offers full customization

Has an instant video option
Cons:
Expensive

Takes longer to render the final video
7. Pictory – Very large stock footage library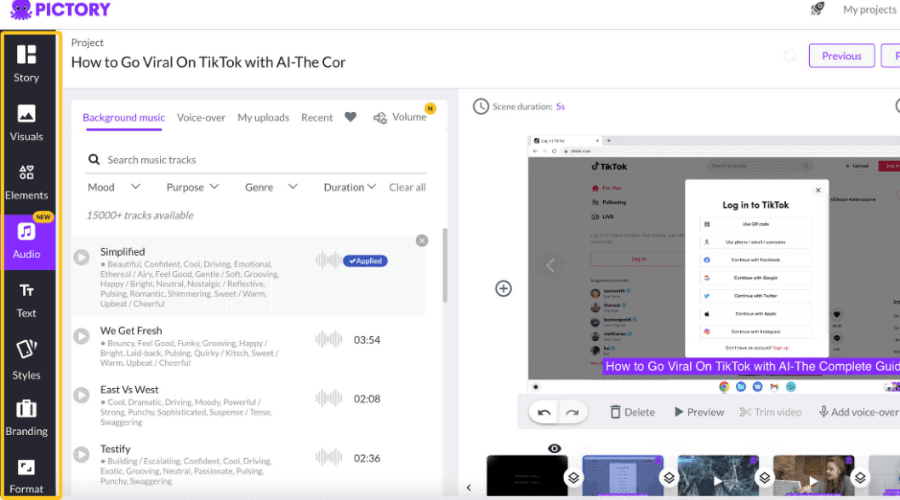 Pictory generated impressive stock-related videos during testing. This tool is advanced and offers more flexibility and customization range like script-to-video and article-to-video.
During my tests, I focused more on how I wanted my captions to look as opposed to the actual background. It automatically selected impressive stock videos for me, giving me the flexibility to choose voiceovers and accents. 
Pictory also provides a library of templates and the generated videos can be stored for later use. 
One drawback is the free trial, which is pretty limited. You can generate up to three video projects of ten minutes.
It's also easy to use and processes the video quite fast.
Pros:
Great stock footage

Navigation is easy and intuitive

Tons of music options
Cons:
Requires more automation features
How We Test AI Video Generators
I've tested 20 tools to find the best AI video generator for TikTok. I've focused on the following criteria during my research:
Flexibility and Customization Range
Pictory, InVideo, Wave.video, and Lumen5 all offer various levels of flexibility and customization. They provide features such as script-to-video, article-to-video, and the ability to edit using text.
InVideo, in particular, allows breaking down input text into different scenes and editing scenes that don't match the text.
Stock Video and Music Options
Several of the mentioned tools offer a range of stock video and music options. Pictory, Wave.video, Lumen5, and InVideo allow users to access stock videos and customize their music.
User-Friendly Interface
Ease of use and user-friendliness is an important factor. Wave.video, Lucas AI Video Generator, and Fliki are highlighted for their intuitive interfaces.
Voiceover and AI Voice Options
Pictory, Wave.video, Lucas AI Video Generator, Lumen5, InVideo, and Fliki offer various voiceover options.
Additional features include video quality, audio quality, pricing, and ease of use.
You may also be interested in:
Conclusion
Ultimately, your choice of the best AI video generator for TikTok depends on the nature of your project, budget, and creative direction. 
Each tool has its own niche, and your choice should reflect your needs and creative aspirations. Feel free to share your pick in the comments below!