Is Copilot the best AI companion out there? Help us find out by answering a couple of quick questions!
Wiring diagrams are essential for professionals who need to quickly and accurately visualize their electrical wiring projects. This type of diagram visually represents the components, wires, and connections they will use while working on a structure or device. At the same time, such electrical drawings come in handy when an electrician or a maintenance engineer has to check the drawings to rectify certain issues.
Wiring diagram software simplifies the complex process by enabling users to create professional wiring drawings easily. Additionally, electrical drawings are used by engineers, electricians, programmers, and architects, as well as other professionals in engineering fields. So, we will need to ensure that we are going ahead with the right electrical drawing software.
In this quick guide to understanding electrical drawing in detail, we discuss the top eight wiring diagram software tools available today that enable you to quickly and easily make wiring diagrams for any project.
List of the Best Wiring Diagram Software
If you are working on an electrical project and need to create a wiring diagram, the right software can save you time and hassle. From open-source options to full professional programs, there are plenty of choices for any budget. However, before you go ahead and finalize a wiring diagram software for your company, please consider the following aspects:
Ensure that the wiring diagram software is easy to understand

The wiring diagram software should be pocket friendly

The wiring diagram software should be accessible from different devices
Here's our list of the eight wiring diagram software solutions for 2023.
EdrawMax is an all-in-one wiring diagram software that provides quick access to an extensive template community of pre-drawn templates and symbols. With its easy-to-use tools, you can produce professional-looking diagrams quickly and painlessly. It supports data exchange, so you can export your finished pieces directly from the program. If you need to link two objects, double-click, and EdrawMax will automatically connect them.
EdrawMax lets you create 280+ diagram types, almost three times what Microsoft Visio offers. In EdrawMax, you are not limited to making only electrical drawings but can also make building plans, organizational charts, genograms, mind maps, business-related diagrams, and much more. What is amazing here is the fact that EdrawMax is free to use. So it becomes a perfect choice for beginners and even professionals looking for new wiring diagram software.
Pros:
The tool is built on a vector, which enables unlimited diagramming boards.

One can export files with password protection.

Access to 25,000+ symbols.
Cons:
The alignment of the templates can be improved.
Cost:
Online Tool/Basic Use: FREE

Annual Plan: $99

Lifetime Plan: $245 (currently at $198)
Supported Systems:
Windows, macOS, Linux, Android, & Web
If you need clarification about choosing the right wiring diagram software, you can download and use EdrawMax for free. From built-in templates and symbols, you will find this tool worth your time.
SmartDraw makes it easy to design, customize, and present wiring diagrams without prior experience. It's an ideal solution for electrical engineers frequently tasked with difficult wiring diagram projects. SmartDraw sets itself apart from other wiring diagram software by offering users a 360-degree view of the system they are designing. With its innovative features, like auto-cross linking, real-time collaboration, and a library of symbols and elements, anyone can create high-quality wiring diagrams quickly and efficiently.
SmartDraw is a wiring diagram that one can use for different purposes, including commercial and residential electrical wiring, industrial controls, communication systems, power distribution, and more. With ready-made templates to customize and an intuitive interface that helps you quickly create accurate diagrams every time, you'll be able to avoid tedious manual rendering or conventional drafting tools.
Pros:
SmartDraw comes with an intelligent formatting engineer.

Provides professional finish with automatic spacing and resizing.

Integrates with Google apps and MS Office.
Cons:
Poor customer service and very limited options for registered users to get online support.

No auto-saving option unless you are working on the Cloud version.

Multiple users have reported that the application crashes once the load gets too much.
Cost:
Single user: $9.95 per month, billed annually

Multiple users: $5.95 per month, billed annually (minimum five users mandatory)
Supported Systems:
Autocad Electrical is a powerful diagramming software that allows you to create accurate circuits and wiring diagrams quickly and easily. It offers an intuitive interface and pre-drawn schematic symbols, which makes creating complex circuits simple.
Additionally, features such as the design checker ensure that your designs are correct before they go into production. You can even share your designs in other formats for review or collaboration.
Pros:
Offers 65,000+ electrical symbols

Automate the numbering of wires and generate different tags for components.

One can create multiple customized reports.
Cons:
Extremely costly

There is a learning curve to it, and it requires technical expertise to create wiring diagrams.

The tool is limited to making only electrical component diagrams. 
Cost: $1,120/paid annually or $140 paid monthly
Supported Systems:
64-bit Windows 11 and Windows 10, macOS (min. Mojave v10.14)
Autodesk Eagle is an industry-leading design suite that allows you to create professional and accurate circuit and wiring diagrams. This cloud-based software solution offers an intuitive interface, a library of pre-drawn schematic symbols, design validation checks, component selector tables, and more. In addition, you can easily share your designs between colleagues or customers in popular formats such as DXF, PDF, and 3D STEP models.
AutoDesk's EAGLE comes with a SPICE simulator that helps visualize how the result will look. Additionally, one can easily focus on the creative process as all the changes a designer will make in the drawing will automatically stay in sync between the schematic and layout.
Pros:
EAGLE comes with built-in language, ULP, helping the users to automate common tasks.

The autoroute function can be helpful for simple projects.

Good for small projects
Cons:
AutoDesk's EAGLE is only available with Fusion 360, which increases its cost.

One requires technical expertise to use EAGLE and create wiring diagrams on it.

There is no cloud-based version.
Cost:
Monthly Plan: $49 paid monthly

Annual Plan: $382 paid annually

Long-Term Plan: $1,635 paid every three years
Supported Systems:
Windows, macOS, Linux, Web
Circuit Diagram is a powerful and easy-to-use wiring diagram software designed to help professionals and novices create high-quality circuit diagrams in minutes. It offers multiple tools and components necessary to create a good wiring diagram, such as wires, circuits, plus connectors, and connecting lines. Furthermore, this software is incredibly safe, fast, and user-friendly. After placing the components of your diagram on the sheet and connecting them with lines, you can save it on any device.
Circuit Diagram comes with a built-in simulator that helps you visualize the design. Even though the simulator is in BETA, it is helpful for beginners who are just starting with wiring diagrams. Additionally, Circuit Diagram offers various components, like 555 Oscillator, 4510 BCD Counter, 4017 Decade Counter, and more.
Pros:
The software is free to use.

Offers built-in circuit templates that can be easily accessed in Web Editor.

Helps in creating custom components using simple XML formats.
Cons:
Limited to making only circuit diagrams.

Very limited online support and online resources.

Only available for limited operating systems.
Supported Systems:
Windows (last updated seven years ago), VS Code (last updated three years ago), and Web
Cost: Free
DiagramStudio is a powerful software application that can be used to create visual data for business diagrams, technical drawings, and illustrations. It's also a wiring diagram software suitable for professionals looking to produce wiring diagrams with ease. The free version of this program can be used online without any limitations, although no desktop app is available for non-Windows operating systems. It also provides many drawing templates, such as flowcharts, mind maps, graphs, and P&I diagrams – all accessible on any device through a web browser.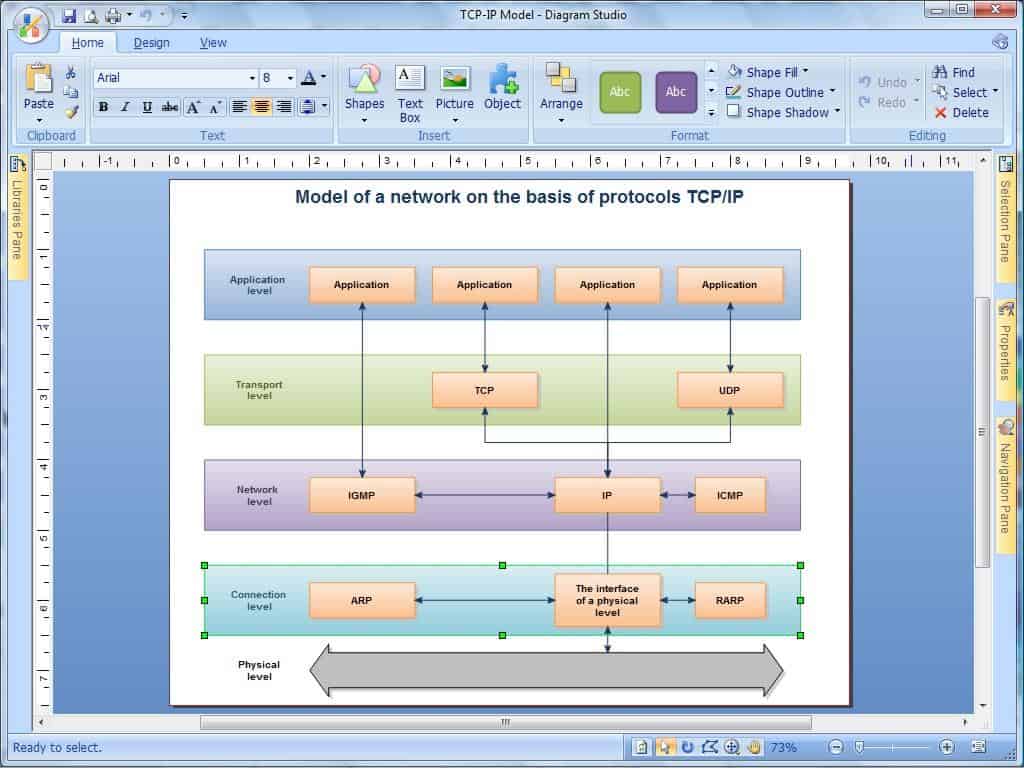 Unlike other wiring diagrams with limitations, DiagramStudio lets you build diagrams like business diagrams, presentations, software and process flowcharts, database structures, network diagrams, floor plans, and more.
Pros:
Helps you create multiple diagrams.

Offers an internal editor of images that helps in creating transparent images.

Provides numerous templates
Cons:
No offline version for macOS or Linux machines.

The system lacks premium templates, style options, and symbols

Limitations to importing data from other data sources.
Cost:
Supported Systems: Windows 7 and above
ConceptDraw is a versatile diagramming and drawing software used for various purposes ranging from computer, engineering, and electronics to management, marketing, and travel. It also features wiring diagram software for creating professional-level diagrams. Students, teachers, and professionals alike can use this tool in different versions depending on functionality and pricing.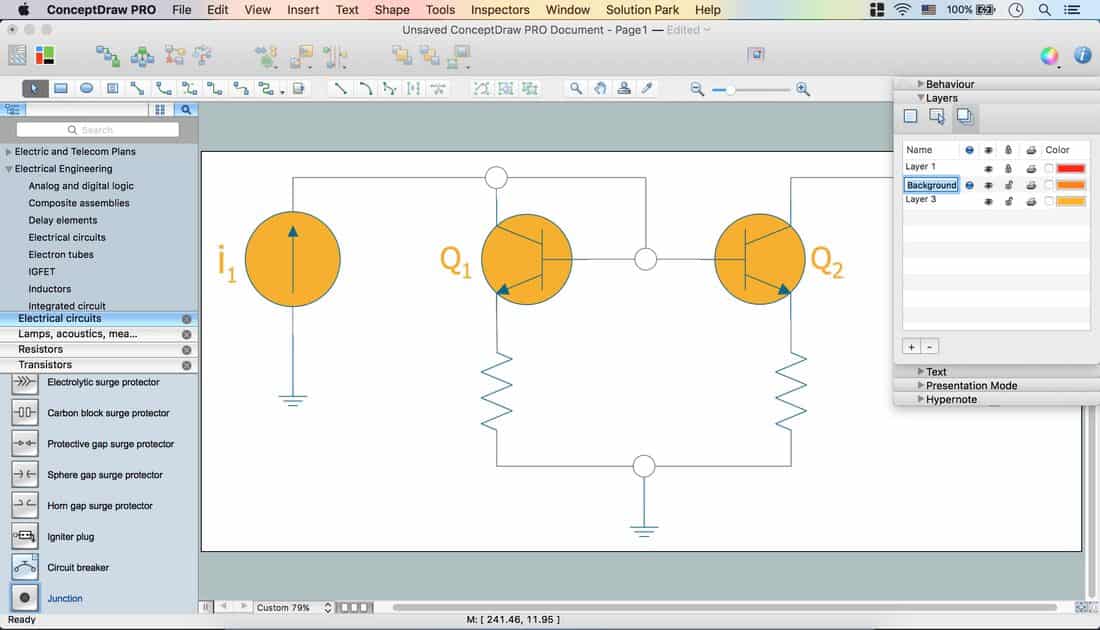 Registered users will find My ConceptDraw Panel in the ConceptDraw software, which provides instant access to different diagram documents, libraries, presentations, and more. Additionally, ConceptDraw provides important diagramming tools like formatting, ordering, aligning, and positioning.
Pros:
It offers cross-compatibility with MS Visio.

ConceptDraw is considered an easy and effective tool for ER diagrams.

It offers an intuitive interface.
Cons:
Requires a heavy system to load compatible graphics.

Requires a learning curve to understand the libraries, components, and overall layout.

As per multiple users, grouping pages into sections is still not supported.
Cost:
Free trial available

$199-$499
Supported Systems: Windows and Mac
SolidWorks Electrical Schematics is a professional diagramming tool that helps create collaborative diagrams. The design tools of the wiring diagram software can be used to make different electrical designs. With the help of the symbol library, 3D manufacturing parts, and component models, professionals can easily create a pro electric drawing.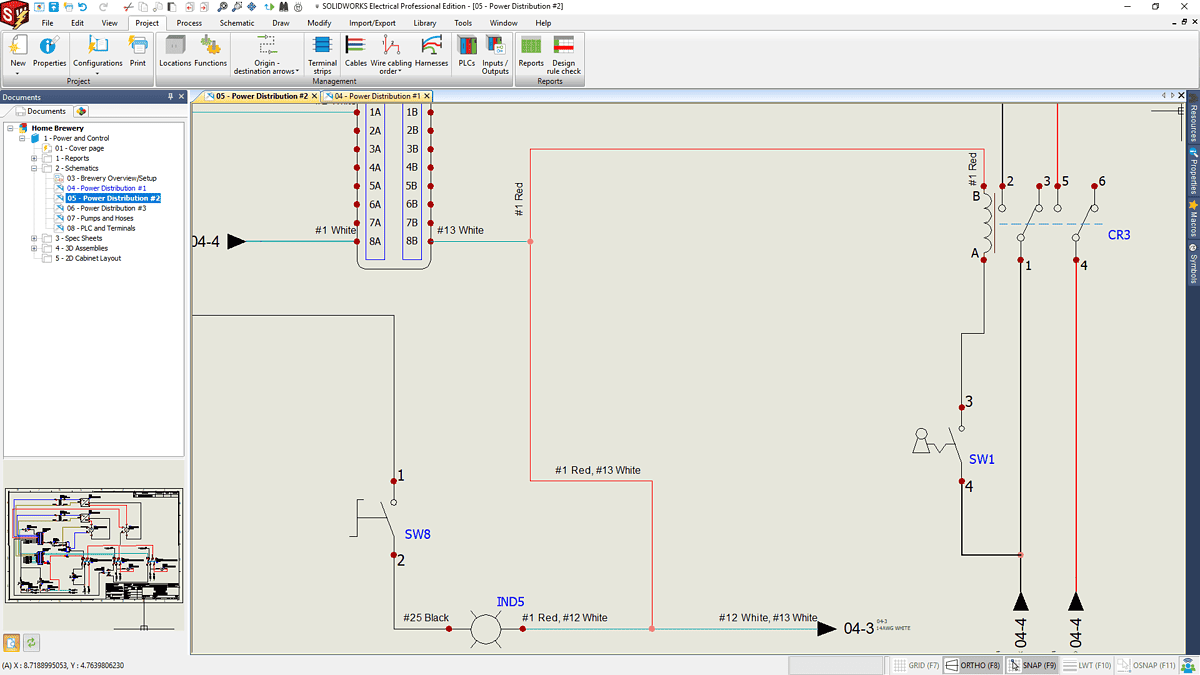 In SolidWorks Electrical Schematics, users can automate complex tasks, like terminal drawings and cross-referencing. This wiring diagram software comes with a single-user schematic design tool that helps embed electrical systems for electrical equipment. Additionally, the professional suite offers 3D components that help optimize the materials.
Pros:
Offers SQL backend that allows customizable reporting.

It lets users modify data using Excel sheets.

You can create macros that can be integrated into other projects.
Cons:
The UI is not user-friendly

The interface is complex for beginners.

This wiring diagram software requires more resources within a computer for better performance.
Pricing: Custom pricing is available
Supported Systems: Windows & Web
Choose Suitable Wiring Diagram Software
Trying to figure out which wiring diagram software is best for you can be a daunting task.
The eight most popular wiring diagram software tools are Electrical CAD Software, Diagram Studio, SmartDraw, ConceptDraw, EdrawMax, SolidWords, and more.
Depending on your individual needs and requirements, some may be more suitable than others; for instance, Electrical CAD Software is ideal for students and one-time users, while DiagramStudio might be better suited to professionals.
However, if you are looking for a powerful diagramming tool that offers you almost everything that is required to create a wiring diagram or any other professional diagram, we recommend checking our EdrawMax. The tool comes with a free plan, which makes it affordable for students and beginners to get started. Additionally, you can access all the premium features of this wiring diagram software by availing of the 7-day free trial.