Be My Valentine is a fluid application that lets you create and send valentines to your love!
With this $1.29 app, you can create a completely unique card with a personal message and send it to someone via email or MMS. First, you enter who the card is from
and who it is to (an email address), and then you write the message ("Roses are red, violets are blue, apps are cool, and so are you!"). Once you finish the written part of the card, you create the visual part, which is basically the front of the card if it was a real card. In this visual section, you can drag a number of great looking flower illustrations, hearts, or other valentine's day drawings onto your virtual canvas. You can also choose from a number of different backgrounds.
Once you finish this part, you can send or save your creation. To send it by email, you just click send and it goes out to the person you selected. To send by text message, you click the SMS button, and a new text message is created. Once you address the message, you have to manually attach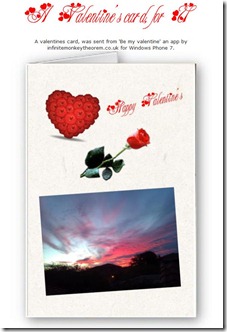 the visual part of the card since WP7 doesn't let applications create picture messages. You'll find the image of the card in your phone's Saved Pictures, making it easy to attach and send. The email it sends is actually themed and looks fabulous.
If you want to brighten someone's day with a little love and creativity, check out Be My Valentine in the Marketplace for $1.29. The free trial will let you place four items on a card and lets you get a feeling of how the app works, but you of course have to buy the full version to send the cards!