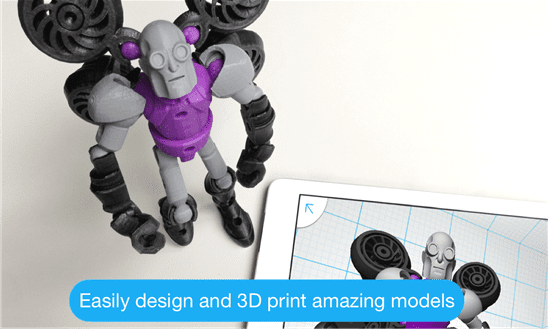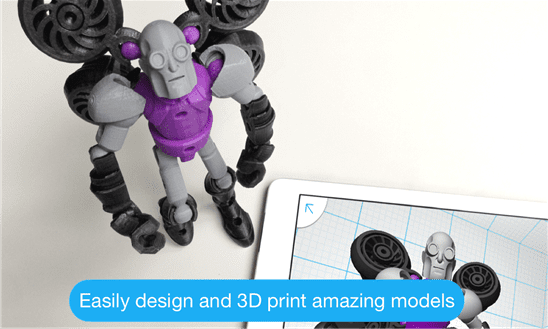 Autodesk has released a new app called Tinkerplay in Windows Phone Store that allows users to design and customize characters and creatures digitally with the option to 3D print afterwards.
App Description:
DESIGN, CUSTOMIZE and 3D PRINT TO PLAY
With Tinkerplay you can easily design and 3D print fun characters, scary creatures or anything else you can imagine using the built-in part library. Simply drag parts together and they snap in place, just like in reality.

UNLEASH YOUR CREATIVITY
Customize your creation to make each part your own with amazing surface textures and shapes. Tap to change the entire part or use magnifying mode to design in detail.

3D PRINT YOUR CREATIONS
When your design is complete, you can easily 3D print all of the parts to make your creation real. Tinkerplay parts are designed to 3D print easily, with no rafts or supports. Ready to print? Downloading STL or .thing print files is a snap.

CREATE YOUR OWN OR TRY THE CHARACTER KITS
Make a scorpion or a ninja using the built-in character templates. Or mix things up and create a scorpion ninja with spikes and dinosaur skin.

STRIKE A POSE
Pose your creation in the app and get a feel for the real-life 3D printed version. All joints in the app bend and twist just like the real 3D printed parts. You can even create custom environments for that perfect photo of your masterpiece.

PLAY WITH OTHERS
Tinkerplay features full multi-touch support so you can design with others. Or, if you want to impress, drag, rotate, throw away and modify parts with many fingers at the same time. And don't worry, everything you do is automatically saved. Undo and redo at will.

GO BIG
Print small parts to hold your creation in your hand quickly, or print large parts to really impress. With parts that snap together you can go as big as you like.
Download it here from Windows Phone Store for free. Read the full press release below.
Press Release:
Autodesk, Inc. announced the launch of Tinkerplay, a free* app designed for kids of all ages that introduces creative play through 3D design and 3D printing.
The Tinkerplay app is based on the popular Modio app, which Autodesk previously acquired, and will join the Tinkercad family of products. The Tinkerplay app allows users to design and customize characters and creatures digitally with the option to 3D print afterwards. The 3D printed parts can also be snapped together for dynamic play. With this launch, new parts, features and functionality have been added to make the world of 3D design simple, fun and engaging.
"Creators, designers and makers from ages five to ninety, have blown us away with their passion for 3D modeling and 3D printing," said Samir Hanna, vice president and general manager, Autodesk Consumer and 3D Printing. "With Tinkerplay, we're providing another great tool designed for kids of all ages who want to play, create and tinker."
The Tinkerplay app lets users quickly get started by dragging and dropping interchangeable parts to make custom creations. The parts are optimized for 3D printing as fully poseable characters and creatures, and are designed to not require rafting or support material to print. The print function within the app shows the layout of parts for 3D printing and provides an easy way to export print files to a variety of 3D printers.
For users that are inspired to take their design skills one step further to create completely new parts, Tinkerplay connectors can be found in the Tinkercad web app. Autodesk has launched Tinkerplay simultaneously on various mobile platforms including iOS, Android, Windows and Windows phones to better provide users with access on their device of choice. The Tinkerplay app can be downloaded for free* from the App Store, Google Play or the Windows Store for Windows 8.1 users.