Similar to how Intel dominates the PC market with its processors, Arm dominates the mobile world, thanks to its world-class CPU designs that delivered double-digit gains every year in instructions-per-clock (IPC) performance since 2013. Arm is now planning to bring their technology expertise to the PC industry as well. Windows 10 PCs based on Arm processors have just started appearing in the market and it is expected to be a growing category in the stagnated market. To accelerate the momentum, Arm today revealed its first-ever PC CPU roadmap. Following the launch of recently announced Cortex-A76 processors, Arm has planned two big updates that will be releasing in 2019 and 2020.
The follow-up to Cortex-A76 will be codenamed 'Deimos' and delivered to our partners in 2018. Optimized for the latest 7nm nodes, 'Deimos' is based on Arm DynamIQ technology and is expected to deliver a 15+ percent increase in compute performance.
In 2019, the CPU codenamed 'Hercules' will be available to Arm partners. 'Hercules', also based on DynamIQ technology, will be optimized for both the latest 5nm and 7nm nodes. 'Hercules' continues the trajectory of increased compute performance, while also improving power and area efficiency by 10 percent (in addition to the efficiency gains achievable from the 5nm process node).
By partnering with its silicon and foundry partners, Arm claims that its SoCs will break the dominance of x86 and gain substantial market share in PC market. As per Arm's projection, Arm SoCs will offer better performance than Intel SoCs in 2020.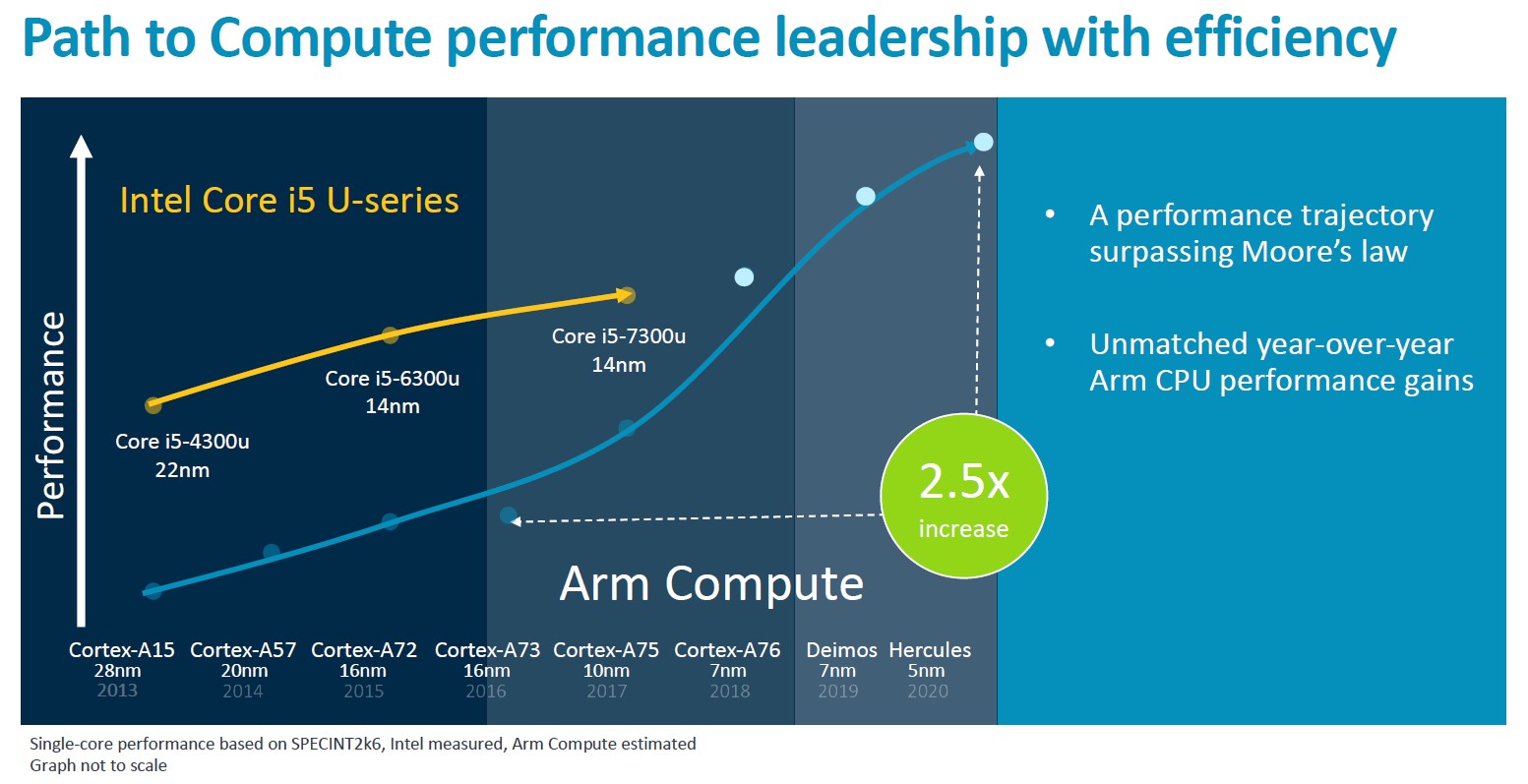 "The CPU roadmap Arm has laid out coupled with Qualcomm's heterogenous approach to computing across our various IP block and integrated connectivity, will allow for new advancements in the always-on, always-connected PC experience offered by the Qualcomm Snapdragon Mobile Compute Platform," said Alex Katouzian, senior vice president and general manager, mobile, Qualcomm Technologies, Inc. "Our mission continues to bring the best of the mobile world to the PC, with great battery life, sleek innovative form factors, and Windows 10 for on-the-go productivity."
Source: Arm