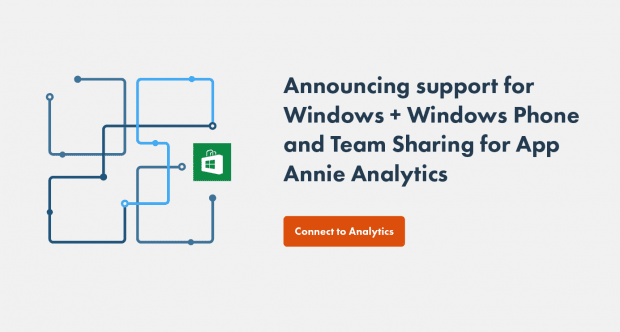 App Annie, an analytics firm for apps, has just announced Windows store integration. Due to demand by developers, Windows Phone and Windows store apps are now supported, the firm said today in a blog post. They also praised unique and innovative aspects of the Windows stores such as app trials.
We are thrilled to announce support for Window Store and the Windows Phone Store for App Annie Analytics and Store Stats. In addition, we are also introducing new Team Sharing features that will let yourself and other app professionals create teams and share app store data safely with collaborators. With innovative practices such as letting users sample apps before they purchase them, Windows Store and Windows Phone Store have established themselves as major app marketplaces. Known for championing their developers, Windows offers active support and outreach to its developer community. In fact, Microsoft recently launched the Dev Center Benefits portal to better serve the Windows developer community. We've had a lot of enthusiasm from Windows developers, requesting support for the platform. Your requests have been heard, and support for Windows Store and Windows Phone Store are finally here!
App Annie's addition of the Windows stores is another sign of how far both stores have come. Once ignored and the butt of ugly stores, the combined Windows store now features more than half a million apps, including gems like Sleeve Music, Fhotoroom and Camera360.
Do you also agree that the Windows Phone store is a major app marketplace? Let us know in the comments.