Are you an anime enthusiast or an artist looking to create your own anime-style characters and AI-powered art? Look no further! This guide will cover the best anime girl maker tools available this year.
If you want to explore this topic further, you can check out some of the best AI girl generators or take it further and explore how it is to have an AI girlfriend.
These incredible software solutions will help you bring your artistic vision to life, no matter your experience level. Let's dive right in!
1. Promptchan.ai – Best Overall Anime Girl Maker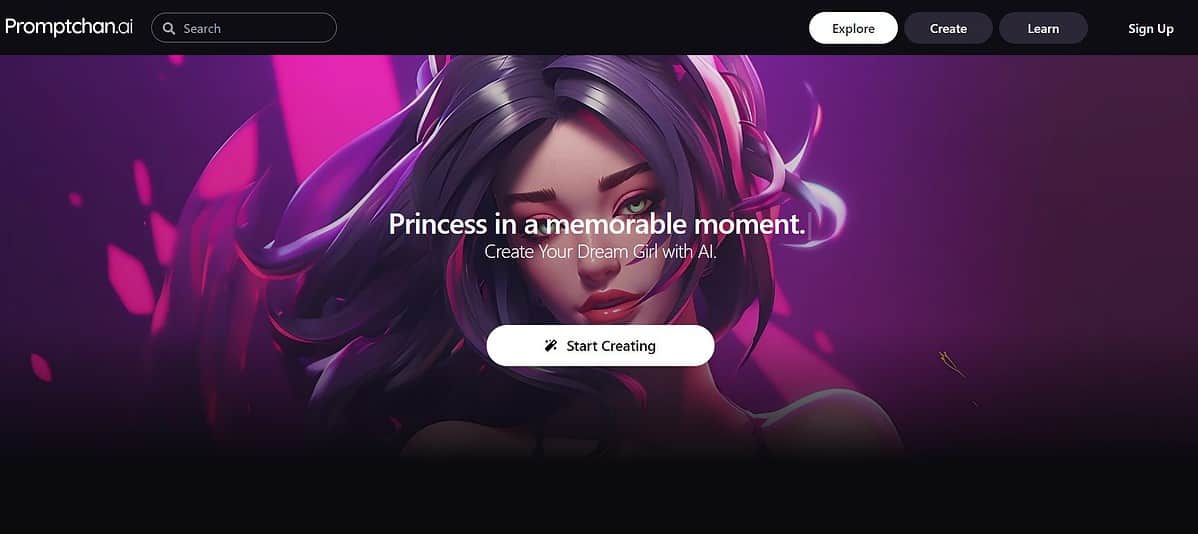 Promptchan AI
is the most advanced Anime Girl Maker. The web app is free and fully uncensored, helping you bring all your wildest fantasies to life. By using it, you may create anime/hentai and fantasy images with the click of a button.
There are over 3 million hentai images made by other users you can explore. Simply click the Clone button on your favorite image to copy all its settings and make your changes – AI creation has never been easier.
Upload any image and use the powerful new Edit tool to make your changes quickly. For instance, removing the clothing in an image is as easy as selecting a box.
Key features:
Choose from Anime/Hentai, Realistic, and Fantasy art styles
Explore 3 million+ images from the community
Use pose templates to easily position your AI waifu
Clone images and prompts made by others
Upload your own images and edit them
Pricing:
Price Start: Create images for free today
Premium plans: Starting at $5.99
2. Charat – Wide Range of Pre-Designed Anime Character Elements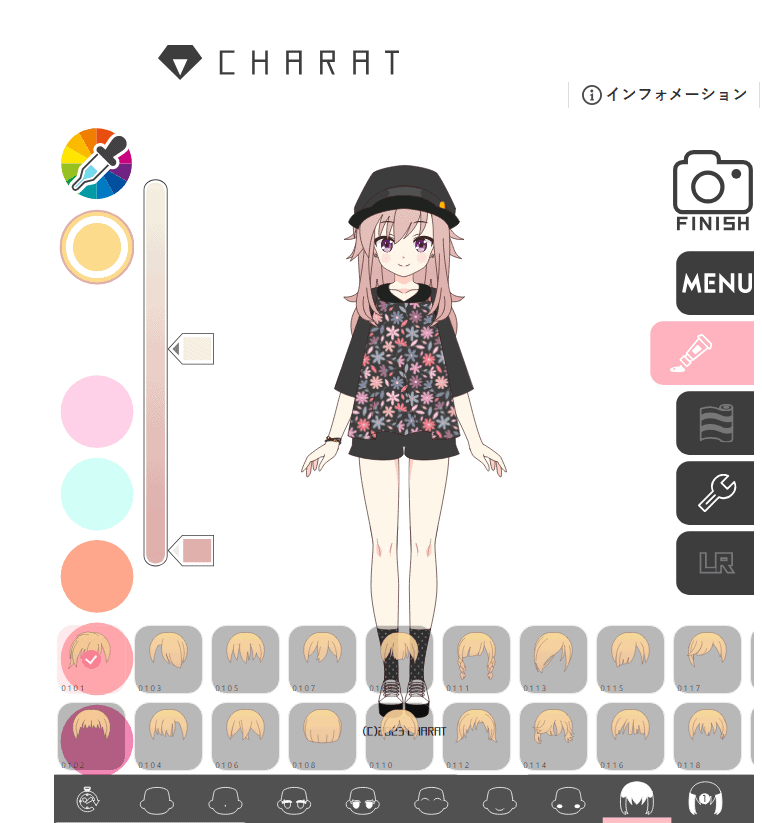 Charat is an anime girl-maker tool known for its simplicity and accessibility, allowing users to access it through a website or an app. No matter how you use it, Charat provides beginners with everything they need to create fantastic anime characters.
This software offers users access to various pre-designed features, allowing them to assemble charming anime-style characters quickly. The variety of pre-designed elements is extensive; you can edit and modify any existing options even more. This makes sure that your artistic vision can be brought to life.
Charat's ease of use doesn't stop here, though, as while testing this software, we were amazed at how varied the export options are. Whether you're designing characters for fun or professional reasons, Charat offers an accessible and enjoyable experience, so it is worth a try.
Pros
Wide range of customization tools for your characters
The user can modify each of the added elements
Great range of output options
Cons
The menus can be annoying at times, with some glitches being reported
3. Crypko – Immersive AI Anime Character Creator
Crypko is another excellent anime girl creator software similar in complexity to the previously-mentioned tool Charat. This tool enables users with little experience to create fantastic anime girl characters and edit them to their heart's desire using built-in options and menus.
The process of generating an anime girl is straightforward. Click Start Making Characters and then the Model button to choose a specific model. After, click the Generate button and wait for the software to create a batch of anime girls for you. Then, you must choose the model you like the most from the list and click Save to be able to edit every aspect of the new anime model you generate. Unfortunately, the capability to edit the features of your creation comes with the premium plan only.
You can even rename her, create a personal profile, and add a birthday, making your anime character come to life. After completing the creation process, you can share your creation, create lists of characters, and even set it as an avatar. Of course, you can also download your created anime character in various image formats and quality levels.
Pros
Very easy to use tool with a variety of settings
A limitless number of special anime characters can be created
Great editing tools for the image result
Cons
Some of the most exciting features are hidden behind a paywall
4. Fotor AI Image Generator – Powerful AI Image Generator Engine with Anime Settings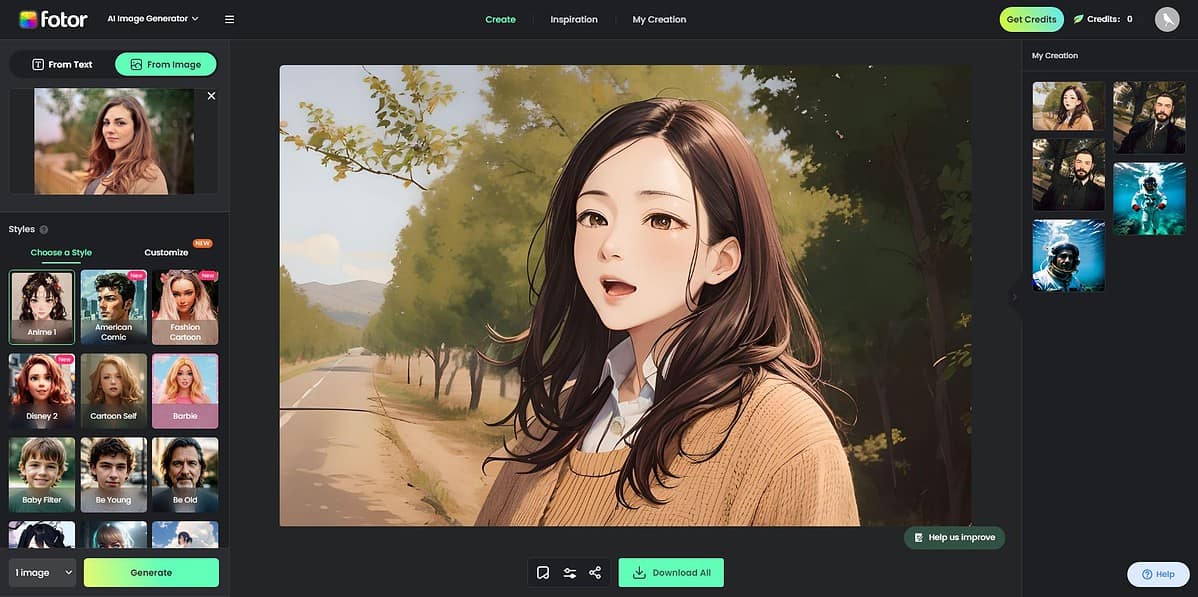 The Fotor AI Image Generator is a great anime girl-maker tool that seamlessly blends the powers of AI image processing with artistic creativity. The intuitive interface can be understood and used easily by anyone, and using an AI anime-style generator has never been easier.
The software includes a variety of valuable filters and AI tools, but the entire process is based on either text-to-photo or photo-to-photo creation. In our testing above, we used the picture of a model and transformed it with the photo-to-photo feature to create a fantastic quality anime girl. If you decide to use the text-to-photo option, it is straightforward, but the prompt you write and the details included will determine how exact the final results will be.
Fotor also includes other valuable tools besides the AI Image generator, including AI Photo Editor, AI Art Effects, AI Avatar, Background Remover, Collage Maker, etc.
Whether you want to create fantastic anime characters for illustrations, animations, or games, Fotor offers you all the necessary tools. To be a valuable tool, Fotor also allows you to export your artwork in various formats, ensuring that your creation can be used in any digital environment without problems.
Pros
Easily-navigatable interface
Good range of customization options for the results
Includes a variety of AI-powered features which can be useful
There is an excellent range of formats to choose from when exporting images
Con
It doesn't offer the same customization levels as other AI anime girl-generator tools
5. MakeGirlsMoe – Simple Interface with Various Customization
MakeGirlMoe is the most straightforward AI anime girl generator on the list, but that doesn't mean the results are not great. One big difference between this app and others mentioned is that it can only generate the face of an anime character.
That being said, there are various customization options, including the color and hair style, eye color, and many other elements like blushing, smiles, etc. You can choose which features you want to be specific about, and which can be random. You also get access to the Advanced Mode by ticking the respective box, enabling you to modify the range of each option you previously chose by moving a slider.
The output options are limited compared to other software from the list, as it only allows you to download the file in a .json format. This format can be transformed to suit your needs, but it can be cumbersome to use multiple tools.
Pros
Simple to use with easy-to-navigate menus
Great customization options are available
Includes an Advanced Mode, which allows you to modify the presets
Cons
Export is limited to .json files
---
This year, the world of anime character creation has never been more accessible and fun. Thanks to the powerful apps we mentioned in this guide, you can craft characters that match your vision in just a few minutes.
Even more, if you want to practice getting intimate with someone through text, you can explore the best AI sexting apps and take your flirting to the next level.
Go ahead and unleash your creativity by trying these tools! Let us know which app you chose and why by using the comment section.