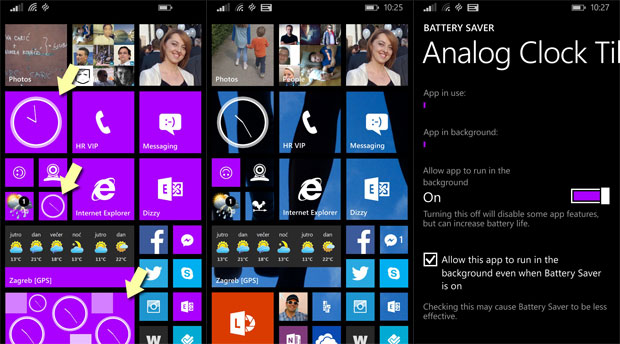 Windows Phone 8.1 has finally enabled developers to update live tiles more often than every 30 minutes. This new API (new only on Windows Phone platform, it existed on Windows 8 before) enables tiles to be updated every minute, just enough to do a decent clock on a tile, right? We have seen quite a few digital tile clocks that use this feature, but there is a new app that shows an analog clock. (Both is quite useless, if you think about it, because there is a clock on the lock screen and in the corner – but, hey, clock tiles look nice.)
The app is very simple, its tile looks a little bit like Cortana (only one clock face, at least in this first version), and you can use small, standard and wide tile, whatever suits you best. Tiles are transparent, so it fits perfectly your customized start screen. The app is very gentle to your battery, and you can even turn it on while your phone is in Battery Saver state.  And, of course, works only on Windows Phone 8.1.
Download it for free from Windows Phone Store.