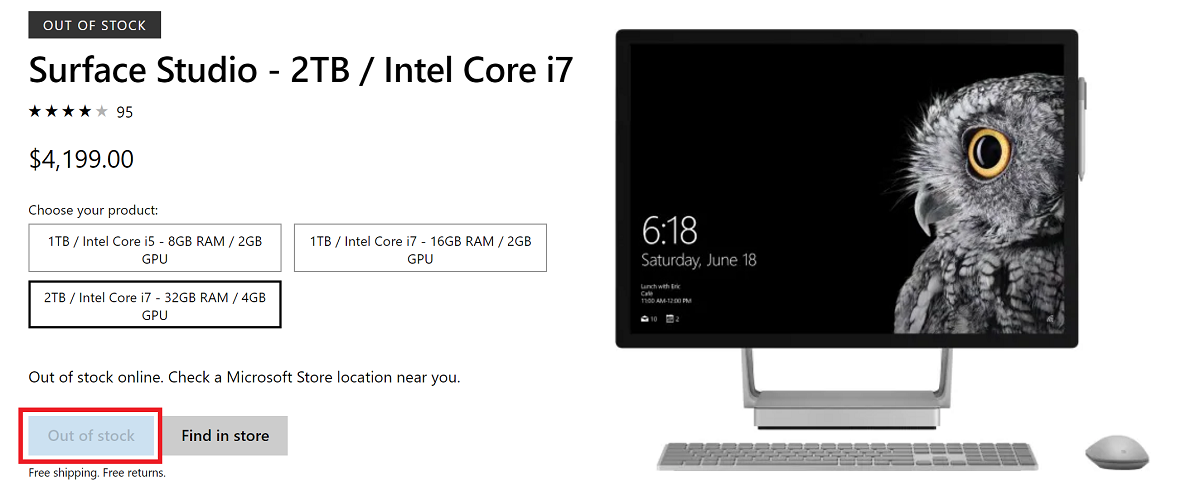 2018 appears to be a major hardware refresh year for Microsoft, with rumours of a new HoloLens, Surface tablets and Surface Phone expected this year.
Another device pushing the 2-year mark is the beautiful Surface Studio, with rumours of a new Surface Studio 2 code-named Capitola being worked on and heading to market either this year or next.
Some evidence that it may be coming sooner rather than later is that all models of the Surface Studio, from the cheapest to the most expensive, are currently sold out at the Microsoft Store.
Microsoft announced the last Surface Studio at a special Windows 10 event on October 2016, and I assume with a raft of new hardware expected, including the long expected and rumoured Surface Phone, it is likely Microsoft will be having another such event, likely to coincide with the release of Windows 10 Redstone 5, to announce the new devices.
See German Almaraz's concept for what a new Surface Studio 2 may look like here.
From the 10 inch Surface tablet to the new HoloLens, to the Surface Phone and Surface Studio, which device are our readers looking forward to the most? Let us know below.