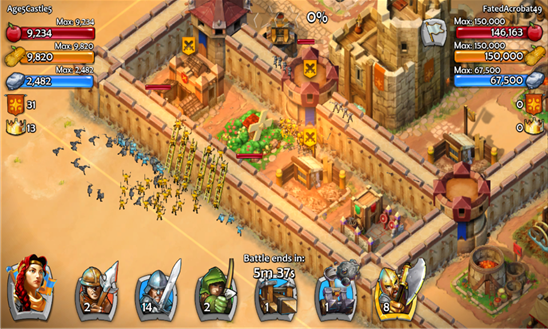 Age of Empires: Castle Siege game was updated to v1.13 in Windows Store. This update brings support for Wonders, Alliance Stats, improved game play and lots of bug fixes. Find the full change log below.
Wonders

Alliances can now build Wonders. Find more details by reading our Wonders posts:
http://www.ageofempires.com/news/2015/10/02/castle-siege-wonders/
http://www.ageofempires.com/news/2015/10/07/wonder-feature-details-113/
Alliance Stats

Alliance Stats on the server will now show the following stats per alliance member:

Time in Alliance
Last Login
Crowns
Troop Donations
Total Battles
Win Ratio
Total Stars

You can also:

View any player's rank for each stat inside the alliance.
View relief forces available for each player and donate troops through the screen.
View stats of any individual Alliance member.

Language SelectYou can now change the language in-game via the Settings menu. Please note that selecting a new language will reload the game.
Gameplay changes
The following heroes have been adjusted:

Richard the Lionheart: increased radius and duration of effect.
Hermann von Salza: increased radius of effect.
Tariq: increased special ability damage vs. troops.
Charles Martel: reduced taunt radius.

Fixed Bugs

Fixed bug where game crashes when trying to view unlock info for cavalry and special troops in guard houses.
Full screen functionality has been added for Windows 10
Game will no longer re-launch 5 minutes after switching devices. (This caused false "logged in from another device" errors.)
Fixed the bug where the game crashes when using Conrad the Elder's ability

Polish

Significantly improved user interface animations and responsiveness.
Download it from Windows Phone Store for free.