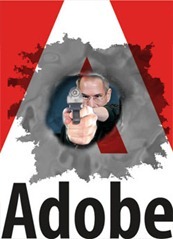 Flash has been fighting a losing battle in mobile over the last few years, and suddenly and somewhat unexpectedly, given that the very popular Android platform did support Flash in the browser, Adobe threw in the towel.
According to ZDNet the company said:
Our future work with Flash on mobile devices will be focused on enabling Flash developers to package native apps with Adobe AIR for all the major app stores. We will no longer adapt Flash Player for mobile devices to new browser, OS version or device configurations. Some of our source code licensees may opt to continue working on and releasing their own implementations. We will continue to support the current Android and PlayBook configurations with critical bug fixes and security updates.
I cant help but think it was due to the massive fragmentation of the mobile world in general that supporting mobile Flash was just no longer tenantable or financially viable.  It does of course kill off another supposed major feature of Android tablets in particular over the iPad and upcoming Windows 8 tablets, which will not support flash in the Metro UI, but will also mean HTML5 support, available in the WP7.5 browser, will become more prevalent, making more video in more places accessible to Windows Phone users.
So next time an Android user sidles up to you and brags his phone supports Flash, remind him that he is using a Zombie technology, officially a walking dead.
Read more at ZDNet here.