Is Copilot the best AI companion out there? Help us find out by answering a couple of quick questions!
Is Adobe Firefly not working for you? I've been using the app since it came out and encountered this hiccup myself. It's very annoying, especially when you're in the middle of creating something important.
Luckily, I've documented my troubleshooting process below and singled out what works so you don't have to go through the whole thing yourself. I've also covered the most common causes of this issue. So, let's make Adobe Firefly run perfectly again!

Reasons Why Adobe Firefly Is Not Working
According to my research, these are the most common reasons that cause problems with Firefly:
Network-related issues
Outdated browser
Firefly downtime or update
Problems with the prompt:

Unsupported language
Too short text
Breaking Adobe guidelines

Piled up browser cache files
Lack of generative credits.
Adobe Firefly Not Working – Fixes
Some problems are beyond your control, like Adobe server downtime. So, let's focus on the fixable ones instead. Let's start with the simplest ones:
1. Resolve Network Issues
Adobe Firefly is accessible only through your browser, requiring an internet connection. If you have general network issues, I recommend you restart your router and modem. You can contact your ISP if the problem persists.
Otherwise, follow the steps below to fix the access to Adobe servers:

Use the Windows Key + E shortcut to open File Explorer and navigate to C:\WINDOWS\System32\drivers\etc

Open the hosts file with Notepad.

Find and delete any Adobe-related entries.

Save the file and check if Adobe Firefly works.
2. Update Your Browser
This is a common cause for the Generative Fill issues many users experience. It usually occurs due to an outdated browser, so the best way to resolve it is to update it.
In my experience, you should use Google Chrome for Adobe Firefly for the best compatibility.

Open Google Chrome and click on three vertical dots in the top right corner.

Hover over Help and select About Google Chrome.


If the update starts automatically, wait until it completes.

Click the Update Google Chrome button if the update is available but doesn't start automatically.
If there is no update option and it doesn't happen automatically, you already have the latest version.

Click the Relaunch button.

3. Delete Browser Cache
Your browser stores cache files to load pages quickly and run smoothly. But sometimes, these files get corrupted or outdated. In that situation, you should delete them manually to make Adobe Firefly work.
Here's how:
Open Google Chrome and use the CTRL + Shift + Delete shortcut to open Privacy and Security settings.
Select the Time range for which you want to delete the cache.

Select Cookies and other site data and Cached images and files, and hit the Clear data button.

Restart your browser and check if Adobe Firefly works.
If it still doesn't work, disable your browser extensions. You can also try using another Firefly-supported browser.
Once you apply all of the solutions I listed, you most likely won't experience more issues. However, if you're still struggling with getting Adobe Firefly to work, I've got you covered.
You can use CorelDRAW as a reliable and versatile alternative to Adobe Firefly. This powerful tool is well-known in the creative and digital art world.
CorelDRAW can be used to create any kind of art from scratch but it also allows you to apply AI effects to it, or any other image you choose to import into the software.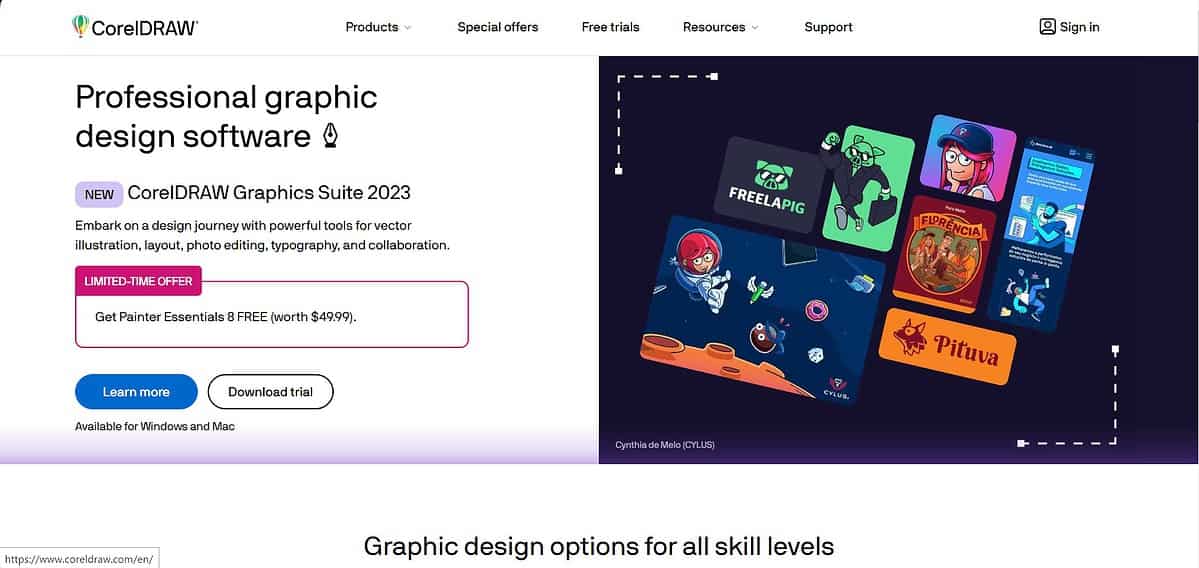 Conclusion
The most common causes for Adobe Firefly not working include network problems, an outdated browser, or browser cache files. By following the steps I provided, everything should run smoothly soon enough. But if you still experience issues, consider Canva or another alternative. Now, go and get creative with prompts.
Feel free to share your favorite tips and tricks in the comments below!