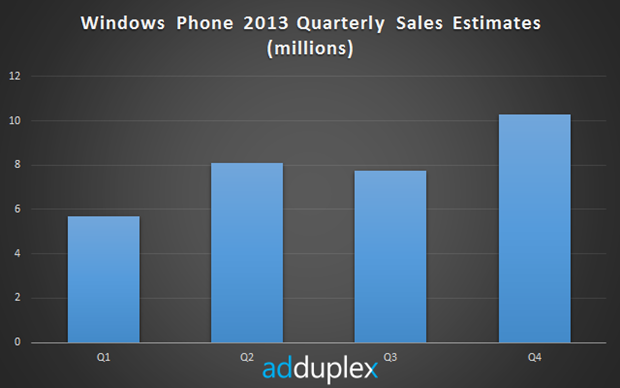 AdDuplex, who has access to plenty of data from their app promotion network, and who publishes a monthly report, have looked at their numbers and found that it is likely that more Windows Phones were sold in Q4 than Q3 2013 after all, and that more than 10 million new Windows Phone handsets landed in consumer hands in the holiday season.
Their conclusion is based on that assumption that no significant number of Windows Phone 7 handsets were sold in 2013, and a number of other logical assumptions, but of course is not as solid as an actual announcement by Microsoft or Nokia.
Crucially it also suggests more Windows Phones were sold in Q2 than Q3, and that there were therefore a significant number of handsets in sales channel in Q3 already, waiting to be sold in Q4.
AdDuplex suggests there are now around 35 million Windows Phone 8 handsets in use, and about 45 million Windows Phones in total in active use.
AdDuplex's data would be consistent with Kantar's estimates, which has showed a more steady upward trajectory in Windows Phone sales. Hopefully some more clarification will be forthcoming eventually.
See the post at AdDuplex here.