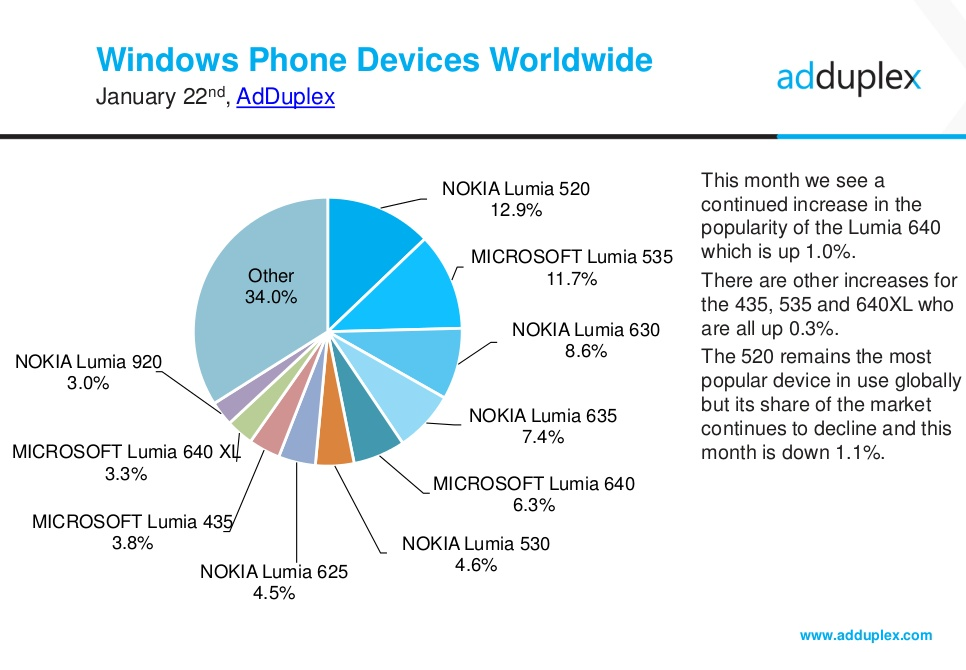 Microsoft announced yesterday that the Windows 10 Mobile upgrade will only be coming to the following handsets:
Lumia 1520, 930, 640, 640XL, 730, 735, 830, 532, 535, 540, 635 1GB, 636 1GB, 638 1GB, 430, 435, BLU Win HD w510u, BLU Win HD LTE x150q, and the MCJ Madosma Q501.
That leaves some of the most popular Windows Phones unsupported, including handsets such as the Lumia 920.
AdDuplex have added up the numbers, and have concluded that this means around 50% of Windows Phones will not run Windows 10 Mobile anytime soon.
AdDuplex Stats Teaser: on a very quick count roughly 50% of Windows Phone devices in use won't be running #Windows10Mobile any time soon.

— Alan Mendelevich ?? (@ailon) March 19, 2016
While many would say that it is well due time that these users upgrade, in practice this means the pool of users who will have access to universal windows apps on mobile is likely to be significantly smaller, meaning for example US Lumia 520 users who have no Bank of America app will not be able to take advantage of the new Universal Windows App coming soon, and with many other new Universal apps coming these users are rapidly being orphaned.
Microsoft have previously said they would upgrade all Windows Phone 8.1 handsets where possible, but in the end appears to have made a business decision to support only handsets above a certain threshold of usersatisfactionwith the Insider Builds.
The splitting of the market will however mean that developers will either be making apps for the 20 million odd laggards with old Windows Phones, or the 250 million Windows 10 users with access to Universal apps.
The main danger is another reputational injury to Microsoft's Windows Phone efforts, but I suspect at this point short of actually cancelling Windows 10 Mobile it is a bit like beating a dead horse.
Do our readers foresee any negative effects from this move? Let us know below.