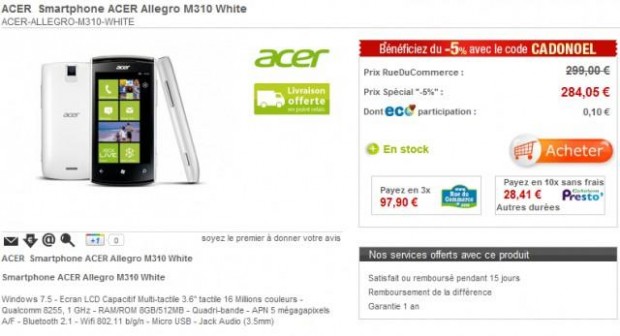 MonWindowsPhone reports that the Acer Allegro Windows Phone 7.5 handset has now become available at the online retailer RueDuCommerce.fr in France.  The handset is being sold unlocked for only 284 Euro and is available in both Blue and Black.
The Acer Allegro is a new Windows Phone with a 3.6" LCD screen, HSPA+ data speeds, and a 1.0 GHz single-core processor. The phone has a 5-megapixel, no front-facing camera, no gyro sensor, and 8 GB of storage. Besides its release in France, other release dates/locations are unknown. Full specs…
The phone is now the 7th new Windows Phone available in Europe, following the HTC Titan, HTC Radar, Samsung Omnia W, Nokia Lumia 800, Nokia Lumia 710 and ZTE Tania. While the selection is pretty wide is seems unfortunately weighted towards the lower end of the market, but of course this may increase the volume of sales in Europe, where phones are often sold contract free.